When you own a caravan, there are many small bits of equipment that you'll need to ensure that your caravan runs not only efficiently but also safely. A caravan breakaway cable fits this criterion as it's an essential piece of safety equipment which has not become a legal requirement.
For this reason, it's not only important that you have one, but you need to make sure that you have the most effective solution. We've reviewed the best caravan breakaway cables available on the market and have also included a full guide, so you understand more about why they're so important.
Maypole MP501 1m x 3mm Breakaway PVC Cable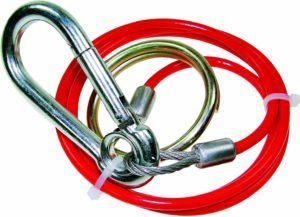 Maypole is one of the longest established companies in the leisure and caravan industry since 1969, giving them over 40 years of expertise which has been leveraged into their high-quality products.
Maypole has created a breakaway cable that will give you the added confidence when you're driving on the roads. The cable is made using multi-strand steel cable measuring 1 metre in length, giving it superior strength.
It's simple to connect your caravan to your towing car using its hook and eye safety catch. This cable is compatible with a variety of trailers, caravans and trailers and meets all the necessary legal requirements.
LAS 10728 Alko Model Breakaway Cable with Hook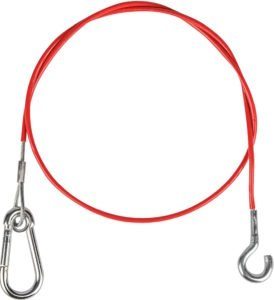 LAS is a German-born brand and is one of the leaders in the market due to their high-quality products made from superior materials. This breakaway cable is 1 metre long and made from steel rope which has been covered in a PVC sheathed which makes it durable and waterproof so you can rely on it to work effectively.
It's straightforward to install and engages the brakes of your trailer if it becomes disconnected from your tow vehicle. This is a great replacement, and the cable has a carabiner that you can hook straight onto your towbar which means that your breakaway cable won't spring back off your towbar.
Real Parts ProPlus 341302 Brake and Removal Cable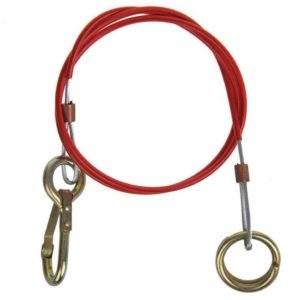 This is one of the best selling breakaway cables and has established itself as one of the go-to solutions for caravan owners. It's simple to fit your caravan and has a robust construction due to being made from high-quality, durable materials.
The cable measures 1 metre in length and gives you the added peace of mind that you have the necessary safety precautions in place before you set off on your caravan journey. It's also fairly priced so you can order more than one to ensure that you have a spare.
W4 Easy-Fit Breakaway Cable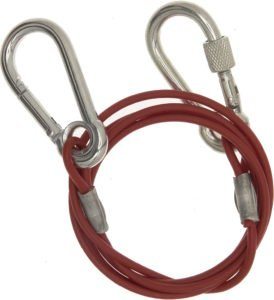 Welcome to the W4 easy fit breakaway cable which can be applied to your caravan or trailer to ensure that your handbrake is engaged if your tow vehicle is unhitched. The cable is high quality with a carbine hook on one end and a threaded carbine hook on the other end.
The cable is easy to attach without the need for additional tools while being suitable for direct attachment. Even if you already have a breakaway cable, this is great if you also need a spare on hand.
Leisure MART Trailer caravan breakaway cable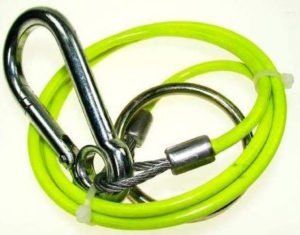 The Leisure Mart caravan breakaway cable measures 1 metre in length and is an effective solution for your caravan. It's suitable for braked trailer or caravan and comes in fluorescent colour, so it stands out.
It will successfully engage your caravan or trailer handbrake if it becomes detached from your tow car. When you hold the cable, you can feel the high-quality construction so you can rely on it to perform when it's used. So whether this is your first ever breakaway cable or a replacement, this can do the job well.
What is a Caravan Breakaway Cable?
This is a simple device that will trigger the breaks on your caravan if it detaches from your car when you're towing. As you can imagine, this would be very dangerous, especially if this happened at high speed.
So you must regularly check your breakaway cable that it's fitted correctly before setting off for a drive because it can save you from experiencing a serious injury.
It's given the name breakaway cable because it breaks itself. So for this reason, once it's triggered, it needs to be replaced. Rear view mirrors are also very important when towing your caravan.
As you can see this is an important bit of kit which is why in 1982 it was established as a legal requirement to have, a breakaway cable fitted when you're using a car to tow a caravan. This law is for braked caravans that weigh over 750kg.
Considering it's potentially a life-saving bit of kit you can buy them for less than five pounds but you need to ensure that you only buy OEM cables or cables approved by your caravan manufacturer. If you decide to buy a non-OEM product, then it may not work as well when you need them.
With it costing so little, it doesn't hurt to buy more than one, so you always have a replacement on board your caravan just in case.
How to Fit a Breakaway Cable?
Although a breakaway cable is an important piece of safety equipment, you can fit it in just a few steps.
Connect the cable straight to your vehicle, allowing it to pass through any necessary holes before it meets your caravans drawbar. Pass the breakaway cable through any appropriate holes then loop the cable back on itself.
Avoid latching the breakaway cable straight on the meeting point, because this can lead to failure.
The only scenario when this is permitted is if the cable has been explicitly created to be attached directly. Please note, If you do have a direct attachment clip, then this will usually have a heavy-duty carabiner.
If there are no suitable loops or holes on the towbar, it's advised that you loop the cable around the neck of the towbar, under the coupling head and back on to itself.
If your towbar ball is detachable, then it's recommended that you contact your manufacturer for advice before fitting a breakaway cable.
Some breakaway cables allow you to attach to either a permanent section of the towbar or caravan or to a purpose-built attachment accessory. Again, you must speak to your manufacturer before fitting.
You should ensure that your cable has no loops, kinks or knots.
Confirm that the cable has enough length that it doesn't trigger your brakes when your car is moving. Similarly, you need to ensure that it's short enough that it drops down and touch the road or get twisted with any other cables that you have close by.
If during fitting you notice that your cable is damaged then you need to replace it immediately. You shouldn't take any chances regardless of how minor you feel the damage is.
You should follow these steps several times before setting off on your journey, so you have enough practice to feel comfortable.
Maintaining a Breakaway Cable
Just like any piece of equipment that you have onboard your caravan, you should regularly inspect the breakaway cable for any damage, and it's recommended that your carry out a check before you depart on any journey. You can do this by thoroughly checking both the clip and cable for any minimal damage.