Caravans come in all sorts of shapes and designs, so not everyone has a table already built-in. Space is usually at a premium in caravans and manufacturers are always trying to make them as spacious as possible. As a result, many don't include a built-in table; however, a table is essential because it provides a space that can have many uses such as eating food, preparing food and entertaining guests.
Although without a table you can have a more open-plan design, there will be times where you probably would like a table to use. We've put together a list of the best caravan tables as well as the factors you need to consider to ensure you get the best solution for your situation.
Regatta Cena Table Lead Grey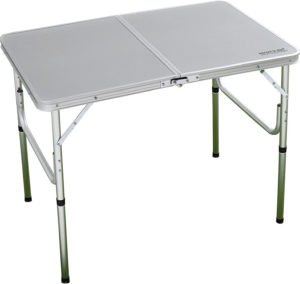 If you're looking for a sturdy yet lightweight caravan table, then look no further. If you've spent any time looking for outdoor products, then you would have no doubt come across Regatta who is well established due to selling high-quality products.
This Lightweight and compact bi-folding table have adjustable legs so you can switch between a high or low setting. When it's not in use you can simply fold the legs into the table then the table folds in half to save space in your caravan.
The table has a maximum weight load of 30kg which is more than enough in most caravan situations, especially if you just plan to mainly use it for eating. Not only is it durable, but it has an aesthetic lead grey finish, so it's not only practical, but it will fit well into the most stylish of caravans.
Kampa Small Caravan Side Table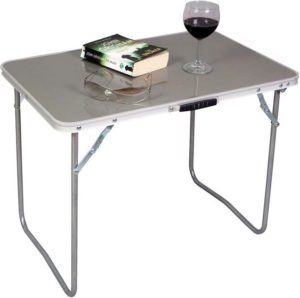 The Kampa Caravan side table is ideal if you don't need a full table but require something a little smaller. The table has fold-out legs so you can easily fold it away when it's not in use. It also has a strong tabletop made of fibreboard, giving it durability and strength.
The tabletop measures 60 x 40cm and has a full height of 45cm. This makes it best suited as a bedside table to put your drinks or other small accessories. Its lightweight design makes it easy to move into position and also to store away when it's not in use.
This table has a maximum load weight of 30kg and comes in a lovely granite colour.
Charles Bentley Folding Portable Table with Carry Handle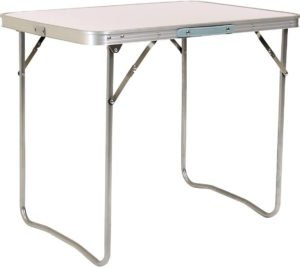 The Charles Bentley folding table is a worthy addition to your current caravan set up. It is designed with a sturdy steel frame that makes it strong and durable while also having a white top that is easy to clean and maintain.
The table weighs just 2.7kg and can be quickly folded up when it's not in use for compact storage. It comes with a built-in handle so it's easy to transport and has dimensions of  W70 x D50 x H60cm when unfolded and W70 x D50 x H5cm when it's folded. Although the height isn't quite as high as a standard dinner table, it's halfway between a dining table height and a coffee table height (see our caravan-friendly 12v coffee machine picks).
Similar to its competitors, it has a maximum load weight of 30kg.
Portal Outdoor Unisex's Portable Caravan Table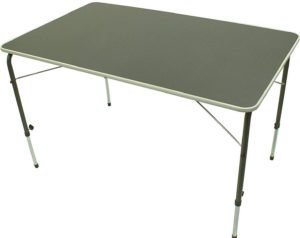 If you're looking for a larger sized table, then this is best suited for you. The Portal Outdoor table measures 115 x 70 x 69 cm. It has undergone rigorous testing after being designed by highly experienced design teams to ensure that it offers a cutting edge experience for every user.
Setting the table up couldn't be quicker or easier thanks to the inbuilt quick-lock system, and you can also quickly alter the height of the table with its quick-adjust legs which make it great if you're using it on an uneven surface. The table has a maximum load weight of 30kg plus the table is resistant to UV and weather damage.
The tabletop is also scratch-resistant and is easy to maintain needing just a clean wipe.
Quest Elite Duratech Evesham Table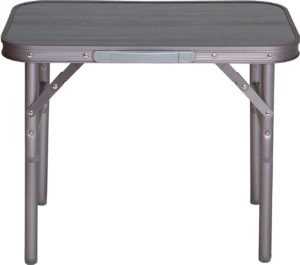 The Evesham table is a smaller option; however, it still comes in premium quality. It is built using a Duratech table top which is coated, but the table can be simply folded away when not in use and also has an inbuilt carry handle.
The size makes it great for caravanning and other outdoor activities. The frame features the ultra-fine coating, which gives it a greater level of protection. The table weighs just 1.8kg, making it light and easy to get into your desired position. It has dimensions of 34 x 56 cm. Heights: 23 and 45 cm and Folded dimensions of: 34 x 56 x 4 cm.
The legs are also adjustable, which also makes it great on uneven ground.
Caravan Table Buying Guide
How will you be using the table
One of the main things that you need to consider enabling you to make a good decision is the primary use for your caravan table. Will it be used food preparation? Or do you also need to be able to use it outdoors as well? Your decision will be based on if you need a more permanent solution for one use or a flexible solution that needs to be more versatile.
Understanding what your main uses will be is essential because there are so many different types of caravan tables for a whole host of uses. This will reduce the number of tables for you to choose from, which will make your overall choice easier to make. The last thing you want to do is end up with a table that isn't suited to the tasks you're trying to complete.
Ease of set up
Ease of set up is an important consideration because you need to understand how easy the table is to set up and takedown. This is even more important if you're table is only going to be used as a temporary solution each time.
You are going to want a table that's easy to put up and put away in little time. Features such as latches and folding legs can make this process quicker. However, sometimes highly portable tables are not as sturdy so you may need to compromise between the two features depending on your budget.
Material
There are caravan tables made of all kinds of materials. These materials can include steel, aluminium, plastic, bamboo or even fabric. Aluminium is a common choice because it's durable, lightweight and can withstand heat while also being rust-resistant.
Steel is more durable than aluminium but is usually heavier in weight which can make it harder to manoeuvre into position.
You can even get tables made of bamboo, which visually is the best to look at and durable; however, they are heavier than aluminium or fabric alternatives.
Weight & Size
On a caravan, there is a max weight that you can have on board, so you need to consider the weight of every item you bring on board including your caravan table. The weight is not only important for your overall load but also when you put it into the position you want a light table, so you don't physically struggle.
The size of your caravan table because you want to ensure that you have a space that is adequate for it to fit in. The last thing you want to do is end up with a caravan table that can't fit inside your caravan.
The table height will also determine the required size for your caravan chairs that you pair.
Durability
You're likely going to be using this table for a lot of different uses, so it's important to ensure that your chosen table is durable. This means that it uses strong materials and is also waterproof. It needs to not have any weak spots or moving parts that can easily break while you also need to ensure that it can hold up through accidents such as being knocked over or dropping things on it.
Although you can judge caravan tables durability through the product description, you can get a better idea of its performance through user reviews from actual users who have the product. Here you will get a more accurate view.
Folding Dimensions
Another key thing to understand is it's folding dimensions as this will help you know where you can store the table when it's not in use. Caravan tables are often foldable and have foldable legs, collapsible tops, and height adjustability. This means that they can fit in to a whole host of places and spots which is important in a caravan where there may not be a lot of available storage space. This isn't a vital consideration if you plan to keep the table up for the entire time.
Brand
Caravan tables are relatively simple devices which means that there are plenty of brands that are selling them. The brand of the table you buy will have a large bearing on how good your table is. There are plenty of brands that are well established and have developed high-quality long-lasting products, and we've reviewed them in this guide.
The brand you buy will often be linked to quality and price with higher quality products, naturally have a higher selling price. Before you flock to the highest cost product, you should read the product description and check that you need all the listed product features.
Warranty
Any product in the world can develop a defect, and this is no different from a caravan table. It's recommended to purchase a table that has a warranty especially if you plan to fold it up and down regularly because it's more likely to break if you use it more often compared to if you have it permanently up.
Warranty periods will vary depending on the brand, but this gives you the added peace of mind that if any problems occur, you can get the manufacturer to help. It's best to check the terms and conditions of the warranty to check what it covers.
Price
Caravan tables come in a range of different price points, and the price will depend on a huge number of factors including the size, material and any added features. Having a set budget is important because it will make your final decision easier to make. After all, you will automatically rule out models based on price alone.
Generally, the price will correlate with the quality of the table and the additional features that are offered. So you may be better off spending slightly more than you budgeted to get a higher quality product.