So you're in the market for a new Aquaroll mains adaptor? We know that there are hundreds of different parts that you need to think about for your caravan, so here at Pod Caravans, we've made your life easier by creating a guide to show you the best Aqua mains adaptor on the market.
Aquaroll Mains Adaptor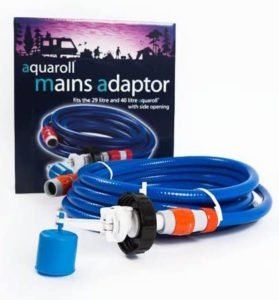 This is the original Aquaroll mains adaptor which offers you a reliable and safe way to set up and maintain a consistent supply of water to your caravan.
This adaptor allows you to connect to a mains water supply and is compatible with any type of caravan. It's easy to set up and requires no expensive alterations as it can fir to your existing aquaroll, and it needs no additional tools.
Using this adaptor will ensure that mains water pressure will never flow directly into your caravan. The hose is 7.5 metres in length and is made from reinforced food-grade material so your water won't have any nasty chemicals in it.
Big White Box 10m Mains Water adapter kit for Aquaroll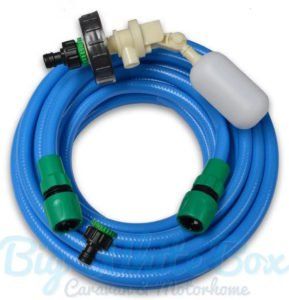 This is an excellent alternative if you have a slightly lower budget but still want to reap the benefits of using a water adaptor. This allows you to have a constant supply of water to your caravan without the threat of flooding.
The kit includes a mains pressure water valve, appropriate hose end connectors and a food premium food grade hose. The hose measures 10 metres in length, which should be more than adequate for the majority of people. The kit also includes 2 x Cap securing nuts to guarantee optimum valve positioning
Care-avan Aquaroll Mains Water Adaptor Ball Valve Kit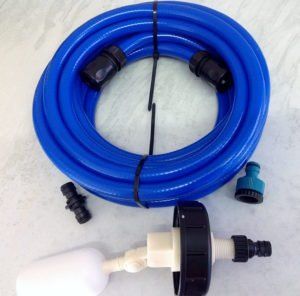 The Care-avan mains water adaptor is compatible with 40-litre aquarolls, and this is an economical way of still enjoying the overall benefits of having a reliable water supply for your caravan. 
The kit has a ball valve that allows you to control the water flow and the device is easy to fit as it just screws into the side of your water container, and the included 7.5-metre food grade hose is then connected.
This is how simple the adaptor is to set up so will only take a matter of minutes. Included in the kit is 1x Ball Valve with Cap, 1 x 7.5mtrs Food Grade Hose, 1 x 1/2″ & 3/4″ tap adaptors
10M Caravan Mains Water Container & Adapter & Food Grade Hose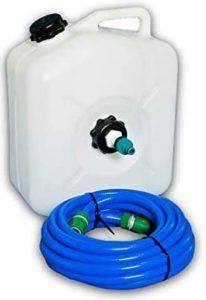 If you're in a situation where you don't have the water carrier yet then this is the solution for you.
This kit not only provides an easy and cheap way to pull water from the mains water supply into your caravan but it also comes with all the parts required to get started as soon as you receive the package.
The food-grade hose is 10 metres in length, and you simply connect this to a service pitch tap and the other end attached to the valve, and now you have a continuous supply of fresh drinking water. Also included is a water container for the drawn water to collect in before it makes its way into your caravan appliances that have water demands such as taps.
What is an Aquaroll Mains Adaptor?
To understand what an Aquaroll Mains Adaptor, you need to first understand how an Aquaroll works. An Aquaroll is a water supply carrier that you fill with water when you're parked up at a caravan park; This will allow you to supply your caravan with the freshwater that you require. This product has been around for decades, and along the way, it's been improved to be more efficient, lightweight and easier to use.
Most models have a capacity of 40 litres which is more than enough for most caravan owners; however, having an Aqua roll isn't enough, and an aquaroll mains adapter makes the process even easier.
An aquaroll mains adaptor is a great addition to your existing aquaroll water carrier and is a way of transporting freshwater from your water supply to your water carrier. This gives you a flexible option that you can set up and remove in a matter of minutes. It means that you don't have to manually fill up your aquaroll.
This is also very cheap without having to have permanent fixtures, and you can fit it yourself without having to pay a professional.
Although Aquaroll is the brand, several alternatives aren't official but are still compatible to carry out the same job.
Aquaroll Mains Adaptor Buying Guide
Brand
Aqauroll is the official brand; however, several other brands make compatible alternatives. Just like with all types of products, there will be brands that are high quality and brands that are of low quality. Low-quality brands will often use fewer durable parts and materials, which means that they are more prone to damage.
A higher-quality adaptor will be the opposite and will often have been in the market for many years and have a whole load of customer reviews that are positive. Customer reviews are the best way to understand how good a product is because a product description is written by the manufacturer, which may not always be the full truth.
Warranty
Warranties will be brand dependant with higher quality brands usually offering longer warranties because they will have more durable parts so they can back their products for longer. There are no set industry regulations for how long a warranty needs to last, but generally, they can last anywhere from six months to a lifetime.
It's also common for some brands to not offer any kind of warranty or satisfaction guarantee, so you need to check before you purchase. Having a product with a warranty gives you added peace of mind that you're buying a quality product.
Ease of Use
In an ideal world, you'll buy an Aquaroll adaptor that's easy to use because the last thing you want to do is be at a caravan site spending hours trying to hook your caravan up to freshwater. This is even more annoying if you arrive at night when it's dark, which can make it a frustrating experience if you can't quickly get going.
We'd recommend testing out the adaptor before you leave to go caravanning, so you are better prepared and know how to set it up. You can understand how easy it is to use by reading reviews from actually previous buyers and users.
Length of Hose
The hose it was connects your water carrier to your water supply, so the length of your hose is something to consider before purchasing. You should measure the distance that you need the hose to travel because you don't want to be in the position where you have a hose that doesn't stretch. If in doubt, it's better to get a hose that's too long instead of a hose that's too short.
Ideally, it should be at least 5 metres long. However, if you do purchase a hose that's too short, many manufacturers also offer extension hoses so you can extend its length.
Price
No matter what type of product you're buying or how much money you have, there will always be a maximum amount that you're willing to spend. Aquaroll mains adaptors will vary in price depending on the brand and the quality of the product.
You should always have a budget because this makes it easier to make a buying decision. After all, it'll automatically remove lots of choices, so ultimately you can make a quicker final choice. You don't want to be spending weeks trying to choose.
Material
This product will spend all of its life outdoors when it's being used, so you need to understand what materials it's made from. Ideally, you want it to be made from durable rubber that can withstand constant use and pressure from water passing through it.
The materials of the connectors are also important as they need to be made from strong plastic that isn't going to snap after a few used. You don't want to have to be replacing this product every season, but the best Aquaroll mains adaptor is built to last and will deliver many years of use.
Compatibility
Compatibility needs to understood especially if you're not buying the official Aquaroll product. You need to make sure that you purchase an adaptor that's compatible; otherwise, you can end up with an expensive piece of hose that you can't use.
Following this guide has given you a good start because we've only included compatible adaptors so you can relax knowing that you can trust this guide. Luckily most caravan parks have the same type of water supply units that the hoses can attach to.
You may also want to purchase a water filter or water heater to further improve the quality of your water.