Caravanning can take you to a range of destinations both in the UK and abroad and although you can do your research there can still be surprised when you arrive at your caravan park.
The water supply in your caravan park could be unsuitable for drinking, which is where a caravan water filter kit can be handy, which makes the water supply safe to drink giving you a more enjoyable stay.
A caravan water filter is often forgotten about, but it is essential for all kinds of applications not just for drinking water. It removes dangerous and unwanted chemicals from water such as chlorine and sediments. The water passes through the filter, which can be connected to a hose.
It can be challenging to know what makes the best caravan water filter, so we've created this guide to show you what features you need to look out for to make it easy to have clean water no matter what water supply you have access to.
Whale WF3000 Aqua Smart Aqua Smart Carbon Water Filter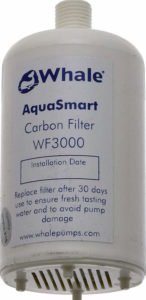 Whale are pump design specialists in intelligent control electronic pump systems in recreational vehicles and this carbon water filter is ideal for caravan use as it removes unwanted chemicals and impurities from your water supply.
See more: the best 12v water pumps (featuring Whale)
It has a silverised carbon filter with a maintenance-free design so once it's been installed, then it needs little additional attention. It has been designed to provide filtration for 3000 litres of water or 30 days on usage.
This is a high-quality product which has been displayed in its accreditation for all three ISO certifications, i.e. 9001, 14001 and OHSAS 1800
Filtapac Truma Carver Crystal MK2 Water Filter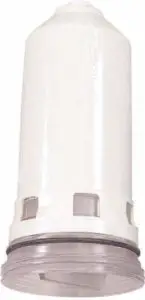 This filter just simply gets the job done and improves the quality of your water supply to give you safer and better-tasting water. Not only is it effective but it's straightforward to install into your existing caravan set up, so you don't need to spend hours getting it installed.
There are no extra accessories or parts required, and all you need to do is Just unscrew your old filter & screw this new one, and you're all set to start enjoying higher quality water.
Universal in-line KDF Water Filter Cartridge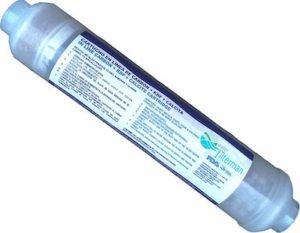 This universal water filter cartridge is compatible with any water filter system that uses 1/4″ or 3/8″ diameter tubing. Its simple design means that it's easy to change while also delivering reliable performance without the need for any additional screws or fittings.
It can remove a range of chemicals and substances including Chlorine, Chloramines, THMs PCBs, Heavy Metals, while also helping to reduce the scale. Once these impurities and chemicals are removed, this improves the taste and decreases the odour. The filter has a 12-month life which equates to a capacity of 1500 gallons.
AquaSmart WF3000 Carbon Water Filter

The AquaSmart Carbon filter works to remove unpleasant and unwanted smells and taste from your existing water supply giving you a superior caravan park experience. The filter has the potential to filter up to 3000 litres of water using its high quality silverised Carbon filter.
The filter is easy to install, and all it requires you to do is remove it from the container and then twist to fit. Not only is it highly effective but is reasonably priced, so it's accessible to most people.
Whale WF1230 Aqua Source Carbon Water Filter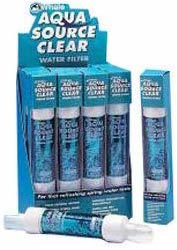 Due to the high-quality products that Whale create, it's no surprise to see another one of their products on the list. The Whale WF1230 Carbon Water filter works to remove unpleasant tastes effectively and smells from your water supply and is easy to install using the clips that are included with the clips.
Once installed, the filter is maintenance-free and can be mounted both horizontally or vertically while it can last a full season of use or the equivalent of 4500 litres. Like most Whale products, this filter has been accredited with all three ISO certifications, i.e. 9001, 14001 and OHSAS 18001.
Types of Filtration
There are two main ways of filtering your water into a safe useable liquid with the first being physical filtration. Physical filtration is the process of water being strained, which when removes the impurities.it's similar to a sieve action which removes particles and impurities from the water as it passes through.
The alternative method of filtering is chemical filtration which works by passing the water over or through an active material which chemically removes impurities and particles from the water. 
Benefits of a Caravan Water Filter
Lightweight Device
Some caravan users use alternative solutions to having clean water, such as bringing bottled water. However, weight and compactness are important considerations for your caravan, and water bottles can be heavy and also challenging to find space on board to store.
A caravan water filter is small and compact, so you don't need to worry if you have space to store it compared to a bulky water bottle or water container.
Added peace of mind
Worrying about whether you're going have clean water when you arrive at your caravan park is the last thing you want to be thinking about, especially after a long journey. A caravan water filter offers greater peace of mind that you'll have access to clean drinking water at all times.
This is even better if you have younger children as it's one less thing to worry about, and you can focus on enjoying your holiday. Generally, with the best filters, they just require setting up just once and then you replace the filters every so often.
Chlorine taste reduction
It's not unusual for caravan parks to have a water supply; however, it's likely to be very chlorinated. Although this chemical is important to treat and remove pollutants, it can give the water a distinctive taste and odour, which isn't very pleasant.
A high-quality water filter can remove the chlorine levels leaving you with safer and better-tasting water.
Removes contaminants
A high-quality water filter system will remove all the dangerous contaminants from your water supply, leaving you with safer water. Pre-treatment water can contain many dangerous bacteria that can't be seen with the naked eye such as parasites which can lead to digestive problems which are the last thing you want when you're trying to enjoy your holiday.
Caravan Water Filter Buying Guide
Price
Similar to any kind of purchase, you need to work out how much you're willing to pay for your caravan water filter. There are plenty of options that suit a range of budgets. Still, it's essential to set a budget because this will also limit the choices available to you, which makes the selection process easier than trying to choose from every available product.
Ease of use 
No matter how good you are with caravan systems, you should choose a water filter that is not only easy to set up but also easy to maintain because you don't want to spend hours trying to set up. It's also helpful if the kit is supplied with an instruction manual as well as phone or online support.
When it comes to maintenance, you'll eventually need to replace the filter and the length of time the filter lasts will depend on the filter quality and the amount you use it. You need to ensure that filter replacement is easy to carry out.
Brand
As you'd expect, several brands manufacture and sell caravan water filters and just like any brands; some will be more reputable and trusted than others. The brand you choose will also be determined by the budget you've allocated as higher quality brands will often demand a higher selling price.  
Selling price is so closely linked to quality if you decide to spend a little more on a better quality product it'll often have a greater range of features and have a better build quality so will last longer than a low budget product. 
Warranty
Just like any kind of mechanism, faults can develop with it over time, either due to misuse or purely accidental. For this reason, it's essential to understand whether your water filter comes with a warranty which will provide you will additionally support from the manufacturer in the form of a replacement or repair should a defect develop. 
The length of the warranty will vary from product to product but serves to give you added peace of mind that you're buying a quality product. 
Filtering requirements 
The water filter you buy will depend on your requirements, such as the amount of water you plan to filter because you need to choose then a filter that can meet these demands. For example, if you're using this in combination with a water heater and not consuming the water then the quality doesn't need to be as high.
Micron Rating
Caravan water filters will have a micron rating, that refers to how the smallest particle size that the kit or system can pass through. A low micron rating will mean that more pollutants and contaminants the filter will let pass through. 
Type
There are several types of water filter that you can choose from with each one having its distinct strengths and weaknesses, and your preferred choice will come down to your personal needs and requirements.
Sediment Water Filter
The sediment-water filter is the most basic version of the water filter and has a mechanism that is most similar to a strainer or sieve. So as the water passes through the particles are caught in the sieve-like mechanism to stop dangerous particles from getting into your water system.
However, this type of filter requires a greater level of maintenance than other competing filters but can form a good starter entry-level solution if you haven't used a caravan water filter before. If you have a water supply, then at the very minimum you should have a sediment water filter.
Carbon Filter
A carbon water filter takes it one step ahead of the sediment-water filter and is ideal for both casual and serious caravan owners. It not only removes the impurities from your water supply, but it also improves the odour and taste of the water.
The best carbon filters can remove dangerous contaminants such as Lead and Mercury. There are three main types of Carbon filter, which are:
Solid Block Carbon
Solid block Carbon uses activated Carbon which comes in the shape of a block as a result of high pressure. This has a greater surface area compared to granular activated Carbon which means that more water comes into contact with the Carbon, which leads to more effective filtration.
Modified Carbon Block
The modified Carbon block has similar functionality to the solid block Carbon; however, it generates a faster flow rate, so the filtration process is quicker while the Carbon also lasts longer.
Granular Activated Carbon
This is the most affordable type of carbon water filter, and its function by allowing the water to move through small grains of activated Carbon which then removes impurities. However, the main drawback of this type, is that it has a smaller surface area for the activated Carbon which means the filtration is less effective. 
Ceramic Water Filter
You also have the choice of ceramic water filters that have smaller holes which allow for impurities to be filtered out to give you cleaner water. They're not as effective at removing chemical contaminants such as Lead and Mercury.