We spend around a third of our life sleeping, so it's incredibly important to ensure that your body functions effectively throughout the day, and this is no different when you're caravanning. 
Sometimes you may not always have access to a traditional style bed so you may need to use a sleeping bag. Caravan sleeping bags are suited to caravan use, and there are many different brands and styles to choose from which can make the buying decision more difficult, so we've created this buying guide to show you the best caravan sleeping bag.
Coleman Caravan Rectangular Sleeping Bag
This double sleeping bag by Coleman provides you with high-quality insulation with its cotton flannel lining, and its square shape offers enough room for two people to fit inside so you can sleep in style on your caravan trips.
Its large dimensions make it comfortable to sleep in and has a comfort cuff that gives it an added softness. Also, there is a Thermo lock construction which restricts heat loss, so you stay warm throughout the night.
The two-season rectangular sleeping bag has a night-time comfortable temperature range of between +6° Celsius and -15° Celsius with dimensions of 220 x 150 cm while also including a carry bag so you can conveniently pack it away when it's not in use.
The sleeping bag also has a mechanism that prevents the zipper snagging by keeping the fabric away from the zipper mechanism.
The caravan sleeping bag has two separate zippers on each side which mean each person can get in and out of the sleeping bag independently without disturbing the other. The sleeping bag comes in a choice of single and double sizes.
FUNDANGO Caravan Double Sleeping Bag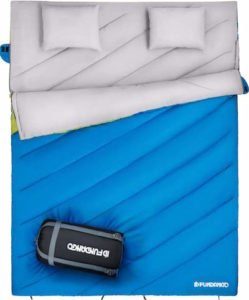 Now if you need space, then this caravan sleeping bag is the answer. With its roomy space of 87″ X 66″, 7″ it can sleep up to four people at a time in complete comfort. The sleeping bag is made of 100% polyester while also being breathable with skin-friendly materials.
This sleeping bag is designed for environments between 45-54℉/7-12℃, and the extreme temperature is -3℃/ 26.6℉.1 This sleeping bag is designed to be used as one large queen size sleeping bag or as two separate single compact sleeping bags for two individuals. 
The large queen-sized sleeping bag has two separate zippers on both sides so each person can enter and exit the sleeping bag without disturbing the other person. Also included is a 100% money-back guarantee in the rare event that you're not fully satisfied with the product. The sleeping bag is also machine washable, so you can keep it in pristine condition.
SONGMICS Wide Caravan Sleeping Bag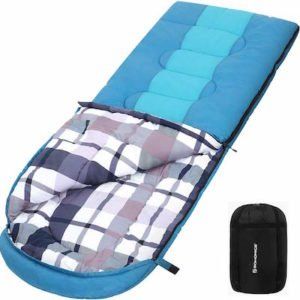 If you're sleeping by yourself, then you need a more compact solution which is provided by this comfy 220 x 84 cm Songmics sleeping bag. This uses soft-to-the-touch microfiber liner with a lovely silky interior which retains height inside keeping you nice and warm throughout the night.
There is also a hood that can be tightened/untightened and a bottom zipper so you can adjust the temperature if you get too hot or too cold. The sleeping bag has a generous 84 cm width which gives space for you to sleep in several positions on your back, front and side. You don't have to worry about the filling moving around as you change position as the bag has stitching to hold it in place.
The caravan sleeping bag also folds down into its supplied compression sack which makes it simple to carry and store. The sleeping bag also has a sewn-in pouch so you can keep any essential items such as phones close to you throughout the night.
Ohuhu Caravan Double Sleeping Bag
The super warm double sleeping bag keeps you snug and warm in cold conditions with its highly water-resistant 210T polyester which is then lined with TC fabric and subsequently filled with luxurious 3D Cotton to keep you warm throughout the night. 
This makes it not only warm but also long-lasting making it a great long term investment and the cotton filling is eco-friendly, highly resilient and has no odour.
The sleeping bag has zippers which allow it to detach into two separate sleeping bags and is supplied with two small pillows to provide you with effective neck support. The lightweight fabric makes it simple to pack into its carrying bag provided, which you can then store away with ease.
Vango Accord Square Sleeping Bag, Nutmeg
The Vango Square sleeping bag is of high quality for your sleeping needs. It is quality stitched to hold the insulating fibre securely in place to keep your full body warm through the night.
The square shape of the sleeping bag gives you ample room to move throughout the bag, and it has a 100% cotton flannel 230 g/m2 durable fabric filling that is not only soft to touch but also breathable and snug.
Also supplied is a square-shaped carry bag so you can quickly roll and pack your sleeping bag away when it's not in use.
The only downside is that unlike other competing double-sized caravan sleeping bags, this doesn't offer you the option of converting it into two separate sleeping bags.
Caravan Sleeping Bag Buying Guide
Size 
Luckily caravan sleeping bags come in a range of lengths of widths to fit a variety of body types. You need to ensure that there isn't too much excess room between your body and the edge of the bag so ideally, you need a snug fit so that you'll be effectively insulated. However, you don't want to be too tightly packed, or this can be uncomfortable throughout the night.
You need a sleeping bag that fits close to your body but allows you to move freely and comfortably still. The sleeping bag should match your height, but it's recommended to choose a size above if you're close to the limit in the size range. The width of your sleeping bag should allow you to change positions without struggling.
You may find that gender-specific sleeping bags provide a better fit because they're designed for each gender, taking into account their different natural body shapes. For instance, women require more room around the hips compared to men.
Capacity
Caravan sleeping bags are often suitable for more than one person to sleep in at the same time. So if you need it to fit 2+ people, then you will need to buy accordingly, and these types of sleeping bags better resemble the style and shape of a traditional bed.
Weight
When you're caravanning, the weight of your possessions is essential, and although it may not matter in isolation, the collective weight of all your goods can be a significant amount. A lightweight sleeping bag will also be easier to roll up and pack away after each use.
Shape
Several types of sleeping bag shapes will appeal to different people due to the type of design they offer.
Mummy
Mummy shaped sleeping bags have a tapered cut at the legs and feet which provides greater thermal efficiency, and the main benefit and goal of the bag are to preserve heat inside which is helped by its smaller size.
This type of sleeping bag gives you ample room around the upper half of the body including your shoulders however if you have broader shoulders or tend to shift around in your sleep then a different type of cut may be more suitable.
Rectangular
Rectangular shaped sleeping bags are less specialised and don't have the same taper that mummy sleeping bags have which means that they aren't as thermally efficient so you will lose more body heat throughout your sleep. So these will be better suited when you're in less extreme temperature environments.
Semi-rectangular
This is the compromise between rectangular and mummy-shaped sleeping bags. This is ideal for people who dislike the compactness of a mummy sleeping bag and want more wiggle room, but still want to have the warmth that a rectangular sleeping bag can lack at times.
Insulation & Fill
Generally, sleeping bags will be filled with either Down or synthetic material.
 Down insulated sleeping bag
Down is a naturally light material that provides an effective warmth to weight ratio while also lasting longer, which usually makes them more expensive than synthetic sleeping bags. The higher the amount of Down, the more effective it will be at trapping and holding heat so you will stay warmer throughout the night. 
This will, of course, affect the selling price so the higher the fill number, the higher the quality and price. Lower fill power just means that it will feel heavier, although it will still keep you warm.
Synthetic insulated sleeping bag
Synthetic material sleeping bags will be cheaper to buy, and although they will retain some heat, most will be lost. However, what they're great for is in wet conditions because the polyester doesn't absorb water, but if you're in a caravan, it's unlikely to be wet so we'd recommend a Down filled sleeping bag.
Temperature Rating
Sleeping bags come in a range of temperature ratings which allows you to make a better decision based on how warm you want to be and how warm your conditions will be. For instance, if you need to be warm and you turn your caravan heating off at night, then a higher temperature rating will be more appropriate. 
Sleeping bag temperature ratings can often be misleading, but you can use them as a rough guide because it's unlikely that your sleeping bag will warm to the exact temperature that's on the label. 
For example, if it's a 20 degree rated sleeping bag, then it's likely to be the lower temperature limit.
There is a standardised temperature rating system called European Norm (EN), which is a consistent system that's implemented across the industry and is broken down into the categories.
There is no precise way to understand which temperature you need to choose. Biologically males sleep hotter than women, but there are a whole host of other factors which can influence your required sleeping temperature including clothing, caravan temperature and altitude. However, in this list, we've chosen the most relevant temperatures that will be suitable for the majority of people.
If you do purchase a sleeping bag that doesn't have a high enough temperature if you can't return it, you can increase the temperature by adding layers which can include leggings, hats or jumpers. Alternatively you can use a caravan heater.
Price
Just likely any product you intend to buy, you need to have a budget in mind with an upper limit that you're willing to hit. You need to consider the number of features and the quality of the sleeping bag you want as this will affect what you can afford. Having a budget will also make the buying process easier as it will limit the number that is suitable for you. 
Folded Size
If you're using this in your caravan, then it's likely that space is already at a premium, so it's essential to understand how big the caravan sleeping bag is once it's been rolled up. This is because throughout the day when it's not in use it's likely you'll pack it into a cupboard or draw away from sight, so you need to know if it will fit. 
If you have a younger children then look at our travel cot guide to find our top rated recommendations.