If you have a baby but want to use your caravan, you may be wondering how best to accommodate a travel cot.
A caravan travel cot differs to a standard cot because it's designed to be used in the compact space of a caravan, where square footage is at a premium.
It's not recommended to bring the cot that you use in your residential home because:
It would be awkward to transport and;
It's probably going to take up too much room. 
It's often assumed travel cots will be worse in quality compared to standard cots, but with advancements in technology, brands have been able to make caravan travel cots that are just as comfy, safe and well built.
However, that's not to say that all caravan cots are perfect. Far from it!
In this guide, we take a look at the best caravan travel cots to give your little one a peaceful night's sleep while the family is travelling away from home.
Best Caravan Travel Cots for Babies
BABYBJÖRN Travel Cot with Fitted Sheet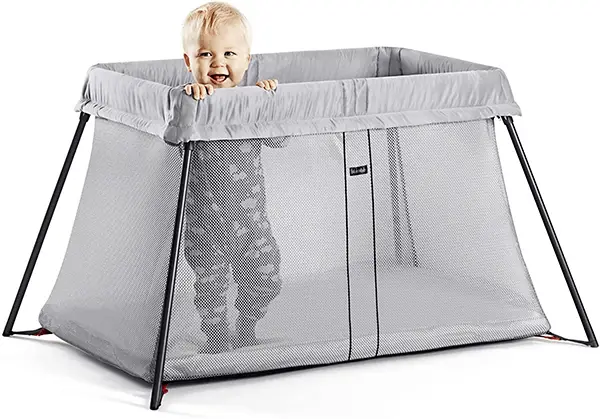 The BABYBJÖRN travel cot is one of the easiest travel cots to set up and dissemble. All you need to do is lift the cot out of the included travel bag, and you can set it up in a single movement. 
BABYBJÖRN is, of course, a brand that is familiar to just about every new parent. Their products are known for excellent quality that stand the test of time.
There are no additional loose parts to attach with this cot, and the legs unfold automatically. For added stability, the mattress has a built-in base plate, so the cot stands firmly on the floor without rocking.
The cot sides are made using soft and airy mesh fabric so your baby will be well ventilated, plus it allows you to see in and out of the cot so you can keep an eye on them. The travel cot materials are free of harmful substances and are Oeko-Tex Standard 100 approved.
The BABYBJÖRN travel cot includes a soft mattress, so your child can sleep in complete comfort. It is designed for children from newborn to approximately three years and has no upper weight limit.
All things considered, it's one of our favorite caravan travel cots – and not just for use in the caravan either. These work just as well in the nursery at home, meaning your little one will be familiar with their surroundings.
It's not as small as some of our other options, but it's more flexible in that it is suitable for toddlers (up to 3 years old), too.
Fingers crossed for a good night's sleep!
Graco Compact Caravan Cot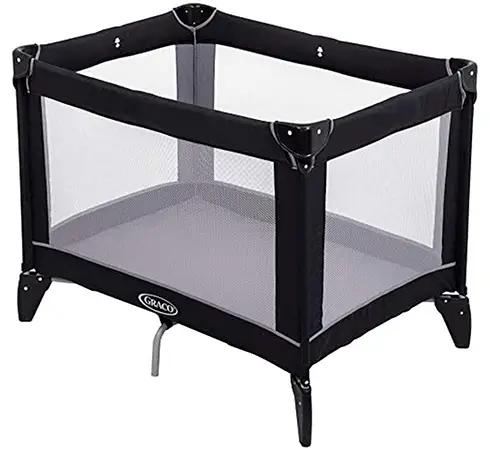 The Graco compact caravan cot provides your child with a place to both rest and plays when you're away from home on your caravan travels. The travel cot is portable and folds down simply using the signature Graco push-button fold into a compact size.
A carry bag is also included for convenient transport and storage. The cot also has Fully padded top rails for added support and sturdiness. The cot is easy to assemble and is suitable for children from birth to 3 years old, providing a great travel sleeping option for babies and toddlers alike.
The base of the cot is sturdy but also has a mattress included, so it's comfortable to sleep on, but if you require more comfort you can buy and insert an additional mattress.
The cot has airy mesh sides that keep it well ventilated, whilst also providing a convenient window so you can check that your little one is actually asleep!
Deryan Travel Cot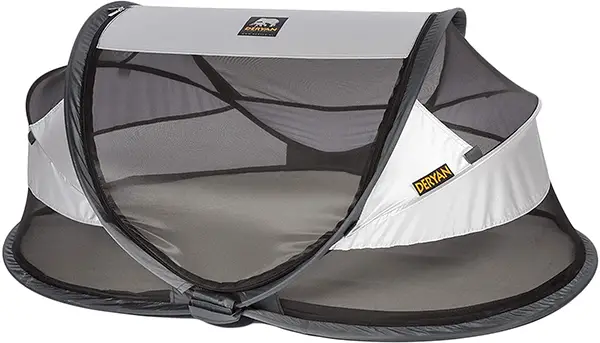 The Deryan travel cot with a self-inflating bed is a compact pop up travel bed which weighs just 1.8kg, making it extremely portable but remains very stable when it's time for your child to sleep. The cot is easy to set up and takes a few seconds – literally. It just pops right up.
You can also close the tent, which is ideal if you want to let your baby sleep peacefully. The cot is suitable for children up to the age of 2 years and comes complete with sleeping mat, self-inflatable mattress (2,5 cm) and carry bag.
Whilst it says that it's suitable for toddlers, we think 2 years is a bit of a stretch. This cot is probably better for babies that are not yet "up and running" – if you know what we mean!
The materials used are fire retardant and 50% UV resistant. The mattress included is self-inflating and is built to ensure that they can't crawl underneath it, while the mattress is also non-toxic.
The Baby Luxe cot also provides extra protection against the sun, mosquitoes and other insects, giving you extra peace of mind.
Koo-di Pop Up Travel Bubble Cot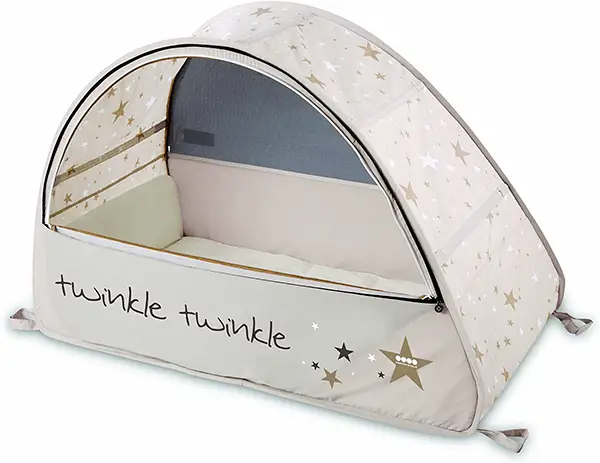 Koo-di has made a name for themselves in the travel cot space, and the Koo-di Sun & Sleep Pop Up Travel Bubble Cot is an effective alternative to a traditional travel cot – which tends to be heavy and bulky.
This cot is super lightweight while also being easy to pack away. It's suitable for indoor and outdoor use and comes complete with a padded base mattress to make sure your child is comfortable throughout their sleep.
When not in use, the cot neatly packs away into its carry bag. It's suitable for babies up to 6 month – you're definitely not getting a toddler in here!
There is a zip-up mosquito net which protects your child from insects, and it has a blackout blind which can block out UVA & UVB rays – or simply usher your baby to sleep if there are too many distractions in the caravan.
The bubble cot weighs just 2kg.
A great lightweight and portable choice while you're on your travels. And it looks pretty cute, too.
Koo-di Pop Up Travel Bassinette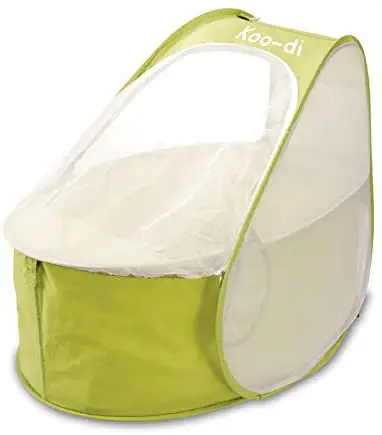 This bassinette is ideal if you have a baby who is under six months, or if they can't sit unaided – as this gives them added support. The Koo-di Bassinette is versatile, so you're not just limited to using it in a caravan but also when you're at home.
It's quick and easy to use and measures 80 cm length by 50 cm width by 58 cm height. It's not going to take up much space in your caravan, but it should provide a comfortable night's sleep.
The Koo-Di Bassinette comes supplied with a comfortable padded mattress and integrated zip-up mosquito net for added protection. 
The Bassinette quickly and easily folds into a compact carry bag that measures just 28 cm wide.
What To Look For In A Caravan Travel Cot
Ensuring baby sleeps well is pretty high on our list of priorities when travelling in a caravan.
(And in life, period!)
Here are some important factors to consider:
Elevated Floor
Some caravan travel cots give you the option to place an elevated bassinet or base into the floor of the cot.
This is best suited for babies up to six months for those that can sit up without help. An elevated floor means that you don't need to bend down as far when it's time to pick your baby up. This is ideal if you suffer from mobility issues, especially in the back and knees.
Max Weight and Age
Very important.
The majority of caravan travel cots will be built for children aged from birth up to 3 years old who weigh under 15kg. Despite this, the weight and age limits can vary from model to model, so it's important to check this with each manufacturer before you make a final purchasing decision.
The max weight will be linked to the size of the cot. For example, If it's only designed for babies up to six months, then it's likely to be much smaller in size. Travel cots for toddlers will take up significantly more space.
Portable & Assembled Size
It's important to understand both the assembled and folded size of the cot. You need to ensure that you have enough room in your caravan for it to stay when your baby's sleeping.
You also need to understand the size of it once it's folded down as this will allow you to understand where in your caravan you can store it when it's not in use.
Weight
This is one of the most important factors considering you're going to be travelling.
Ideally, you'll want to find a cot that is as light as possible without compromising its safety and sturdiness. This is because you're going to be carrying it regularly while you're on your travels whether that's moving it from the car to the caravan or moving it into position each night when it's your child's bedtime.
Versatility
Travel cots can be more than just space for your child to sleep in, but can also double up as a play area when they're awake. This also gives you a space that you can safely place a child without the danger of them crawling around the caravan where they can get into accidents.
Mattress
Most travel cots will have a mattress included which is often foldable. The included mattress is often average quality as they can be too thin, so usually, people tend to purchase their own thicker mattress as this will provide more support for the child throughout the night.
If it's only going to be used for a few nights a year, then you may not be too bothered about using the supplied mattress. But if they're going to be using it for long periods such as a two-three week holiday, then you'll want to purchase a higher quality option.
You can't buy peace and quiet, but you can certainly improve the chances…
Note: The same applies for adults in caravans with mattress toppers and suitable bedding.
Ease of Assembly
Is it normal for you to arrive at your destination late at night? If yes, then this is one of the reasons you need to consider how easy it is to assemble the travel cot when you're ready to use it. You don't want a cot that's fiddly and takes 30 minutes of frustration to get into place, especially if you're in a rush or its late at night.
Cost
Travel cots come in a range of different prices, and this will depend on several factors, including the brand and the amount of added features that it comes with. Your main priority should be to ensure that it's a high-quality, safe sleep space and it doesn't hurt to spend a little more to ensure that you're getting the highest quality cot.
Safety Standards
It's crucial to make sure that you only buy a travel cot that has passed all the relevant safety standard tests and regulations. This makes it safe for your child to sleep while minimises accidents occurring throughout the night.
Higher quality cots will have passed all these regulations, so you're better off paying a little more for a high-quality cot.
Warranty
Depending on the brand of the cot, you may be offered a warranty period with each cot that your purchase.
This essentially gives you added protection so in the case that a fault develops, the manufacturer will offer you support in the form of either a replacement or repair. This gives you the added peace of mind that the manufacturer believes in the quality of their product.
Brand
As you may have already noticed, there are many different brands, so it's essential to understand that some brands will be better than others. You need to ensure your child will be safe so ideally, you will buy from a brand that has been established more many years leading to it having a strong reputation for high-quality products.
Generally, the higher the brand quality and reputation, the more expensive their products will be. However, this will often mean that the cot will last longer and have more features, so overall, both you and your child's experience will be better.
There are many areas where it's fine to skimp on quality – we don't believe this is one of them!
Tips For Using a Caravan Travel Cot or Bassinette
Let your child acclimatise
Even if your child sleeps in a cot at home, we recommend that you allow them to sleep in the travel cot before you go away. They may need a little time to get used to sleeping in it, and the last thing you want is to find this out when you're in the caravan, and they're uncomfortable with their new surroundings.
It's normal for babies to take a little while to get used to new environments so if you want a good night's sleep then let them acclimatise to the new travel cot before you go on holiday.
Standard travel cot vs. Caravan travel cot
Now you may be thinking if there's a difference between a standard travel cot and a caravan travel cot and the answer is yes.
You can use a standard cot, but it's likely to be larger which may not be suitable for the restricted nature of a caravan. 
They are likely to be too wide, so you might only be able to use it in the communal areas, which may mean that you won't be close to your child throughout the night.
Caravan cots are usually slightly slimmer in size while still being big enough for your child to sleep comfortably.