A leisure battery monitor is a vital device which isn't just limited for use for your caravan but is compatible with motorhomes, cars and boats. This device functions by continuously measuring the quantity of energy that flows in and out of your caravan battery.
These measurements can then be used to work out the health of your battery and can show additional metrics such as the state of discharge. These findings are then displayed to you on an LCD screen, so you can be informed of any danger or important information – before it's too late!
In this guide, we look at the best leisure battery monitors for your caravan or motorhome.
5 Best Leisure Battery Monitors
Likely, you haven't needed to buy many leisure battery monitors in your life, which can make the buying process a little tricky. Don't worry – we'll walk you through the things that you need to consider before making a final decision.
First, here's our top 5 leisure battery indicator picks:
Multifunction 12V LCD Lead Acid Battery Capacity Meter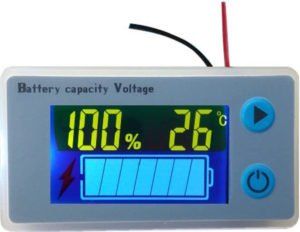 This CleanPower 12v battery monitor features an in-built LCD screen that offers a clear display so you can view the data from any angle in both day and night. The monitor will calculate and show you the latest capacity and voltage of your battery while also showing the current temperature in Celsius. 
The monitor has very low power consumption with a working current of 5mA and a working temperature from -10℃ to 55℃. In terms of compatibility, the battery is suitable for lead-acid batteries, AGM, SLA, GEL. This means that it's not only suitable for caravan batteries but also other applications including motorcycles, golf carts, cars and boats.
The unit is fairly durable due to its tough construction which helps to protect it from both damage and dust. It also comes supplied with a user manual so you can quickly learn how it functions.
Nasa Battery BM1 Monitor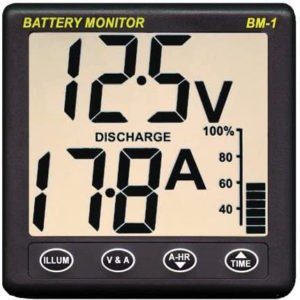 This Nasa battery monitor is a top-quality solution and can be installed directly to your leisure battery. It makes the whole process very easy to get up and running. Not only is it extremely accurate, but it comes supplied with all the parts you need and is built to last.
The instructions included are step by step which is ideal if you're new to this. Unlike most other models this will monitor both discharge and charge and can give you live voltage and current readings including the amount of time to go before recharge required, the true state of the battery and a whole load of other features.
The monitor is weather-resistant while also being British designed and manufactured. You'll struggle to find a better device.
Accurate, reliable and gets the job done.
Sxstar LCD Battery Capacity Monitor Gauge Meter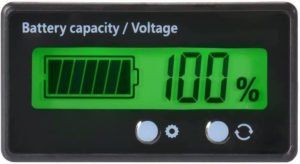 The Sxstar battery monitor is encased in a waterproof shell and has a PVC waterproof screen protector to keep it in top condition. It also has an easy to use button so you can switch from Capacity, Voltage and powering on/off.
The monitor has a clear and bright LCD display so you can view it from any angle or any time of the time. To save power, it will also turn to sleep mode after 10 seconds of inactivity.
In terms of safety, the monitor also has reverse polarity protection so will automatically turn off if the connection is wrong. The battery detector is compatible with a whole range of batteries, including lithium batteries and lead-acid batteries.
The monitor will also allow you to check the remaining capacity of your battery with both a battery sign and a percentage. It's also compatible not just with caravans but for scooters, motorcycles, boats and more.
It also has a vast working voltage range (DC 6-63V). It can be adjusted to 12V, 34V, 36V, 48V according to the battery voltage without needing an additional power source.
A flexible caravan battery monitor, but with a few reliability/accuracy issues.
MICTUNING LCD Display DC Battery Monitor Meter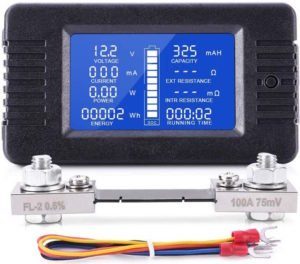 The Mictuning battery monitor is one of the best on the market and has a whole bucketload of features. It can be used to measure the voltage, resistance, current, internal resistance, SOC, energy consumption, capacity and running time of various types of batteries, and display the measurement data through the LCD screen.
The monitor has an LCD HD display which gives you a 360-degree viewing angle without a poor view plus it has a backlight, so it's just as clear at night. The monitor has a no screw installation with its push on terminal, making it easy to install straight out of the packaging.
More importantly, the monitor has high precision chip control and accurate measurement with an accuracy of 1%, so you know you can trust the readings.
Because of its accuracy, it's not only great for caravans but is widely used in industrial assembly lines and the automobile industry.
QUICKLYNKS Battery Monitor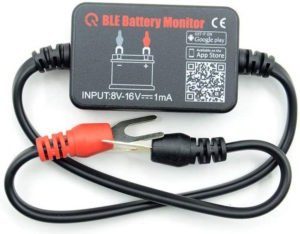 Now if you want to manage your battery monitor via your mobile phone, then this is the option for you. Once you connect the monitor to your phone, you will receive notifications of your battery condition directly to your phone.
You can also set up alerts when abnormal data is recorded, and you can also review historic voltage data which is presented in a graph. This data is stored for 35 days, and the monitor has a super low power consumption with an average current of 1.0mA.
The app is free to use for both iOS and Android users, and it's compatible with all 12-volt vehicle batteries.
This takes the hassle out of looking after your battery. You can check the health of your battery from the comfort of your sofa, and you'll be alerted if anything needs to be checked on.
A really useful piece of kit.
What Is A Leisure Battery Monitor?
At the start of the article, we gave a brief introduction to a battery monitor, but we'll go into a bit more depth so you can fully understand what a battery monitor does, and why it's so important.
A battery monitor is a specialised device that connects to your leisure battery to monitor the current condition of your battery.
This is to give you an up to date status of the performance of your battery and gives you information that allows you to make better decisions. A basic version of a battery monitor is a voltmeter, but this gives you a very simplistic view. With more information, you can make more accurate decisions.
A battery monitor's most basic function is to measure the current that flows in and out of the battery and monitors remaining power capacity in the battery. With this information, it can then show an estimated amount of time left before the battery is fully charged or discharged.
Further reading: The best caravan leisure battery chargers and protective boxes.
It's important to know this information, especially if you're in a caravan because it also decreases the chances of your battery failing out of the blue.
You can also pre-empt the end of your batteries life. However you may think that this is simple to do, so all battery monitors must be the same? Wrong. Not all battery monitors are made the same, some will be more accurate than others, and some will provide more detailed information about your battery.
Benefits of a Leisure Battery Monitor
Effective Function Monitoring
Some battery monitors will have an amp-hour meter which analyses the charging function of your battery to check that it's working correctly. This means you can understand if appliances in your caravan are consuming too much power or wasting power. You then have the information to give you a chance to turn it off. Without this information, you could spend your whole caravan trip not knowing.
Battery Failure Notifications
Going one step further, a battery monitor will notify you in advance of any potential battery failure. The best battery monitors will also store historical data which then can be used to troubleshoot future issues. The amp-hour meter again can be used to understand whether you have enough power for your caravan.
Understanding Battery Voltage and Capacity
A battery monitor can also help you to understand how much of the battery's capacity that you're currently using – so you can see how much potential additional appliances you can use.
It can help us understand how much power has been used or is remaining while also breaking down how much energy each appliance is using. This includes detailed information such as percentage left, remaining time before full charge status and other different battery readings.
Caravan Battery Monitor Buying Guide
Here are some of the factors to consider when looking for a leisure battery voltage meter:
Mounting
The mounting of your battery monitor is an important consideration. Most monitors are designed to have buttons that allow you to program the monitor manually, and you can also use these buttons to switch between modes. The mounting will vary depending on the manufacturer with some offering a surface mount whereas others will be supplied with a flush mount.
Price
You should approach this the same as you would for purchasing any other kind of consumer appliance. It makes it easier to make a buying decision if you have a budget because battery monitors will vary in price.
The biggest factors that affect the price are the brand and the features included. More features will give you better user experience, so this comes at a greater cost, though you need to read the product descriptions to check that you'll use these extra features.
Better brands will often demand a higher selling price, especially if they see themselves as the best brand in the market. There's nothing wrong with having a budget, and we recommend it because it helps to narrow down the choices available to you.
Ease of Use
You need to understand and check how easy your chosen leisure battery monitor will be to use because you want a solution that will work straight out of the box with little hassle. The last thing you want is to have to spend hours trying to get it up and running. An easy way to find out the difficulty is by reading individual product reviews from users as these users will make it very clear if they had issues with the product.
Ease of use can also be improved by the number of features that a monitor has. Some have an on/off switch or command, which can make it easier to use. The best options will also have a clear LCD screen so you can easily read the information in both night and day, so you're more likely to use the device if it's easy to use.
Warranty
Warranties won't be the same across different products and brand. For example, some may offer a six-month-long warranty, whereas others could be a lifetime warranty and some may not offer a warranty at all.
So you must check whether a warranty is included for any product that you decide to buy. This should also have an input into the product you decide to buy because it may be better to spend a little more to ensure that you're covered with a warranty.
A warranty is important. It gives you an added sense of peace because if a defect develops with your product, all you need to do is contact the manufacturer. They will be there to assist whether its troubleshooting advice, a repair or a replacement.
Battery Shunt
Battery shunts are the action of measuring the amount of energy that's flowing in and out of your caravan battery and allows this process to happen in real-time to give you up to date information. Not only will the unit show the current battery voltage and capacity, but it will also show you how the current has changed over time as it can store historical data.
It uses the current information to work out the percentage of its capacity that's remaining and available to be used. The battery shunt is a small component that's attached to the battery's negative terminal.
Not all leisure battery monitors come with a battery shunt, so it's something that you need to be aware of before you buy.