These days, the typical caravan has many more electrical appliances than was common 10 or 15 years ago.
With the abundance of electrical devices competing for power, a leisure battery has become an essential purchase – especially for those who choose to travel off-grid and don't always have access to an electric hookup point.
You will presumably be travelling with a variety of 12 volt devices that need a constant source of power, or you won't be able to use them. While leisure batteries are not typically pre-installed with a caravan, the benefits of having one are clear to anybody who has been stuck without reliable power in the middle of nowhere!
In this guide, we'll highlight the best leisure battery for caravanning – and the factors you'll need to consider before investing in one of these vital sources of power.
What Is The Best Leisure Battery For A Caravan?
SuperBatt 12 Volts 110AH LM110 Deep Cycle Leisure Battery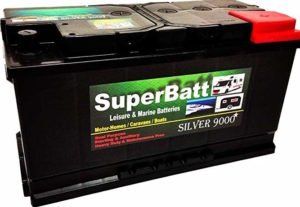 Superbatt is the leader in the caravan leisure battery market, and this isn't a surprise considering the large range that they have available compared to competing brands. 
The 9000 series is constructed to deal with the daily demands of both the leisure and marine industries making it suitable for caravans, motorhomes and boats. It does this by supplying 12V, 800 amps and 110 Amp-hours while also being maintenance-free.
This is even more so because the demands are becoming greater, which requires a higher quality battery. This battery delivers high-quality performance and is a dual-purpose battery for both starting and auxiliary use.
Also included with this popular Superbatt leisure battery is a two-year warranty to give you added peace of mind.
12V 110AH 800A
Two-year warranty
Leisure & Marine Heavy Duty Long Life Battery
Dual Purpose (Starting & Auxiliary) 
Maintenance Free with Advance Calcium Technology
SuperBatt 12V 75AH LM75 Leisure Battery For Caravans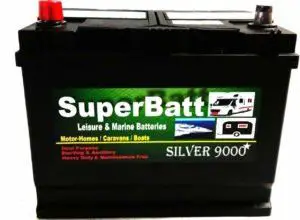 Another addition to the 9000 series by Superbatt includes this 75AH leisure battery which is great if you have slightly lower power requirements but still need the reliability and peace of mind that comes from a great manufacturer.
This is suitable for both leisure and marine usage and packs a punch with 12V and 75 amp hours while also having 550 cold-cranking hours. As you can come to expect with Superbatt batteries, there is a two-year warranty included with each purchase.
It is a low maintenance battery which makes life significantly easier and is Dual Purpose Batteries making it ideal for both marine Starting & Auxiliary use.
Voltage 12 V, Capacity 75 AH
Dual Purpose for starting & auxiliary use
Leisure and marine applications
2 Years Warranty
Lucas Dual Purpose 12V 105Ah Leisure Battery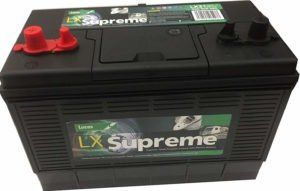 This dual purpose offering from Lucas is part of what they've dubbed the "next generation of leisure batteries".
It's designed for long life and deep discharging. Compared to similar models that only do 100-150 recharge cycles, the new Lucas batteries will do up to 500. That's a massive performance increase that will last you a very long time – up to several years.
It's a chunky unit, weighing 27 KG, so it's not the most 'lightweight' of batteries you'll find, but it comes with reinforced handles for when you're transporting it. Once in operation, it charges nicely and makes a vital contribution to the power requirements of any caravan, campervan or motorhome.
The dual terminals are great for attaching any accessories that you might want to charge. All in all, this leisure battery is one of the best in class and compares favourably to similar models at its current price.
What Is A Leisure Battery?
A leisure battery is designed to be a source of power for 12V appliances and equipment that is found within motorhomes or caravans. These batteries can supply appliances with low levels of consistent power over long periods.
They are particularly useful if you are off-the-grid and don't have access to the mains at a caravan park via a hook-up cable.
Example of appliances includes TV's, microwaves and lights, so it's all the small appliances that provide you with a more liveable and comfortable experience. This turns your caravan from a vehicle into a home.
Leisure batteries are often thought of as an add-on accessory, so new caravans don't always come equipped with one, so be sure to check with your dealer whether this is the case or not.
Is a Leisure Battery The Same as a Caravan Battery?
This is a common assumption; however, a caravan battery and a leisure battery are different in significant ways. If you had an emergency, then in some cases they could be interchangeable, but it isn't recommended because they generate energy in different ways.
A standard caravan battery is designed to generate a spark of energy when you turn the ignition of the vehicle. A leisure battery generates a lower level of energy but is designed to provide this energy over a long period which makes it ideal for low power consuming appliances.
Because of their different uses, leisure batteries and caravan batteries have very different design construction.
A traditional caravan battery has thinner plates and different separators which makes it less effective at supplying low levels of energy, whereas leisure batteries have thicker plates.
It's all about getting the right battery to match your desired use, so you get the most for your money.
The Different Types of Leisure battery
Lead Acid Batteries
The majority of leisure batteries are lead-acid batteries, and because they are so in demand, you have the choice of several types:
Standard starter batteries – often referred to as calcium or cranking batteries
Standard leisure batteries – also often referred to as auxiliary or deep-cycling batteries
Semi traction and traction batteries – alternatively known as deep-cycling batteries
Gel Batteries
Gel batteries are commonly found in high powered vehicles such as jet skis and quad bikes. Because these types of vehicles have a higher chance of being involved in a collision, these batteries use a gel which removes the danger of leaking dangerous acid if it's tipped over.
This use has been transferred into caravan use to provide added protection if it's ever involved in an accident.
AGM Batteries
Absorbent Glass Mat batteries are constructed using lead plates and compressed glass fibre within each cell. This is a proprietary and special manufacturing process which increases the life of the battery, making it longer lasting.
This added functionality makes it costlier because they can also go through a larger number of charging cycles without losing its battery effectiveness.
Maintenance-Free Batteries
Batteries have come along way over the years. Traditional batteries are built with removable caps that require you to maintain the acid levels, so some manufacturers have created maintenance-free batteries.
This does exactly what it sounds like, and the battery comes sealed. The manufacturer has ensured that it contains sufficient acid levels so that the necessary chemical reactions can take place under regular usage.
Factors That Affect Leisure Battery Performance
Temperature
Depending on your location, the temperature can have a large effect on the performance of your leisure battery, the colder the environment, the weaker the performance.
Batteries are rated in amp-hours, which is the amount of energy charge in a battery that will allow one ampere of current to flow for one hour.
The standard amp-hours rating is based on an environment temperature of 25C and for every degree lower than this causes a 1% fall in performance.
Workload
The more appliances your battery is supplying energy to, the quicker the battery will fully discharge and will need to be charged.
Every battery has a set number of full charge cycles it can go through before it begins to degrade, so the more often you need to charge it, the quicker it will need to be replaced.
Battery Age
You need to consider that this isn't a one-off purchase. Regardless of your usage, eventually, it will begin to reduce in performance, which means that it will need to be charged more often.
The average battery will need to be replaced every 4-5 years, but the higher the battery, the quality the less frequent replacements need to be made. A leisure battery monitor will help to extend its life and keep it protected with a leisure battery box.
Size
The size of your leisure battery is closely linked to your power demands. The more appliances that you need to support and run, the bigger the size your leisure battery will need to be which will also affect the leisure battery charger you require.
For example, if you have a large motor home with multiple appliances and you plan to use it through the winter where power demands are higher, then you'll need a bigger battery.
Brand
It can be overwhelming buying a leisure battery because of the sheer choice of manufacturers available on the market. 
Some brands have been around for many years supplying millions of units building a strong reputation along the way. These brands are more trustworthy, especially if you've never bought this type of product before.
Price
Leisure battery price will vary depending on the type of battery and the manufacturer. Prices can range massively, so there's an option if you're on a budget or you're looking for a premium product.
Generally speaking, you will get what you pay for. The best leisure battery will often be slightly more expensive; however, this will often be supplied with added benefits such as longer warranties, extra support and long life.
Warranty
The best leisure battery manufactures will often supply their battery with an impressive warranty which covers you for several years. Regardless of the perceived quality of your chosen battery, there is always a possibility that a fault can develop. 
This is where a warranty becomes so valuable because this will often entitle you to a replacement or repair, giving you the added peace of mind.
Cold Cranking Amps (CCA)
CCA is an industry-wide standard which is used to define a battery's ability to start an engine in colder temperatures. Generally, it's easier to start an engine in a warmer environment versus a colder one. 
The actual rating itself refers to the number of amps a 12-volt battery can deliver for 30 seconds at a temperature of 0°F while maintaining a voltage of at least 7.2 volts. The greater the CCA rating, the greater the battery starting power.