It's often forgotten, but one of the most sensible investments you can make in your caravan or motorhome is a leisure battery charger.
This will be vital in an emergency if you find yourself with a flat battery. The most advanced chargers are also able to offer your battery maintenance so you can address small issues before they get worse.
It can be hard to understand what the most effective caravan charger is, which is why we've created this full buying guide to lead you through the process.
Looking for the best leisure battery charger? You've come to the right place!
Let's get started!
5 Best Leisure Battery Chargers for Caravans
CTEK MXS 7.0 Fully Automatic Battery Charger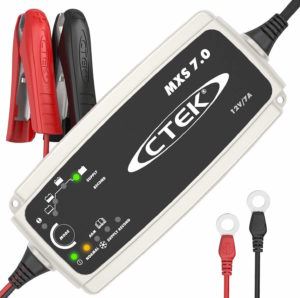 This simple to use CTEK is highly effective at not only charging your battery but also maintaining its conditions. It is easy to connect while also being fully automatic, spark-free, and reverse polarity protected.
It is robust, making it reliable and suitable for outdoor use in even the coldest conditions due to it being developed and tested in Sweden. The battery itself is compatible with a range of different types of lead-acid vehicle batteries.
The battery charger also has a setting that has a reconditioning program that works to both restore battery life and also recondition flat batteries. If you also find yourself in a situation where you need to remove the battery from your vehicle, then the battery charger can act as a power supply up to 7A.
Reverse polarity protected
Fully automatic
Spark free
Suitable for outdoor use
Recondition setting 
Up to 3 times more battery life
AA 6V/12V Battery Charger & Maintainer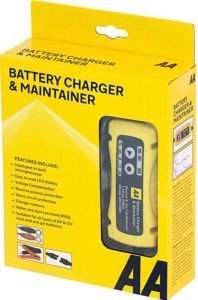 The AA Battery Charger & Maintainer is used by their patrols and is controlled by a 12-bit AD microprocessor that has four stages of charging which has been designed for charging batteries that are fitted into a whole host of vehicles including caravans.
The inbuilt microprocessor can evaluate the condition of the battery and uses this insight to supply the correct current and voltage to suit the batteries needs. This not only provides the best type of charging but also ensures the battery has the longest life possible.
The battery charger is Suitable for all types of 6V and 12V lead-acid and gel batteries. It is also great in situations where only a top-up is needed and prevents any battery damage being caused.
Intelligent in-built processor
Voltage compensation
Easy-to-read LED display
Short circuit protection
Charger memory
Reverse polarity protection
Water and dust resistant (IP65)
Suitable for all types of 6V and 12V lead-acid and gel batteries.
Numax 12V 10A Leisure Battery Charger For Caravans & Motorhome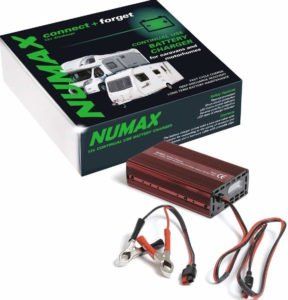 The Numax 12V battery charger is often referred to as "connect and forget" because it's designed for fast charging and also has Deep Discharge Recovery and Long Term Battery Maintenance.
For easy installation, the unit comes with Capped Eyelets and Crocodile Clips supplied with Torberry Plug Connectors. The charger has reverse polarity protection and also has an aluminium body which disperses heat quickly via its inbuilt cooling fan. This prevents the charger from overheating and causing damage to your battery,
The battery charger comes with a full one year warranty and is small and compact measuring just 167mm (length) x 103mm (Width) x 50mm (Height).
Fast charging
Reverse polarity protection
Inbuilt fan
Long Term Battery Maintenance
Deep Discharge Recovery
One year warranty
Compact size
Maypole MP7428 Electronic Battery Charger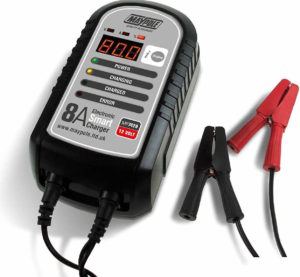 Maypole is a brand that has been around for several years, and this battery charger is fully automatic and is compatible with an extensive range of vehicles and batteries 1.2Ah – 192Ah in capacity (lead-acid & AGM).
The battery charger has nine stages of charging, and the unit automatically detects the current condition and voltage of the battery. It then will diagnose, charge and recondition the battery while it also has an LCD which shows charging information.
Additional features include reverse polarity, short circuit and open circuit protection plus the unit is also wall mountable. The charger is also suitable for start/stop vehicles.
9 stage charging cycle
diagnose, charge and reconditions
Suitable for cars, 4×4's, vans, caravans, motorhomes and tractors.
Suitable for batteries 1.2Ah – 192Ah in capacity (lead-acid & AGM).
LCD
reverse polarity Protection
 Wall mountable
Short circuit and open circuit protection
NOCO Genius G1100UK UltraSafe Smart Battery Charger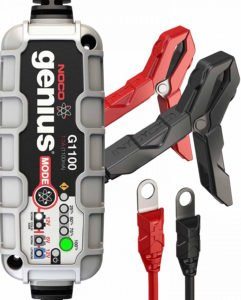 The Noco battery charger gives you the ability to charge and maintain an array of vehicles, including cars, boats, trucks, RVs, and Lawnmowers. It is compatible with all types of 12-volt and 6-volt lead-acid batteries including gel, AGM & wet.
The battery charger has monitoring and maintaining feature, so you don't have to worry about your battery being overcharged. You can just plug it in and return when you can. The battery charger also has spark-proof technology and reverse polarity protection.
Also included is a five-year warranty and has an Intuitive visual diagnostic tool which can detect issues such as reverse polarity, low-voltage or damaged batteries.
Maintenance mode to prevent overcharging
Charges 6V & 12V lead-acid batteries (including AGM) and 12V Lithium.
Intuitive diagnostics
Energy-saving capabilities
Compact size
Five-year warranty
Things To Consider When Buying A Leisure Battery Charger
Looking to buy a leisure battery charger for your caravan or motorhome?
Here are some of the factors to consider:
Amperage
It's essential to consider the amp rating of the battery charger before making a buying decision. The peak amps is a measurement of the highest number of amps that a battery can produce within a single millisecond.
This means that chargers that have a higher peak amperage can pull in more substantial levels of electrical current at a time without damaging itself.
In summary, the higher the peak amperage this indicates that the charger is of greater quality. However, this doesn't signal the speed of the charging.
User Friendliness
Regardless of whether you've been using a battery charger for years or you're about to purchase your very first unit, you'd still favour a charger that's quick and easy to operate. 
You must ensure that your desired unit comes complete with a user manual guide or at least has online videos that you can use to help. If you're a beginner, then it can be challenging to set up without these resources.
Battery Charger Size
The size of your chosen battery charger will be dependent on your expected use. For example, if you plan to transport it and have it with you at all times, then you'll want to choose a compact and lighter version. However, if you plan just to keep it at home, then a larger version won't be a problem.
In the past, the size of the charger was often a fair reflection of how much power it could produce. Times have changed, and technology has progressed massively, so even the smallest battery chargers can generate a large amount of amperage. 
Jump-Starting Capability
If your battery charger has the jump-starting ability, then this can be a great addition. This feature allows you to jump-start your battery when it's fully run out of power meaning there isn't enough power to cause the crankshaft to rotate, which then helps to start the engine.
Generally speaking, the larger your vehicle engine, the higher the number of cold cranking amps your battery charger needs to be. Colder conditions can make it more challenging to jump-start your batter so a larger burst of electricity will be required.
Automatic Shut Off
The best caravan battery chargers will have an automatic shut off feature so when the battery is fully charged it will automatically send a trigger than cuts the charge to stop overcharging. Overcharging can cause damage to the battery, and an inbuilt microprocessor controls the automatic shut off.
This microprocessor can initiate multi-stage charging which ensures that the battery charges efficiently every time. It's essential to check whether your chosen battery charger has this feature as it will extend the overall life of your caravan or motorhome battery.
Charge Time
If you're on the move in your caravan and your battery dies, then you need a quick charge. Different batteries require different charging periods which can range anywhere from 2 – 12 hours. You also need to check compatibility with your chosen leisure battery monitor.
High-quality chargers will charge your battery significantly quicker whereas portable chargers will usually be slower at charging because they're smaller in size. So although smaller chargers are easier to transport, their charging output may be slower.
Charging Speed
The best leisure battery chargers often have numerous charging settings depending on your current needs. For example, if you're in an emergency where you need to quickly charge, then you can switch to its fast-charging setting.
Although it isn't good to continually use the fast charging setting, it has its uses. Of course, ideally, you'd always use the slow charge but if you're stuck on the side of the motorway then added charging functionality can save you a lot of hassle.
Compatibility
The first thing you should consider is whether your chosen battery charger is compatible with your type of leisure battery. Some battery chargers can only be used with a specific type of battery depending on the voltages.
Using the wrong charger can lead to a range of problems including faults, non-charging or slow charging.
The simplest way to find out if your battery is compatible is by reading the instruction manual or checking on the battery/charger itself.
Warranty
Electronic goods are made with hundreds of components, and all it takes is for one of these components to develop a fault, and the whole unit may stop working.
You need to ensure that you check whether your battery charger is supplied with a warranty as this will provide you with both peace of mind and product support if the unit becomes faulty.
Warranty length varies from product to product but generally speaking, they will be no shorter than one year and can be valid up to a lifetime.
It can often be more cost-effective in the long run to buy a more expensive charger that has a more extended warranty vs a cheaper charger with no warranty.
Consider investing in a leisure battery box to protect both your battery and chargers.
Price
Buying a caravan leisure battery charger used to be an expensive outlay; however, with the advancement in technology this has done two main things; increased the number of features & decreased the prices.
Even the best battery chargers will cost under £80-90 and have all the added features that you need to quickly and effectively charge your battery.