Your caravan's battery is one of the most critical components. Without it, you lose one of your primary power sources.
However, to protect your leisure battery, you'll need to use a leisure battery box which can shelter it from external damage (and thereby help you to avoid any seriously inconvenient power mishaps).
Now you may be wondering if a battery box is really necessary, and the answer is: yes.
(Unless you want to put one of the most vital parts of your vehicle at constant avoidable risk.)
Buying a leisure battery box is quite straightforward if you've done it before. But for those who haven't, we've created this guide to show you the best battery boxes on the market – and the key features to look for.
4 Best Leisure Battery Boxes For Maximum Protection
Bison Battery Box
The Bison battery box is the king of battery boxes with a unique 12-volt power station that allows you to mount and store your battery quickly. The battery box is constructed using impact resistant polypropylene that is super durable to protect your battery at all times.
The Bison box has internal battery leads which then feed into the battery switch and then through the battery box lid that has inbuilt power outlets.
The battery box also has a 5v USB socket that makes it ideal for charging phones, tablets etc. While it also has a 12-volt socket similar to a cigarette lighter. The box is durable and is designed so you can also transport your battery while reducing the potential threat of hazardous battery chemicals spillages.
This is arguably the best leisure battery box for off-the-grid-living. It comes highly recommended.
Pennine Caravan Black Plastic 110amp Leisure Battery Box
Looking for a cheaper but slightly more basic solution?
The Pennine battery box is simple yet effective in both its design and functionality. The battery box is made from durable plastic and is suitable and compatible with a range of leisure batteries that you'd normally find in your caravan.
The battery box also has straps and a divider which allows you to securely keep your battery in a safe position even if it's the smaller battery size. Because of its large size, it means that it is likely that your battery will fit with room to spare.
Caravan Yellow 110amp Leisure Battery Holding Box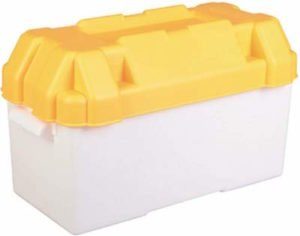 This yellow box measures L400mm x D190mm x H200mm and allows a protective space for your battery. The battery box also has straps that allow you to secure your battery in place.
The box also has a divider inside so you can slot into rails set along the length of the box. If you need a reliable battery box, then Pennine is a brand that you can trust has been in the caravan industry for many years building a strong reputation through high-quality products.
The design is not as comprehensive or multi-purpose as the Bison offering, but it protects your battery at a very affordable price.
Caravan 85 Amp Leisure Battery Box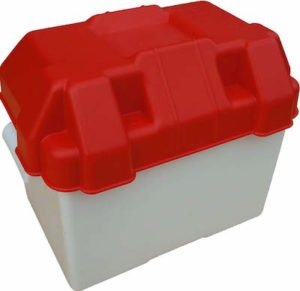 If you have a lower budget but still want the benefits of a battery box, then this could be the choice for you.
This battery box is suitable for caravan, motorhome and boat batteries. The box has dimensions of 13 inches (length) by 90 inches (width) by 11 inches (height). 
It is suitable for leisure and other batteries up to 80AH capacity. To secure your battery, the battery box is supplied with straps and hold down brackets. A very useful piece of kit that will protect your battery in all weathers.
Trem Caravan Camper Large Leisure Battery Box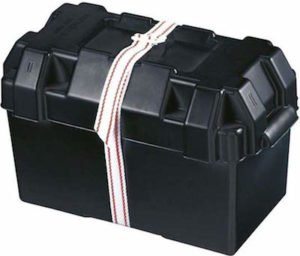 This large-sized fully waterproof battery box can hold up to 110a battery safely and securely.
It has internal dimensions of 235mm high (including lid recess) x 375mm wide x 198mm deep and external dimensions of 260mm high x 450mm wide x 240mm deep. This is more than enough space for most battery sizes and should be just fine for your caravan or motorhome.
The lid also has a strap which is supposed to add extra stability and security for your battery, ensuring that it doesn't slide out of place.
Unfortunately, the strap buckle is poorly designed and not quite as secure as you'd expect.
What To Look For In A Leisure Battery Box
Looking to buy a leisure battery box?
Here are some of the key factors to consider:
Is It Portable?
The whole point of a battery box is to make it easier to carry your battery. You should choose a battery box that is not only lightweight making it simple to carry but also sturdy to protect your battery. Excellent portability can also be achieved with carrying handles which can be ideal for caravan owners who don't also store their battery on board.
Is It Waterproof?
You should opt for a waterproof battery box where possible because they will have a waterproof which prevents water from entering into the box and on to your battery. For most batteries, water contact can be hugely problematic, so it's best to take the necessary precautions to prevent this.
Terminal Access
Just because you have a battery inside a box, that doesn't mean that you never need access to your battery. The best leisure battery boxes provide easy access to the terminals whenever you need it. It's also essential that when the terminals aren't being accessed that the box protects and covers them. Easy access to the terminals can save a considerable amount of time, making the whole process easier.
Is It Mountable? 
Most older models of battery box are unnecessarily large, which makes them cumbersome to carry, which means they need to be mounted securely. To stop the case from slipping or sliding, you should opt for a mountable battery box.
Price 
The price of your battery box will vary depending on the size, the type and the number of features that it has. The more features it has, generally, the more expensive it will be. However, battery boxes tend to be very affordable across the board unless you're looking to purchase a smart battery box (like the Bison).
Types of Leisure Battery Boxes
Cabinet Style Battery Box
Cabinet style boxes are best suited if you have more than one battery in your caravan as they have a higher capacity. Due to this higher capacity, they also are more durable and sturdy to provide better protection for your multiple batteries and chargers.
Chest Style Battery Box
Chest battery boxes are the most common type of battery box and are the most affordable on the market while providing your battery with strong protection. Because they're the most popular, there is a wide range of models to choose from.
Pole Mounted Battery Box
This type is literally what the names suggest with a battery box mounted on poles but are small in size which makes them the cheapest option available.