Do you need to put your caravan in storage?
If you are planning to do so, it's best to know the price range so that you can come up with a plan. The average cost for storing a caravan in the UK in 2020 was £508.99, which translates to £42.36 per month.
In this guide, we'll do our best to answer – how much is caravan storage? We'll highlight the factors that can increase (or decrease) your storage costs, as well as a rough breakdown of costs by region in the UK.
For a comprehensive list of storage options, don't forget to visit our Caravan Storage Near Me guide. It has a county-by-county breakdown of recommended storage sites.
How Much Is Caravan Storage In The UK?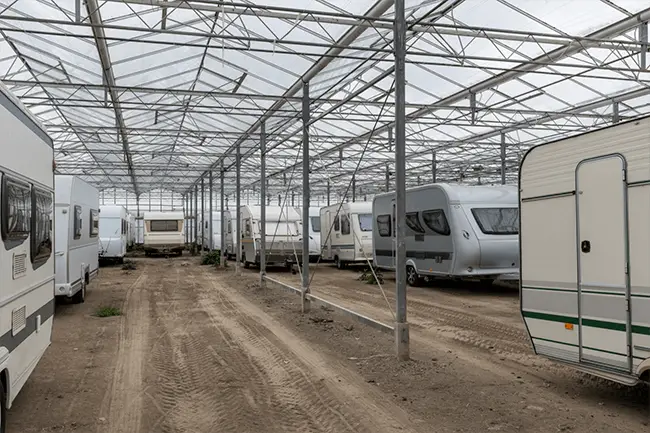 The short answer: it depends!
The average price of caravan storage varies throughout the country. Specific rates are influenced by a range of factors. Here are some of them:
Size of the Caravan
The larger your vehicle the more expensive it will be to store. If you have a large caravan, it will naturally take up more space and will be harder to manoeuvre around the storage facility. However, you should not allow yourself to be taken advantage of for having a large camper. If the rates charged by a particular facility seem extortionate, then they probably are. Shop around, be critical, and find the most competitive offer.
Smaller caravans will generally cost less to store.
Location
The storage site's location inside the city is a determining factor in the fee charged. Facilities that are close to motorway junctions are priced at a premium. This has much to do with the convenience of the site. Being close to the motorway allows a driver to hook up and drive onto it in a very short time. It also saves less confident drivers from negotiating town centres and housing estates.
In general, the big cities charge higher rates—London being the most expensive—while rural locations are much cheaper.
Indoor vs Outdoor Storage
Indoor caravan storage comes at a premium as it provides additional protection from bad weather (and theft).
That's not to say you shouldn't consider outdoor storage. There's a whole lot more of it available, for starters! The best rated sites will have measures in place to ensure that your caravan is protected outdoors.
Security
Perhaps the biggest advantage of storing your caravan in a storage facility is the security. It can also drive-up costs. If you are willing to pay the money to store your caravan, then you should ensure that it will be safe and protected.
A good guideline to follow is the CaSSOA rating (Caravan Storage Site Owners' Association).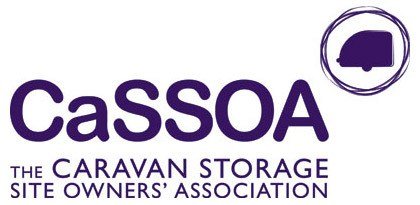 If a site has been awarded the CaSSOA Silver – or better yet, Gold rating – you can guarantee that its security is of a high standard.
Here are some of the security measures that the storage facility should have in place:
Perimeter protection
This can be in the form of fencing, electronic beam, earth mounds, and water-filled ditches.
Access control
The access points to the storage facility should be controlled using a card control system, key pad, or old fashion locks. You probably want to go with a facility that uses the more advanced and reliable card control system.
You should also ensure that the storage pit has few access points. It does little good to have a secure main entrance when there are other ways of getting into the site.
Closed circuit television
CCTV is a highly effective surveillance and deterrence tool. If the CCTV is manned around the clock, then potential thieves can be stopped immediately. Even if they are not caught and stopped in the act, they can be identified, tracked down, and arrested before they have a chance to sell, damage, or dismember your vehicle.
Security lighting
This is another way to deter potential thieves. You should never go with a storage facility that has poor lighting. Such conditions attract thieves, and gives them a good chance of breaking into and driving away with your caravan.
Landscaping
Take a look at the landscaping around the storage pitch. Go with the facility with low growing shrubs. These can act as a buffer zone. Tall trees near the perimeter can be used as a ladder over it, and tall shrubs can conceal potential thieves and allow them to work their way through any fencing.
Fire risk
You should ensure that the storage facility has fire extinguishers on the grounds. They should also have a fire plan in case there is a breakout.
Legal obligations
The storage facility you use should have adequate liability insurance. It is also worth checking the insurance on your own caravan before you leave it in storage.
Ease of Access for Owners
One of the big disadvantages of putting your caravan into storage is the difficulty in keeping it clean. The storage facility you use should make it easy for owners to access the pitch to carry out basic maintenance and cleaning. They should also have equipment onsite that will help you maintain your caravan without taking it home.
All of the above services may be reflected in the fee charged for storing. If you are being charged a significant amount of money, you should demand the most robust security measures.
Demand
There is currently high demand for caravan storage. Indeed, many facilities have waiting lists for people who want to use them. This is reflected in the current rates for storage. It will also affect future pricing.
Some areas simply don't have enough storage available to cater for demand.
In which case, your options are… the waiting list, a private deal, or heading further afield to find storage in a area with less demand.
A Sample of Caravan Storage Prices by UK Region
As we mentioned, rates and fees for caravan storage vary throughout the country. Here is a list of cities, sites, and prices that will give you a rough idea of what to expect:
| | | |
| --- | --- | --- |
| City | Site | Price |
| Edinburgh | Scottish Caravan Storage | £551.40 Year |
| Glasgow | Glasgow Caravan Storage | £525.00 Year |
| Belfast | Shanogue House Caravan Storage | £300.00 Year |
| Newcastle | Moorside Lodge Caravan Storage | £300.00 Year |
| Manchester | Carrington Caravan Storage | £544 to £800 Year |
| Nottingham | MR & RK Blant | £365.00 Year |
| Birmingham | Halesowen Caravan Centre | £600.00 Year |
| Cardiff | Llandow Caravan Park & Storage | £420 to £480 |
| London | Wolfe Caravan/Motorhome Storage | £1224.00 Year |
| Bristol | Mapleridge Caravan Storage | £396.00 Year |
| Plymouth | Fry's Caravan Storage | £450 to £480 |
Although caravan storage is not prohibitively expensive, it is important to get good value for money. The best, and most credible, storage sites will give you the option of a monthly payment plan.
See this list of reputable caravan storage sites for a better idea of the exact costs near you.