So you've got your awning set up, but now you've realised that you lack that much-desired privacy on the camp site – or maybe you want to add your personal touch to it?
Awning curtains are a great addition to your caravan, but if you've ever bought curtains for your home then you'll know how many different options there are. Well, that's not the case for awning curtains. They can be surprisingly difficult to find with only a limited range in stock at the major retailers.
In this guide, we'll introduce our pick of the best caravan awning curtains and the factors you need to consider when adding them to your setup.
Let's get started!
Best Awning Curtains For Caravans
It's worth noting that there aren't a huge range of awning curtains available to buy on
ViaMondo Awning Curtains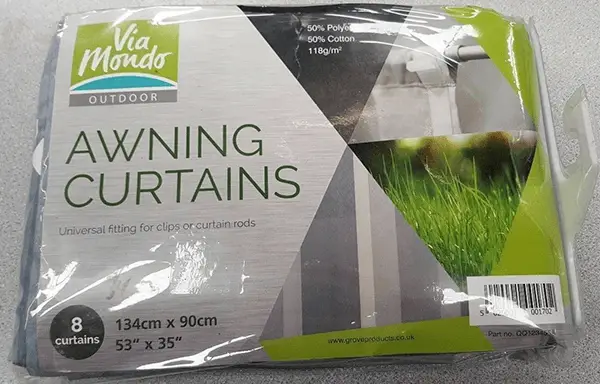 If you're looking to fit curtains to your awning or a replacement for your existing awning curtains, then this is your answer. This set features a full set of 8 curtains which is equivalent to 4 pairs. They not only look great but are made using 50% Polyester and 50% Nylon – making them durable and easy to clean.
Each curtain has the measurement dimensions of approximately 53″ deep and 35″ wide. Also, the curtains are fitted with both a clip top and stitched top to allow it to accommodate curtain poles. This means that it will fit most awnings except for Isabella or Ventura.
They're easy to fit, and look great – both open and closed!
Greenbay Replacement Curtain for Caravan Porch Awning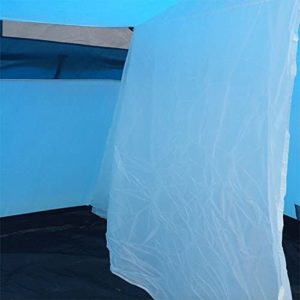 The Greenbay awning curtains are a great replacement curtain for your existing caravan awning. Made from 45gsm breathable polyester fabric makes it durable and high quality but is also supplied with two additional pegs for added stability.
With Greenbay, you can be assured of the quality and are a manufacturer of a huge range of products in the outdoor industry. This is not the prettiest solution, but it's a cheap way of adding privacy to your awning setup.
Thule Awning Curtain Set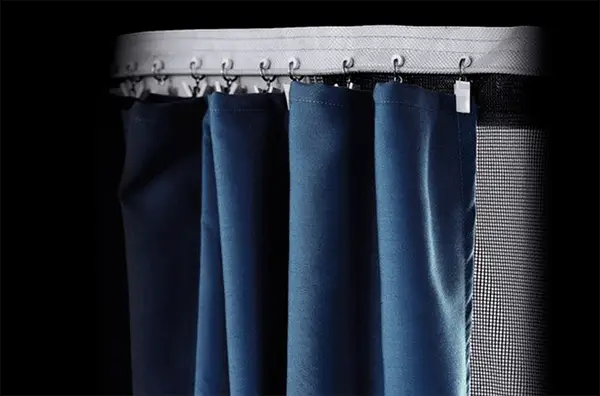 Looking for awning curtains with more of a stylish and decorative touch?
Enter the luxurious Thule set.
They come in either dark grey or dark blue and are made out of 65% polyester and 35% viscose. There are three different sizes available, but they don't come cheap. The set is available to purchase through the TowSure site, which has a variety of quality awning products available.
What To Consider When Buying Awning Curtains
Size & Length
The size and length of your caravan awning curtains are important to ensure that they fit your awning. The length is key because if they're too short, then light can still be let in and if they're too long, then they may touch the floor which can cause them to get dirty.
The width is also important to ensure that it covers the width of your awning. You should measure the area of the awning that you want to have curtains for before you start looking at purchase options. The last thing you want to do is purchase some caravan awning curtains and then realise that they don't fit properly.
They're not going to be as easily trimmable as caravan blinds, or even a door fly screen.
Material/Fabric
The material/fabric that your caravan curtains are made from are an important consideration because this will often give you an idea of the durability of the curtains. When you're caravanning, you need materials to be tougher than they would if you're using them in your residential home.
Tough fabrics and material will also make them last longer, so they'll need to be replaced less often because you don't want to be needing to replace your awning curtains every year. The ideal material that you want would be a polycotton blend of polyester and cotton. Nylon material is also durable but comes in attractive styles and colours.
Ease of Installation
Just like your awning, you want awning curtains that are easy to install when it's time to set up your caravan pitch. Ideally, you want curtains that simply clip on to the inside of your awning, which just takes a few minutes depending on the size of your curtains.
You can understand how easy a set of curtains are to use by looking at reviews left by previous users who will give you honest opinions about their experiences with the product. You want to avoid a situation where you have curtains that take ages to put up because you have enough tasks to do with your caravan without adding more to your list.
You might also want to invest in a caravan draught skirt, which can be attached to your awning, to keep the cold weather at bay.
Cleaning
Nobody likes having to clean curtains, so you must understand how easy they are to clean by purchasing. Ideally, you want curtains that can either be machine washed or wiped down with a sponge. You want to avoid anything that requires professional cleaning as this will require not only additional money but also time.
Higher quality curtains will often have more time-intensive cleaning methods, so you need to understand this before buying. You must clean your waning curtains regularly because this will keep them in better condition so they last longer, saving you money in the long run.
Price
The price is a consideration that everyone should make because curtains will range in price depending on several factors, including the brand and material. Higher quality materials will cost more because of the perceived value and due to higher quality materials normally lasting longer compared to poor quality materials.
You should have a budget in mind as this will make the buying decision easier as you'll instantly have fewer options to choose from. Caravan awning curtains are generally very affordable, so there will be an option for almost everyone regardless of your budget.
Brand
Caravan awning Curtains are made by several different brands, including specialist caravan companies or specialist curtain companies.
The brand you choose will affect the quality of your curtains so we'd recommend that you stick with well-established companies that have been around for years building up their experience. This means you'll have a high-quality product that not only won't fail on you but also has plenty of customer reviews behind it.
It's also important to understand that manufacturers have refund options so if you don't like the style you can return it for a full refund.
Pattern and Style
Curtains come in a range of patterns, style and colours so you can customise it depending on the style of your awning. Due to all the choice, this can make the decision-making process harder; however, it gives you the flexibility to get your perfect ideal choice.
The style and patterns can affect the selling price will more creative exclusive designs having a higher selling price, whereas standard colours and styles will be more affordable. If the style isn't a big concern from you, then that's a benefit because it will be easier to choose which will save you time.
Light Blocking
If you're going to be sleeping in your awning, then the light-blocking capability of your curtains is essential to understand.
You don't want to end up with a set of curtains that don't block light effectively because if you're a light sleeper, then this can wake you up very early in the morning. There are many negative effects of poor sleep, such as fatigue, and this will make you wake up feeling unrested, and you'll find it hard to enjoy your day.
Ease of Purchase
Not only is the ease of installation important but also how easy they are to purchase. We live in an age where curtains can be fully customised to your exact size and colour; however, this makes them harder to buy because you'll have to wait longer for them to be made.
If you're looking for curtains that are easy to buy, then you should stick to pre-made styles that are already in your required size dimensions. You may have to forgo getting your perfect colour style, but it means that you can get it quicker and save a considerable amount of money.