Breakfast is the most important meal of the day, giving us the energy we need to kick start our day positively. And one of the most popular breakfast choices involves… a few slices of toast.
Simple, easy and quick – exactly what we're looking for before hitting the outdoors.
If you caravan with children, you need a quick way to make breakfast that doesn't create a mess, and a low wattage toaster ticks all the boxes.
However, just like most electrical appliances, there is a considerable amount of choice, so we've created this guide to not only show you the best caravan toasters – but also the key features that differentiate a caravan toaster from a standard toaster.
Best Low Wattage Toasters for Caravans & Campervans
Let's get started with five of the best options for making toast on the move:
Aigostar Warrior 30KHK 2-Slice Toaster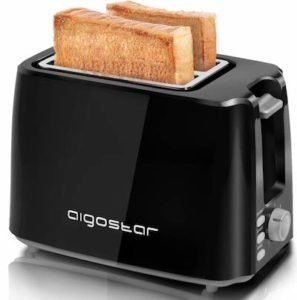 The Aigostar toaster has two wide slots which measure 3.4cm each which is adequate for most types of bread. The toaster has an adjustable knob which allows you to select from 7 different cooking levels from soft to crispy so you can tailor it to your needs.
This caravan toaster is also multifunctional and has a defrost function that allows you to thaw frozen bread while it also has a reheat function so you can warm up cold bread. There is also a cancel button so you can stop the toaster at any point during the heating cycle.
There is a crumb tray and cord storage so you can keep your kitchen and counter tidy. A two-year warranty is also included with purchases. The materials used to design the toaster are BPA free, and it's compact design allows for easy storage.
Premium Low Watt Toaster 600-700W
Outdoor Revolution has an excellent low wattage toaster that is perfect for use outside of the home. With a power consumption of just 600-700w, this stylish stainless steel toaster is perfectly suited for caravans, boats and motorhomes.
Once the bread has finished its cooking cycle, the bread pops up, but it doesn't pop into the air and fall to the ground. It also has an adjustable dial so you can choose your desired heat setting, with 7 levels of browning control (a welcome feature if your kids are picky with different preferences!).
This is great if you have limited space as it's small in size while also being lightweight (0.86kg) so you can easily store it away when it's not in use. Despite its low wattage, it still cooks the toast quickly, and with its low price, you won't be disappointed.
SunnCamp Low Watt Toaster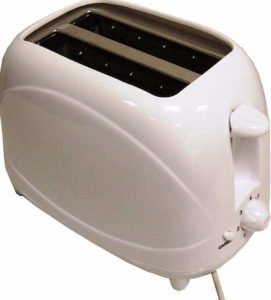 The Sunncamp toaster is Ideal for caravans or campers that have an electric hook up. The toaster has low power demands and is safe to use on campsites plus has auto pop up and auto shut off.
There is an easy to remove crumb tray so you can dispose of waste in to your caravan bin while the toaster is also easy to clean. The toaster itself measures 24.6cm x 14.6cm x 17.2cm, so it will fit on most caravan kitchen surfaces.
Low power appliance for safe use on campsites Auto pop up and auto shut off Slide-out crumb tray – easy to clean 2 Slice cool touch toaster 24.6cm x 14.6cm x 17.2cm Approx.
If you've been using a cooker, grill or gas ring to make toast, then this is a low-cost way of removing the safety hazard and time to give you your ideal toast time after time.
Quest 2-Slice Travel Toaster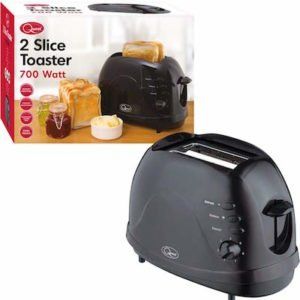 The Quest 2 slice toaster delivers great performance, making it ideal for caravan use. It has a classic sleek design means it will fit in with your current décor and it has a variable browning control so you can get your ideal slice of toast every time.
The Quest 2-slice toaster also has a frozen bread setting designed to remove the guesswork out of toasting frozen bread. The toaster can also reheat unbuttered toast and, should you want to halt toasting, simply press the cancel button.
The toaster has a removable crumb tray for easy cleaning and maintenance while also having a cable length of 0.75m, so you have the flexibility of using it a fair distance from your power source. At 700w it is very energy conservative so it will not require a larger amount of electrical energy.
Tower Elements 2-Slice 750w Toaster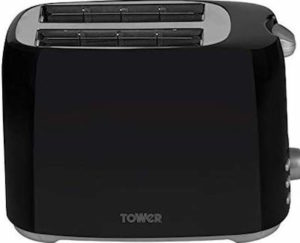 Although not explicitly designed for caravan use, the Tower Elements 2-Slice 750w Toaster has all the features that make it great for caravans. You can enjoy your toast just as you like it with its variable browning control and there are also defrosting and reheating settings.
The toaster has an auto shut off feature and a cancel button if you want to stop it mid-operation. The toaster also has a self-centring function for even toasting, giving you high-quality toast.
There is also a removable crumb tray that allows you to dispose of crumbs easily and to clean it. The toaster also comes with a one year guarantee that can also be extended to 2 years once registered. 
Measuring just 25.9 x 15.5 x 17.5 cm and weighing 0.93kg it is lightweight and small in size making it ideal for caravan use.
What To Look For In A Good Caravan Toaster
So, what factors do you need to consider when buying a toaster for your caravan?
Here are a few to keep in mind:
Power Source
Determine what the power source of your caravan toaster is. Some will require a mains power source, whereas others are compatible with a 12v cigarette lighter source with the remainder being compatible with both.
Toaster Brand
Several brands make caravan toasters with varying quality. Higher quality toasters will generally command a higher selling price because they are often manufactured by established brands that have built a strong customer base from selling high-quality products. 
Although they may cost more because they are higher quality, it means that they will often last longer than lower cost models meaning, in the long run, you'll save money because they'll need replacing less often.
If you're also looking for a caravan kettle then you may be able to save money by buying a bundle from the same brand.
Warranty 
No matter the brand, all electrical appliances have complex components that can develop faults over time. A toaster is no different, so it's essential to understand if your chosen toaster is supplied with a warranty.
A warranty means that if a defect develops, then you'll be entitled to either a repair or replacement unit and gives you the added peace of mind that you're buying a quality product.
Capacity
Toasters will usually accommodate either 2 or 4 slices at a time, but this is something you need to consider, and this will depend not only on how many slices you like but also the number of people in a caravan that will also be eating toast.
For example, if you have a caravan of 5 people who all want toast but only have a two-slice toaster, then you may be waiting a while in the morning.
Size
A caravan is often a compact space so there may be a limited amount of room on your counters to use the toaster. So it's essential to understand the size of the toaster not just when it's in use but also when it's time to pack away. A smaller sized toaster can easily be stored away in a cupboard when it's not being used.
Toaster Heat Settings
The best caravan toaster will have an adjustable heat setting that allows you to control the length of time your bread will be inside until it pops up. The higher the setting you choose, the more cooked your toast will be, and the lower the setting you choose, the less cooked the toast will be.
The larger the range of heat settings, the more flexibility and choice you have when making your toast. This heat is often a manual dial, but it can also be an LCD electric interface that you select.
Durability
Your desired caravan toaster needs to be sturdy so that it can limit damage to its internal components. The durability of the toaster will extend the life of it while keeping your food and heating element in good condition. Ideally for aesthetic purposes, the outside should have a nice finish, so it fits in well with the rest of your kitchen décor.
Auto Shut Off Feature
Auto shut off is important for added safety to yourself, the caravan and the others living inside. This feature will ensure that the heating element is only turned on for a specific period, which stops it from overheating or burning your bread. So once your bread has finished its set time cycle, the element will automatically switch off.
Energy Consumption
Electrical energy is often restricted when you're in a caravan whether you're on the road or at a caravan park. So you need to understand how much energy your chosen toaster will use. The main difference between a caravan toaster and a conventional toaster is that a caravan version will consume lower amounts of electricity but deliver the same cooked toast, so you save on your electricity costs.
Low wattage toasters are the best choice for those in caravans or campervans.
Eco-Friendly Features
Ideally, your toaster should be eco-friendly and energy-saving, meaning that it should avoid wasting energy, especially when it's not in use. It should also not emit dangerous chemicals and gases which may be harmful to both people and the environment. If you're in a caravan, then you're enjoying the great outdoors so you should try to do your bit to help preserve it.
Slide-Out Crumb Tray
A slide-out crumb tray makes cleaning you toaster easier. The tray means that instead of having to stick your whole hand into the toaster, you can just pull out the crumb tray and empty it straight into the bin or put it directly into your dishwasher.
Small features like this can save you time and because it's easier to maintain it will extend the life of your toaster, making it a more worthwhile investment.
Price
The price of a toaster will be determined by several factors, including the brand, size and features.
Higher quality toasters will usually cost more, but most budgets will be enough to buy some form of the toaster for your caravan.