Who doesn't love a nice hot brew in the morning?
A kettle is one of the essentials in a caravan and plays a part in most of our lives every day.
Although most of us have kettles in our home, just because you're in a caravan, that doesn't mean you have to go without a hot drink. However, what you look for in a kettle for your residential home is slightly different from what you require when you're in a caravan – where space and energy is a little more restricted.
Ideally, you'll want a low wattage kettle.
The last thing you want to do is make a big kettle purchase on the latest model and end up tripping out the electric every time you use it!
We've saved you from these mistakes by outlining the 5 best caravan kettles, and the features you should prioritise.
Best Low Wattage Kettles for Caravans
Kampa Travel 12v Electric Kettle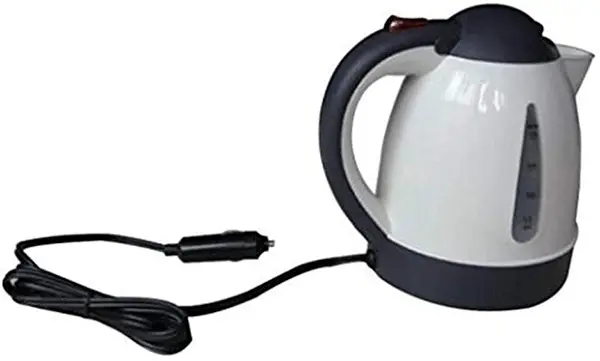 We'll start with the smallest option on the list!
Kampa is a reputable brand in the camping and caravan industry, creating a range of products which are designed for the confined spaces of living outside of the home.
This handy little kettle is practical for caravan users since it works off just 12 volts and 150 watts. If you are particularly restricted by power, then it's a good option to have in the back.
But if you've got access to more power?
Don't buy it unless you can handle a long boiling time.
It takes around 30 minutes to boil half a litre of water. While it can boil up to 1 litre, this will increase the boiling time even further – think close to an hour.
So, while this Kampa Travel model may be the lowest wattage kettle on our list – it's also the least convenient and takes the longest to produce a cuppa.
It might be good enough if you're travelling on your own – but it's probably not ideal for a small family of 4 gagging for a warm drink in the morning!
Quest 35690 Compact Travel Electric Kettle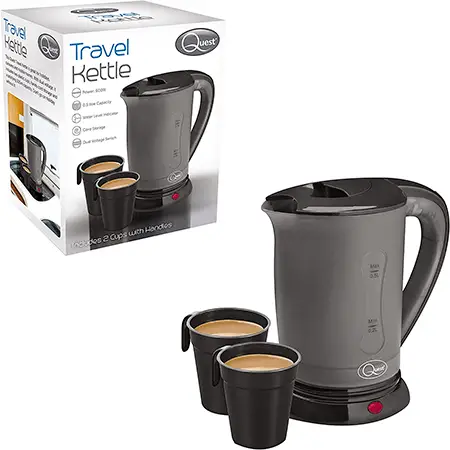 If waiting 30 minutes for your kettle to boil sounds like a bit of a drag, the Quest 35690 is – thankfully – much faster. It can boil 500 ml in around 5 minutes.
If your hot water requirements are lower, or if you're a solo traveller, then the Quest compact electric kettle is a great little option. The kettle is small and lightweight, which makes it perfect for the restricted space of a caravan.
The kettle has a dual voltage switch which means it can work almost anywhere in the world while it also has a water level indicator so you can easily judge how much water that you're going to be boiling.
Quest has designed a kettle that is just 600W but has a capacity of 0.5 litres. Also included are two cups to get you started on your travels. There is also an inbuilt auto cut off switch, so when it's finished boiling it will turn off the electricity supply.
Strictly no thrills, but it gets the tea done.
Russell Hobbs 23840 Electric Kettle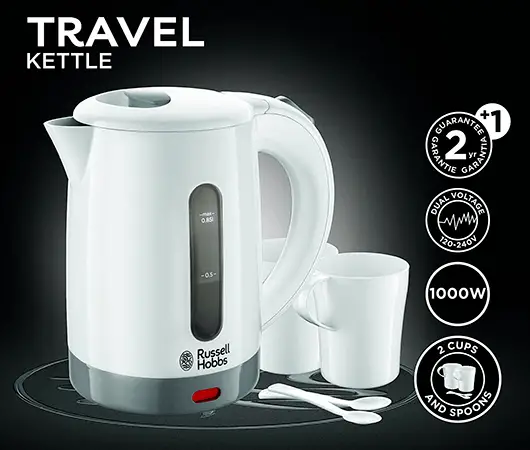 Russell Hobbs is one of the oldest and most well-known appliance brands in the country having been formed in 1952. Despite being around for this long, they haven't rested on their laurels and continue to develop innovative products and this travel kettle is no different.
It's one of the best rated low wattage kettles on the market, and we think it's the perfect choice for most of our caravanning readers.
Using just 1000W, the consumption of this low wattage kettle makes it ideal for caravanning. It's small and lightweight so it can easily fit into the smallest of spaces onboard your vehicle. It has a capacity of 0.85 Litre, which makes it an ideal size for two cups of tea.
A bit of a pain for larger families – but the good news is that it boils fast, so multiple uses isn't too much of a hassle. It's also surprisingly quiet.
The kettle has a removable, washable filter, dual water level windows and a power on neon indicator.
It also comes supplied with two cups and spoons to make your life that bit easier.
One of its best features is the boil dry protection so if you accidentally turn it on when there's no water in it – "Oops…" – then it will automatically switch off.
All round, a great low wattage kettle for caravans and travel.
Kampa Fizz Low Wattage Electric Kettle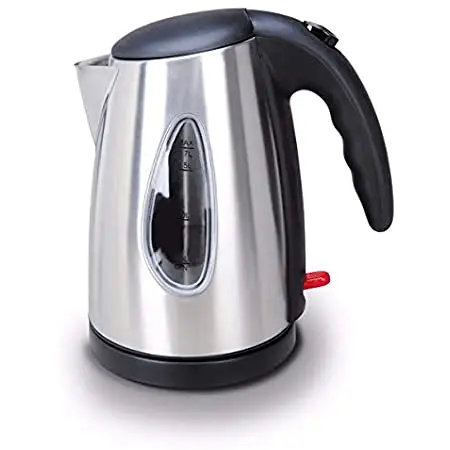 The Kampa Fizz has a capacity of 1.7 litres allowing you to boil a comparatively large amount of water in one go – compared to the other options on our list.
For a larger kettle, it boils water surprisingly fast.
Also, the kettle has a wattage of just 1000W so boiling this much water won't consume excessive amounts of energy. There are two water indicator levels on the kettle while there is also a removable and washable filter which helps to deliver higher quality water.
The kettle has a stylish stainless steel design so it will fit into even the most style-conscious caravan. The base is attached to the power cord making the kettle cordless, and it is sturdy so when it's in your hands, it feels like an ordinary residential home kettle.
The lead, however, is only about half a meter long, so keep this in mind if you have a particularly crowded kitchen area.
Unfortunately, the product appears to have been discontinued so it's difficult to track down. At last check, it was out of stock on Amazon.
Stainless Steel 2.5L Lightweight Whistling Kettle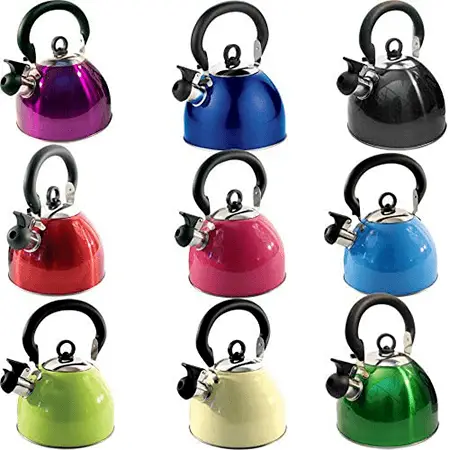 If you have a traditional gas hob in your caravan, then you may be better suited to a whistling kettle.
This particular option has a large capacity of 2.5 litres – big enough for a small family – and has a base diameter of 7" making it a wonderful travel kettle.
Being made from stainless steel gives it a strong sense of style whilst also being sturdy. Certainly a lot sturdier than the plastic electric options. There is a whistle attached to the spout which signals once the kettle has finished boiling. A sound that will mark the start of the morning in many caravans!
The kettle is suitable for use with electricity, gas and vitro induction making it a versatile option.
If space is at a premium, then this kettle has a key benefit due to its folding handle, which allows for easy storage. You also have a choice of several colours to fit your needs.
What To Look For In A Caravan Kettle
Looking to buy a low wattage kettle for your travels?
Here are some of the key factors you need to consider:
Gas or Electric?
The set up of your caravan will play a role in what type of kettle that you purchase. If you have a traditional hob stove, then a stovetop kettle will be more appropriate. This type of kettle sits on top of your Gas hob and will boil your water. It usually makes a whistling sound to let you know that it's finished boiling.
An electric kettle uses electric mains power to boil water and is what is commonly found around the modern home. The type of kettle you choose will depend on what appliances you already have in your caravan such as a coffee maker, microwave or toaster.
Having a gas stove top kettle poses a greater safety risk due to having an open flame. However, if you have your gas supply, this can be more useful if you're in a location with low electricity levels.
Brand
Just like most consumer appliances, the brand is hugely important. You should try to buy a brand that has been around for many years, has a great set of reviews or both. This will give you further validation that this is a high-quality product worth buying.
Higher quality brands will often be more expensive, requiring a higher cost outlay, but they are likely to last longer without developing a fault, so it's a better investment. 
Warranty
It's like that at some point in your life you've had an electrical appliance develop a fault. You can do all your product research to minimise this from happening, but you're never truly protected. Any electrical item can develop a fault, whether this is through natural wear and tear or an accident.
To protect yourself you should see if your desired kettle comes with a warranty. A warranty will give you additional cover so if a fault develops the retailer or manufacturer will offer a replacement or repair.
Generally, the better brands will offer more comprehensive warranties which is why the brand that you choose is important. Average warranty length can range from 1 year to lifetime.
Style of Kettle
Now some people will be style-conscious, and kettles come in a range of styles and colours so you can get one to match the interior of your caravan. The better-looking styles will often command a higher selling price, but this is usually trade-off that you have to accept.
Price
Likely, you're not in a position where money is no object, so you need to set your budget. Different kettles will have different prices, and this price will vary depending on the number of features and the brand.
Generally speaking, you get what you pay for, so a pricier kettle is likely to have more features, be safer and last longer.
You have to consider how many times you're going to use it/ If you're only going on a one-off trip, then you can afford to spend less, whereas if you go caravanning every year, then it's better to invest a little more.
The good news is that caravan kettles are generally cheaper than the type that you'll buy for an ordinary kitchen.
Energy Consumption
Always vital in a caravan.
Ideally, you should buy a low wattage caravan kettle. This is not only good for the environment but it means that you consume less electricity.
It's not just about getting the lowest wattage kettle because lower wattage means that it can take longer to boil. 
It's important to understand that the larger the capacity of the kettle, the higher the wattage will need to be. You can also consume less electricity by only boiling the amount of water that you're going to use.
Capacity
The nature of your intended use will determine the size of the kettle that you need. For example, If you have a caravan with four people who will all want a hot drink in the morning, then you'll want a larger kettle so that you don't have to do multiple boiling cycles. 
Whereas if it's just one person, then you could make do with a smaller capacity kettle and save on energy.
It's also important to remember that higher capacity kettles will usually have a higher wattage which means it uses a higher level of electricity. Hence, you need to factor this into your electricity use projection.
Safety Auto-Switch off
Safety features are just as important as it's boing capabilities and one of the most important features is auto switch off. This means that once it has completed, it's boil cycle it automatically switches off.
This is great for two reasons.
Firstly it saves electricity by turning itself off which will save you additional money.
Secondly, it stops a potential safety hazard of having an electrical item turned on for long periods of time. It's easy to turn the kettle on and forget while you take care of the other necessary tasks in a caravan such as fixing the satellite dish.
Filter
For the water connoisseurs, you'll already know how important the filter is. The mesh filter is typically located in the spout of the kettle and is especially crucial if you're going to be caravanning in an area with hard water.
The filter stops all the nasties from being in your hot water once you pour it out, including limescale. Some filters will fixed permanently whereas some others will be removable so you can clean it.
Cordless versus corded kettles
Most modern kettles are cordless, which means that the kettle has its base that is connected separately to its power source. Having a cordless kettle means the cord doesn't restrict you, and you can freely move it when you're filling and pouring.
This is especially useful if your kettle is placed in an awkward position to reach.