If you walk through a typical kitchen in the home, then you're likely to come across a microwave, which has quickly become a vital kitchen appliance in our time precious lives.
The versatility of a microwave means that you can quickly heat up and cook a range of different foods so that even on the road you can look forward to your meals.
Many caravans don't come equipped with microwaves, so it's down to you to buy your own. 
There are several important factors to consider when on the hunt for the best caravan microwave and we've picked out a few of our favourites below – along with the factors to consider when buying one.
3 Best Caravan Microwaves: Small and Low Wattage Options
Power usage and space are two of our main considerations.
Ideally, you want a small microwave for a caravan. It needs to have the essential functionality, without guzzling excessive power (and threatening to trip the camp site!) or cluttering up the area.
Low wattage microwaves are ideal.
Here are 3 of our top picks:
Russell Hobbs RHM1401S Microwave for Caravans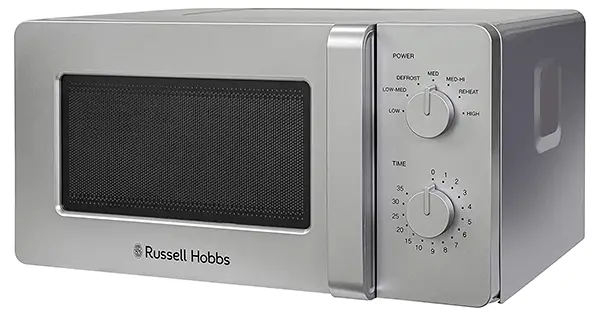 Best Low Wattage Microwave of 2021
If space is minimal, but you still need a powerful microwaving solution, then this Russell Hobbs low wattage microwave could be the answer. The microwave delivers 600 watts of power to lower your cooking time so you can spend less time cooking, and more time eating.
This power output means that you can cook a greater range of foods adding to your convenience so you can cook more things in the comfort of your own home. The unit also has two control dials which make it easy to select your desired time and power levels, so there's less chance of under or overcooking your food.
It comes with a 14 litre capacity, it means that it can fit a standard-sized dinner plate.
The machine also boasts a special diamond cavity structure that provides improved heating distribution. The main benefit of this is that your food will cook more evenly – and with better energy efficiency.
One of the dials allows you to select from five different power settings, including a defrost setting. The other dial below it is used to set the 35-minute cooking timer.
It's a sleek looking silver machine that comes with the reliability and durability you'd expect of a Russell Hobbs appliance. It's the bestselling low wattage microwave for a reason.
14-litre microwave capacity
Compact space-saving design
Easy to clean
Sleek silver design – looks great!
35 Minute Timer
Five power settings plus defrost
Specs
External Dimensions – 427 mm wide x 313 mm deep x 224 mm high
Maximum output 600 watts
Voltage 230v
Weight – 9Kg
Tower QT1T Manual Control Microwave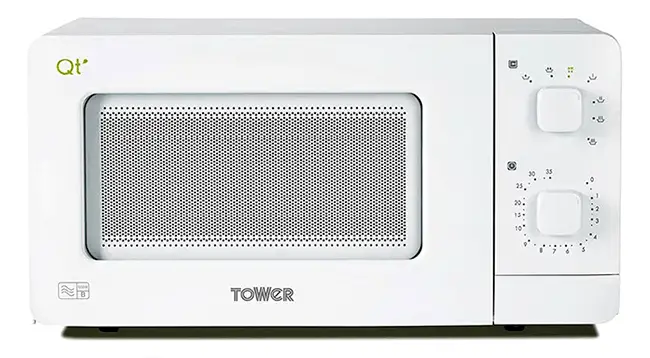 The Tower QT1T is a strong contender as the best caravan microwave. Not only is it small in size so it can fit in small spaces, but it still has the power to cook meals quickly with its 14-litre capacity.
This is especially the case in a caravan or motorhome where space is at a premium and may only have a small countertop. The microwave provides you with a choice of 7 different power levels so you can heat/cook a range of food types from soup to ready meals in just a few minutes.
The microwave oven also has a dual-speed 35-minute timer so you can accurately cook your food, while there is also a defrost function, so you cook meals straight from the freezer without wasting time waiting for food to defrost.
When it comes to power consumption, it consumes a reasonable 600W or 4.17amps, so this means its perfectly fine for the majority of campsites that have a 16 amp energy supply. This will depend on the other appliances that you have running simultaneously. 
Specs
14-litre microwave capacity
Compact size
Seven power levels including defrost mode
10-inch turntable
Dual wave system with diamond pattern microwave deflector
35 Minute dual speed timer
Power saving mod
Dimensions: Height: 22.9cm Width: 42cm Depth: 32cm
600 Watt microwave output
Voltage 230v
Weight – 9.2Kg
Hotpoint MWH 1311 B Curve Microwave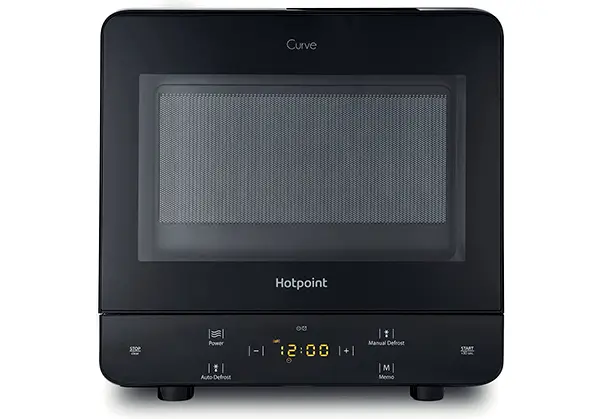 If you've ever bought a home appliance, then there's no doubt you've heard of Hotpoint who is one of the leaders in the industry. If space is your number one concern when buying a microwave, then this compact microwave is the choice for you.
The Hotpoint microwave has a special curved space-saving design, which means the 13-litre microwave to fit into a corner of your caravan or motorhome.
However, don't assume that because of its size, it can deliver a top-quality performance. The output power is 700 watts, and input power consumption is 1100 watts or 4.78 amps.
This again means that you shouldn't encounter any problems using the Hotpoint microwave on 10 or 16 amp hook up at your nearest campsite.
The microwave has a newly configured touch screen control, so you can easily select your desired cooking time. Its five power levels include multi-wave technology which ensures that every part of your food is heated, meaning no hot or cold spots.
It also has a 28cm turntable meaning that it has a healthy 13L capacity fitting a standard dinner plate.
Compact space-saving design perfect for fitting in corners
Touch Control
Multi-Wave Technology
28cm turntable
Five power levels including defrost
Spec
Maximum power consumption 4.78 amps
Height (cm) : 36.0, Width (cm) : 39.2, Depth (cm) : 35.3
13L capacity
Maximum output power – 700 watts
Weight – 13.26Kg
What To Look For In A Caravan Microwave
Power Usage – Is it low wattage?
Naturally, the power rating of your microwave is important, i.e. 700W or 800W and is around half the required power needed to power the microwave.
Therefore it's so important to be aware of the power consumption before committing to purchase.
It's also important to note that microwaves are not soft start appliances. When you press the start button, the microwave will draw the maximum level of power that it needs to for the first several milliseconds of operation.
This sudden surge of energy isn't common in many other caravan appliances, so this has the potential to trip the electricity if you're in a campsite with sensitive RCD units. To avoid this, it's recommended that you select a 230v microwave that has a low wattage output.
It's also even better if the microwave allows you to adjust the power level so you can alter it if you find yourself in a campsite with a lower energy trip threshold.
Brand
As with all consumer electrical appliances, you will have the choice of a range of brands that create their microwaves. Reputable brands will have years of reviews and service behind them, leading to a high-quality product that you can trust.
Is It Suitable To Be Used Abroad?
Are you going to be taking your campervan or motorhome abroad because this can be a key consideration when buying a caravan microwave.
Depending on where you go in Europe, the power outlets can supply anywhere from 3 to 20 amps while 6-10 is usually the average levels.
You need to ensure that the power source matches the requirements of your microwave.
Size 
In caravans and motorhomes, space is at a premium so you must consider the size of your desired microwave as you need to ensure that it doesn't take up too much space, thus limiting the number of appliances that you can place near it.
This is even more important if you already have other appliances such as a toaster, kettle or hob.
It's vital that you also ensure that there is enough space around the sides of the microwave so that air can circulate because ventilation stops it from overheating.
If your microwave repeatedly overheats, then this can cause it to malfunction. The size of the microwave also needs to be considered to ensure that it doesn't overhang the surface.
Warranty
Regardless of the brand that manufactures your microwave, because it's an electrical appliance, there's always a chance that an electrical faulty can develop. As a result, you must buy a caravan microwave that includes a warranty.
A warranty will mean that you're covered if the product malfunctions within the period of the warranty. A warranty will entitle you to either a repair or replacement which can save you a significant amount of money depending on your product. Average warranty levels are usually upwards of 12 months.
Durability
This isn't your normal microwave that sits in the same position in your home for years on end.
Depending on your journey, this can be a very bumpy ride for an electrical appliance. Home microwaves aren't always designed to be able to withstand constant movement and bumps. 
You need to ensure that you buy a microwave that has components, circuits and parts that are durable enough for caravan life.
Weight 
Although most microwaves are relatively light, it's still important to double-check before you buy. This is especially important If your caravan or motorhome is reaching its max payload, because an additional microwave may push it over the edge.
Weight is also a consideration if you don't plan to make it a permanent fixture in your caravan or motorhome. It's common for a microwave to be stored away, especially when you're on the move.
Then then you need to use it at your destination you move it from its storage space back to the counter. This process will be easier if your microwave is light.