When summer comes around for most caravan owners, it's time to hit the road and make the most of the weather. For the average caravan user, there is a limited amount of space and caravan porch awning is a is an excellent way to increase the amount of space that you have to play with.
The problem is there is a huge amount of choice, making your buying decision tougher. This full guide will take you through the best caravan porch awnings and the features that you need to consider to meet your requirements.
SunnCamp Swift 390 Deluxe Porch Awning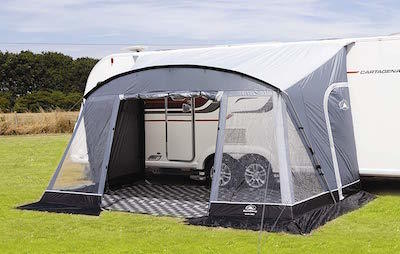 If you didn't already know, Sunncamp has a strong reputation in the porch awning industry from years of creating high-quality products that not only work well but also last long. This Swift 390 Deluxe Porch Awning is another offering from their well-established product line.
 This porch awning is suitable for caravan heights between 235 and 250 cm, and it provides you with a floor area of 390 x 240 cm giving you ample room for activities that you want to restrict to the outside of your caravan.
 The porch awning is made using 75D polyester material, making it not only lightweight but also durable. The awning also has a fibreglass and steel frame providing you with a secure structure which is ideal if you're going to be in a windy or rainy environment.
Weighing just 11.5kg, this makes it easy to transport and carry while also making it a breeze to construct.
Sunncamp Swift 220 Deluxe Caravan Awning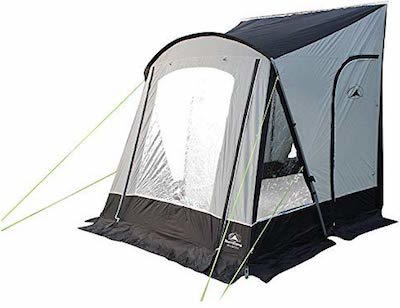 For the seasoned caravanners, it's no surprise to see this list filled with Sunncamp products and the Swift 220 deluxe caravan awning is a welcomed addition to their new range.
This has been designed to be suitable for caravans that have a height of between 235 and 250 cm. This provides you with great additional storage and has two side doors with secondary mesh giving you easier access to your caravan. Both of these side access doors have airflow technology which reduces condensation while retaining a light and airy environment.
The awning has a 6000mm hydrostatic head waterproofing to keep you away from the rain in less desirable conditions, while the awning is constructed from 75-Denier Ace-Tech Polyester. For added privacy, there is also curtains on all the windows, plus the awning weighs just 6.3 kg making it remarkably light yet also durable due to having a steel frame.
Sunncamp Swift 260 Caravan Porch Awning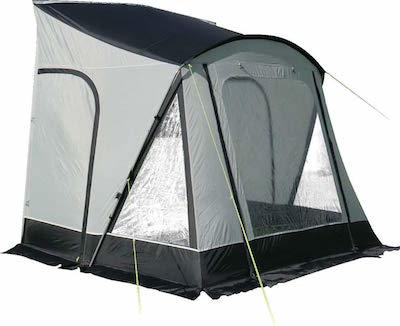 Following the usually high quality provided by Sunncamp is the Swift 260 caravan porch awning. This is built to be compatible with caravans that have a height of between 235 and 250cm.
When constructed this will give you a floor space of 260 x 240cm and uses the Sunncamp standard material of 75D polyester to keep you protected from the wind and rain while also being lightweight with the awning weighing a total of 6.8kg.
When not in use, the awning can be simply packed away in the included carry bag. What sets Sunncamp porch awnings apart are the added features which include:
Flame retardant to British Standard 5000mm H/H, Heat-sealed seams, Heavy-duty SunnCamp zips with zip covers, PVC draught skirt under the caravan, Weather seal pads included – seal to caravan and quick lock brackets.
Outdoor Revolution Movelite Cayman Drive Away Porch Awning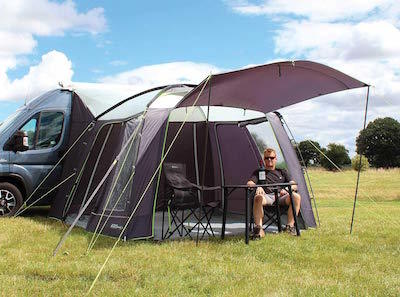 The popular Outdoor Revolution Movelite Cayman is ideal for motorhome holidays and is suitable for slightly smaller vehicles of 180cm and 240cm and gives you the added space that you crave. 
The awning uses ultra-lightweight 68D fabric which means that it's easy to pack away into the included small carryback, but also makes it a breeze to construct. The frame is made using to fibreglass poles which gives it overall stability while the fabric is water-resistant so any rain will roll straight off it.
Inside the awning, the temperature will remain cool because it's light coloured roof reflects heat. There is also a Rear-Cowl Access Door to limit disturbing sleeping guests and raise ease of access to and from your caravan. Added Ventilation Points help reduce condensation by increasing air circulation.
The awning has inbuilt PVC windows so you can see outside and these windows have zip-in curtains to you can add privacy as and when you need it.
Lichfield Dakota Caravan Inflatable Air Awning
The best way to describe the size of this is halfway between a porch awning and a full-sized awning. The awning uses inflatable technology which gives it pole free pitching with an included double action pump.
Made using 150D polyester fabric this makes it extremely waterproof and durable keeping you dry but also cool. This polyester fabric is also lightweight making it easy to carry while both side doors and a front door are giving you multiple access points and ventilation airways.
Also included with the porch awning is a foam draught pad for a neat fit, webbing storm straps, PVC draught skirt and two-wheel arch covers, steel rock pegs, adjustable rear support poles, and mallet and a double-action AirOdyssey pump.
What is a caravan porch awning?
 A caravan porch awning is a smaller sized awning that is designed for caravans. They're designed to extend your caravan size by creating a space that goes beyond the usual caravan perimeter but offer more than a standard sun canopy.
Porch awnings are ideal because they are more affordable than traditional full-size awnings but give you the added flexibility of allowing you to have a separate space for things that you don't want inside of your caravan.
For example, if you've had a muddy day hiking and you've got muddy and wet clothes, then they can be hung in your awning until they dry and the smell will stay away from the inside of your actual caravan.
If you have a pet dog in the same situation of being muddy and wet, then this will mean that they can stay warm and protected by the awning but won't be able to cause a mess to the inside of your caravan.
How do porch awnings work?
Porch awnings are simple to use, and you attach them to the supplied awning rail which is an incline with the roof of your caravan. The awning has end panels which are connected to the side of the vehicle to ensure it stays secure.
Porch awnings are quick to put up compared to the full-size versions and are usually up to two metres wide. Of course, it will be smaller than a full-sized awning, but for most people, It will be sufficient but will depend on how many people will be using it.
Caravan Porch Awning Buying Guide
Size
If you're considering buying a porch awning, then an important thing to consider is your size requirements. The size you need will largely depend on the length of your caravan, with awnings usually being measured in centimetres. Generally, awnings are measured using the distance around the caravan awning channel, which includes the distance from each end of the channel to the ground.
The awning size you purchase will also depend on the number of people that will be using the caravan. If you have a big family, then you may need a larger sized porch awning so that there is more space for them to remain inside but also not be crammed inside the caravan.
As you'd expect, the larger the porch awning is, the higher the price you can expect the pay, so this should also be considered.
Brand
In the caravan world, several well known established brands have been around for many years building up a strong brand because of their strong, reliable products. The higher quality brands will usually be more expensive but have a higher quality. It's recommended that you consider buying higher quality brands because they are less likely to break meaning that in the long run, you'll save money due to having to replace it less frequently.
Water Resistance
One of the biggest expected benefits is that a porch awning will be water-resistant so you can sit inside of it while it's raining without the threat of water seeping through. Porch awnings will normally have a water-resistant rating so you can compare different models. Still, you can expect that higher quality, larger models will be more expensive where lightweight awnings will likely be less water-resistant, but this is something you should investigate on a model by model basis.
Materials
Awning fabrics and materials will vary largely giving you a different strength, look and feel depending on the fabric used. 
Lightweight Polyester
Lightweight polyester provides many benefits to other materials because it is light to handle, which means it adds less load to your caravan when transporting, but also makes it easier to construct and pack away. It is also very quick drying which is ideal after a rain shower which also makes it great for caravanning in wetter climates such as the UK.
Heavyweight Polyester
Higher quality polyester will usually be heavier and more expensive. Still, the main added benefit compared to lightweight polyester is that they are built to last longer so makes them ideal if you regularly caravan, making it more suited to longer-term use for multiple years of holidaying. 
High-quality acrylic Coated Polyester
Acrylic coated polyester porch awning has a thin coating of acrylic resin applied to each side of the material. The coating provides additional benefits including UV, mildew and water resistance but also allows a degree of breathability. This means the porch awning will last longer before needing to be replaced.
Fibre-dyed Acrylic
Awnings are commonly made using fibre dyed acrylic, which is dyed and spun like wool with the end product being stronger and lighter yet still an effective insulator. 
This fabric is designed to be more resistant to the effects of ultra-violet light and bleaching than dyed fabric after it's been made into yarn.