If you own your caravan, then it's likely to be one of the most expensive purchases you make in your life alongside your residential home and car. Although the main reason for your caravan is fun and enjoyment, you can also be a target for potential thieves, so you need to equip your caravan with security measures to ensure that its contents are safe.
The camper and caravan communities are generally honest. They won't steal from their fellow site users, but the truth is that thefts still do happen, so it's essential to take the necessary precautions to prevent thefts.
One way of doing this is by installing a caravan alarm, and we've designed this guide to show you the best caravan alarm available on the market and show you the features that are the most important to ensure that your valuables remain safe at all times.
Yale SAA5015 Wireless Caravan Alarm
Yale is one of the most well-known alarm system manufacturers, and this wireless alarm is a great way to add security to your caravan. The alarm uses motion detection, which triggers an alarm after 10 seconds if the correct four-digit pin code isn't entered.
The siren is 100dB which is loud enough to alert people nearby while also having a 12m detection range, making it ideal for caravans. The unit is versatile and can be mounted to the wall or be free-standing.
The alarm is battery operated requiring just 4 x AA batteries and also has a low battery indicator so you can replace them in a timely fashion.
CPVAN Motion Sensor Caravan Alarm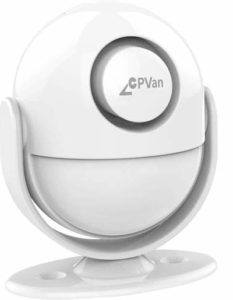 This is a stand-alone motion sensor alarm which is great for caravan use and requires no wires as it's battery-powered. It has an alarm sound of 125dB once it detects any movement and has a detection range of 8 metres.
The alarm also comes with a 90-day guarantee in the unlikely event that you're not happy with the product. If you want to expand your network of alarm sensors, then you can easily add up to 10 sensors to create a full caravan alarm system.
You can control it using the included remote control so you can easily deactivate the system when necessary.
Wireless PIR Motion Sensor Caravan Alarm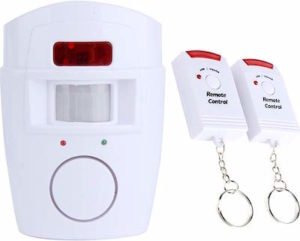 If you're looking for a low cost yet reliable wireless alarm system to equip your caravan, then look no further. The alarm system uses PIR motion-sensing technology which triggers an alarm if motion is detected within your caravan.
The alarm is 105dB and can be wall-mounted using the included bracket. It's easy to install the unit, and it requires no additional wiring because it runs off 4 x AA batteries. Also included are two remote control keyrings so you can control the operation of the alarm for up to a distance of 5 metres.
Defender TSEL00014 Redshield PIR Alarm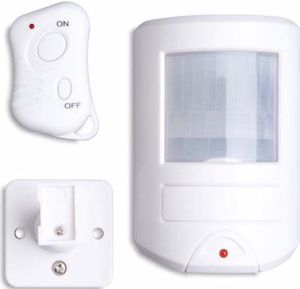 The Defender PIR alarm uses motion-sensing technology to detect movement which then triggers a loud 130dB alarm which is very loud, so if this gets triggered your neighbours will be alerted. Included is a PIR fob that allows you to activate and deactivate the alarm at the push of a button.
This alarm isn't just designed for caravan use but is also suitable for homes, offices, outbuildings, sheds, Garages or park-homes. The kit comes with all the necessary parts to get up ad running, including batteries. There's also a 100% money-back guarantee included with the purchase of the alarm and a wall mounting bracket.
Caravan Alarms Buying Guide
Ease of installation
If you're anything like me, then you enjoy buying new gadgets and accessories, but the last thing you want to do is sit there reading a detailed manual for hours working out how to install it. You should consider how easy the alarm system is to set up and maintain because there will be systems that require a complex set up, whereas there will be others that are plug and play.
Detection Alerts
This is a step up from traditional caravan door locks and window locks. The best caravan alarms will provide detection alerts which means that it has a motion detector that sends an alert when a movement has triggered the sensor. So if a would-be thief gets close to or inside your caravan, then you will be notified immediately.
Weather-Resistant
Several parts of the alarm system may be fixed to the exterior of your caravan depending on the system. Hence, it's essential that the system is weatherproof and can withstand both cold and hot temperatures without its operation failing or deteriorating. 
Monitoring Choices
The best caravan alarms will have the option of including a monitoring system that allows you to monitor from a remote system whether this is your phone or PC so you can keep an eye on your caravan even when you aren't around.
Price
Of course, different alarm systems will have different prices depending on the brand and the complexity of the alarm system. First, you need to set out a budget that your willing to invest because this will narrow down the number of choices you have which will then make the buying decision easier.
Warranty
Just like any electrical item, there's always a chance that a defect could develop, so it's essential to check whether your desired alarm system comes complete with a warranty. A warranty gives you the added security that if something goes wrong with the system that the manufacturer will be there to assist you.
Ways to prevent being a victim of theft:
Remain Vigilant
You need always keep aware at all times and understand that although you may be friendly with your new neighbour, the truth is that you barely know them and don't know their intentions and they could end up being thieves. So it's crucial always to be aware of your surroundings and any signs.
Park your caravan in a safe location
Most crimes can be avoided by sticking to safe areas. Before you decide on a caravan site to stay at, first look at online reviews which reflect on its overall safety. You can even call the site and ask the staff about the on-site security that's offered, such as park rangers. If you need to park up outside the campsite for example, at a service station, then make sure you stick to well-lit areas.
Leave a light on at night
If you go out for the evening, then leaving a light on in the kitchen or bedroom will act as a deterrent for would-be thieves because it's not certain whether a person is inside or not. You can also have motion sensor lights that automatically turn on if someone gets within a certain distance of your caravan.
Change your Locks
Commonly, the caravan storage compartments will have the same locks as compartments in other caravans that are made by the same brand. The best thing you can do is change the factory default locks to a set of new ones.
Move valuables out of sight
Most people will travel with their home comfort electronics which can be expensive, such as tablets and laptops. You should move your belongings out of site so they can't be viewed through the windows. Most thieves won't be premeditated, and they will seize and opportunity if they see expensive gadgets on show.
Insurance
You can have all the precautions in place but still, be a victim of theft, so you must have caravan insurance in place. You need to ensure that this is caravan contents insurance and not just insurance against the actual caravan itself. Caravan insurance is relatively inexpensive, so there's no excuse not to have it, especially if you use your caravan frequently throughout the year.
Test your alarm
Just because you have a caravan alarm, it doesn't mean that it's working. You need to regularly test your alarm to check that it works correctly and also check that it hasn't been tampered with.
Types of Alarm Systems
Door & Window alarms
This is the most common type of alarm and is similar to alarms you'd find in the average residential home. These alarms are installed onto you caravan windows and doors, and it will trigger an alert if a window or door is breached while you're away.
Some can trigger an alert to be sent to your phone or the local emergency department, whereas others will just trigger a loud alarm.
Perimeter Systems
If you want to protect not only your caravan but the area surrounding it, then you can install a security perimeter around it which will trigger an alarm when breached. The main problem with this type of alarm is that it can lead to numerous false alarms by unknowing passers-by or even dogs or cats that enter the perimeter.
Motion triggered alarm systems
Motion triggered alarm systems can detect the movement of thieves which then triggers an alarm and send a notification to you. The system can notify the authorities immediately, or you can make the decision when you receive the notification.