When you go caravanning, it becomes your main base and home. That means you'll be with your close friends or family – and your most essential possessions which can have a high value both commercially and sentimentally.
You don't want to be in danger of these possessions falling into the wrong hands when you're venturing out for a walk or other activities. For this reason, it's important to ensure your belongings are secure and safe with high-quality caravan door locks that thieves can't break into easily.
A good quality lock will give you greater peace of mind, and it's one of the first things we'd invest in before hitting the road.
In this guide, we'll show you the best caravan door locks on the market today (UK only) – as well as the important factors to consider when replacing the locks on your caravan or motorhome.
What Are The Best Caravan Door Locks?
Caraloc Caravan 640 Complete Internal & External Lock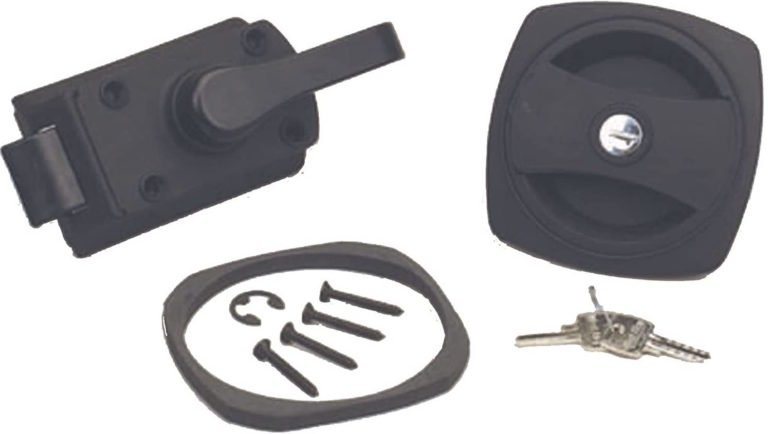 Caraloc has been around for several years manufacturing reliable locks for the caravan industry. The Caraloc 640 is a left lock that comes complete with fixing screws and two keys.
Sometimes simplicity is needed, and this is a no-frills door lock but it's also extremely secure without breaking the bank. It isn't limited to caravans and can also be used for boats, trailers or trucks.
This is a popular door lock choice in the caravanning community, but note that it can be a bit stiff when you first start using it. If you find that the lock is too tight to turn, we'd recommend applying a small amount of lubricant. The problem normally goes away after the lock has been used a few times.
Milenco Single Door Frame Lock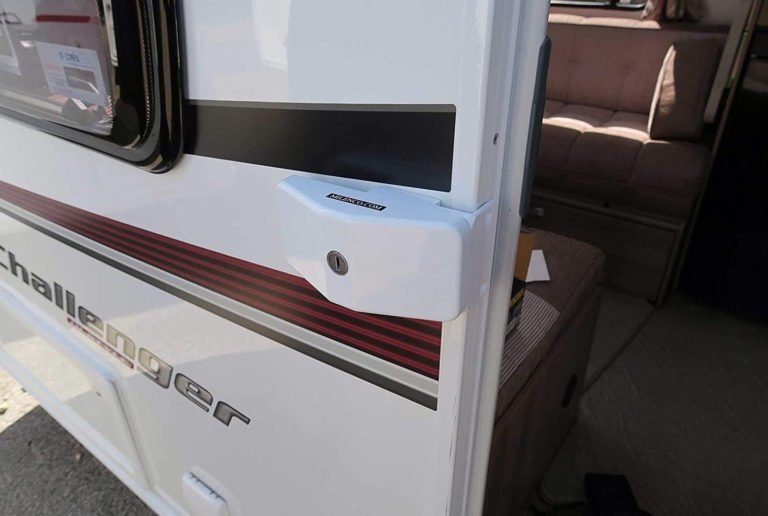 If you've been shopping caravan products, then you've no doubt come across Milenco – a hugely popular brand in the community. This lock is easy to install, just follow the 3 step process:
Line the lock-up to the side of the door frame
Mark the centre of the holes and drill a couple of small pilot holes
Screw the lock to the frame.
The lock itself is made from die-cast aluminium, so it's rustproof and is supplied with two quality looking keys and a chromed lock with the body of the lock having a nice hard white enamel finish.
Besides being safe to use, the lock is extremely secure due to the location of the two screws, making it a very tough code for any would-be thieves to crack.
A good caravan door lock at a good price.
Hartal Swift Caravan Door Lock (Right Hand)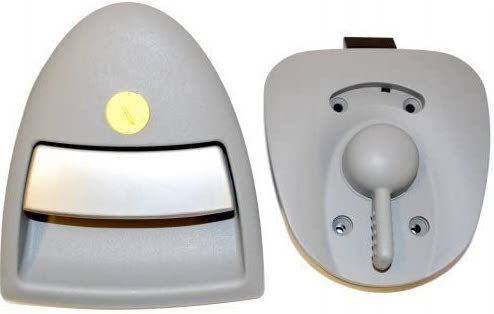 The Right Handed Hartal Swift Caravan Door Lock comes complete with barrel and keys so you can get started straight away. The lock has exterior door handle dimensions of 131mm x 150mm.
This lock is simple to install.
How do you know if you need a right hand or left hand lock?
Simply stand outside of your caravan, and if the hinges are on the left of the door as you look at it you will require a left-handed lock – or a right-hand lock if the hinges are on the right-hand side of the door.
Hartal supplies both right hand or left hand locks at the same price – just make sure you check which version you need before purchasing!
Autly Stainless Steel Trailer Travel Lock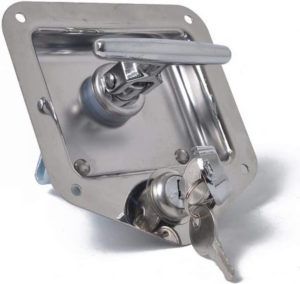 If you're looking for a stainless steel solution, then this caravan lock comes complete with two keys and has a mirror-polished blue zinc plated exterior.
This makes the lock rustproof and weather resistant meaning it's built to last. The stainless steel paddle lock kit is durable, and ready to handle the toughest environments – or certainly anything the UK can throw at it. The standard paddle lock means that it's compatible with a range of different caravan doors.
Fiamma Guardian Indoor Security Lock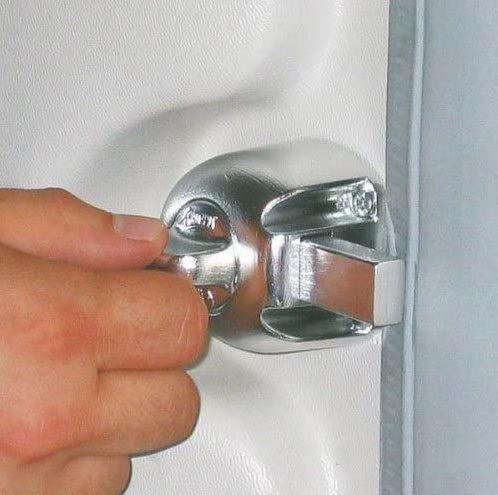 The Fiamma indoor security lock is a viable option if you'd also like a lock on the inside of your caravan door.
This provides an excellent level of security. The lock itself is made out of aluminium and has a sturdy finish. It just requires two fixing holes and comes with all the necessary parts in the package so you can get up and running straight away.
It's a great solution if you have a lock for the outside of your caravan, but want another layer of security when you're inside.
Why Do You Need a New Caravan Door Lock?
Did you know that to cut production costs manufacturers often make caravan door locks all use the same key?
This not only reduces production costs but also makes it easier for caravan salesmen to open the doors to potential customers to show them around.
This means that often one model of a caravan can be opened with the same key so other people could access your caravan. It's normal that caravan owners do not want this, so most people opt to change their door locks or get a new set of keys. This is why it's important to ensure that you get a high-quality lock or change your lock if you lose one of the keys.
Different Types of Caravan Lock
Caravan Key Door Locks
Key Door locks are the most common option which also makes them cheaper to buy whilst also being familiar, so they're easy to operate. Key door locks are usually the default type of door lock that you probably already have installed on your vehicle.
Not all key door locks are made the same, and you will have a choice of the type of lock that you have. This means that you can also choose how many locking points that you have, with the more lock points making it more secure.
Keyless Caravan Door Locks
The main benefit of keyless door locks is that you don't need to fiddle around with keys and it means that you can't get locked out unless you forget the code. However, the obvious downside to this is that anyone can access your caravan if they know your code.
This means that you need to keep the code to yourself. One key benefit is that you can easily save your password securely to your phone without the safety hazard of writing on a piece of paper that can fall into the hands of the wrong person.
Keyless door locks often have a fob capability so you can unlock it with a remote instead of using a code. This means that you don't need to give the code to everyone in your caravan, such as young children. Keyless door locks are also highly compatible with a range of different caravan doors.
A major point in favour of keyless door locks is that they fit nearly every RV door. If you happen to get locked out of your caravan, then you can call a locksmith who will replace the lock and give you a fresh set of keys.
What To Look For When Buying A Caravan Door Lock
What should you be considering when buying new locks for your caravan?
Here are some of the important factors:
Durability
Durability is one of the main factors to consider when purchasing a caravan door lock. You need to ensure that it's made of durable and solid materials so that it will withstand attempts from would-be thieves trying to break the lock open. This means you want to avoid plastic materials because they can be snapped and cracked.
These locks will usually be on the outside of the vehicle, so they also need to be durable and weather resistant, so they don't crumble under the pressure of natural elements and weather such as wind and rain.
Brand
When It comes to locks, there are some well-established manufacturers in the market that have built strong reputations based on their previous products. You should first look at the lock you currently have and make the decision about whether you would like to try something better.
You should research different brands and reviews to understand other users' experiences. For example, some brands will have locks that are easier to use or more secure, which will save you money and time in the long run.
Higher quality brands will often use higher quality materials which give it a longer lifespan. Whereas as other brands will use cheaper materials, so you need to find a balance between buying a secure lock that also fits into your budget.
Warranty
The warranty of a product will often be linked to the brand that you buy. The higher quality brands will usually have some form of warranty included which gives you the added peace of mind that if anything goes wrong with the product, then the manufacturer will be there to assist with either a repair or replacement.
Warranties will vary from manufacturer to manufacturer so they can range from several weeks in length to lifetime. You should also factor this into your budget, because it may be worthwhile to spend a little more on the lock if it means you get more extended warranty coverage.
Security
The caravan door lock you choose should have the highest level of security that fits into your budget. So, any added security benefits we give you greater peace of mind, such as having a deadbolt, which makes the lock more secure and harder to breakthrough. Added security is also gained if you use it in combination with a caravan alarm and window locks.
Easy Fitting and Size
Before you look for a door lock, you need to understand the specifications of your caravan. You need to know the dimensions of your door locks size and dimensions to make sure you purchase a replacement that can fit. The door lock dimension has a direct correlation to the space that the caravan can accommodate so if you purchase a door lock that's too big then it may not fit.
Making these checks will not only save you money but also time.
Ease of Installation
The lock you make a final decision on should be simple to install unless you plan on paying for a third-party service to install it for you, which will make the whole process more expensive.
You should get a lock that fits your door hole cut out and comes with all the necessary parts and documentation as this will save you a lot of time.
Not only should the installation be simple but so should operating the unit. There's no point buying a lock that takes ages to finally open each time because this can be a hazard in emergencies.