A caravan leg winder is a small device that makes it easier to tighten and loosen your caravan steadies and other components.
It plays a vital role in basic caravan levelling and maintenance, and is most commonly used for winding steadies – either manually raising or lowering them as needed. But they can also be used for common camping tasks, like screwing in tent pegs.
While these tools are fairly basic and can be operated manually, you'll still want to invest in a suitable leg winder that gets the work done efficiently. Some come with drill adapters to make the work easier and less time-consuming.
There are a few different brands to choose from, and our guide to the best caravan leg winders will help you decide which tools you can trust for the task.
What Are The Best Caravan Leg Winders?
Maypole MP760 19mm Caravan Leg Winding Brace

Maypole is one of the leading caravan product retailers and has been around for many years. A number of the tools in your maintenance box will likely come from Maypole. This caravan leg winder is high quality. It works very well and measures 71cm in length, making it ideal for winding caravan steadies and car wheel nuts.
It has a free rotating knob that makes it easier to use and also have a rotating plastic sleeve in the middle. These two features remove the hassle of having to maintain your caravan steadies.
It's sturdy when you use it, so it doesn't bend or flex, and there's no friction between the hand and the tool.
A simple leg winder that makes caravan levelling a breeze.
Gadlane 30cm Corner Steady Caravan Leg Winder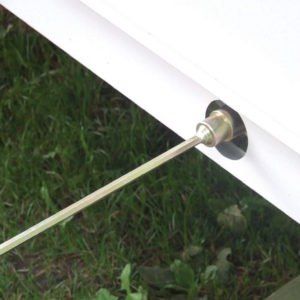 Gadlane understands that manually winding up and lowering your caravan steadies is a task that most people don't look forward to. This leg winder allows you to attach it to a drill so you can wind at the push of a button.
Nice and convenient – and certainly a whole lot quicker to use!
The adaptor is made from strong metal so it won't bend under pressure and is designed to fit all 19mm corner steads while the winder is 30cm in length, making it compatible with all-electric drills. The price of the winder is extremely competitive in line with manual winders, although you will need a suitable drill to make use of it.
Streetwize LWACC209 Corner Steady Winder Drill Adaptor
This Streetwise steady adapter also lets you use a portable drill to wind your caravan steadies. This is ideal if you find manually winding steadies exhausting, or if you just want to save time. We know some caravan users with bad backs who swear by this tool to take the pain out of winding steadies, and it works great.
The drill adaptor is compatible with 19mm hexagon shapes, and it attaches simply to an electric drill. The adaptor also includes a 13mm adapter for screw-in tent pegs, so it's even handier in bad weather where you just want to complete the job quickly.
Fast Caravan Leg Winder w/ 30cm Adapter for Electric Drill

This fast-acting leg winder adapter fits easily onto almost any electric drill so you can wind down your caravan stands in just a few seconds.
It measures 300mm in length and has a 19mm socket making it compatible will most caravans. The adaptor is made from strong zinc-plated metal which not only makes it highly durable but also corrosion-resistant to extend its life. This also means that it won't bend or fail when you begin to use it, and the main shaft of the adaptor also has a larger diameter so is less likely to twist over time.
Secure Fix Direct 19MM Caravan Crank Handle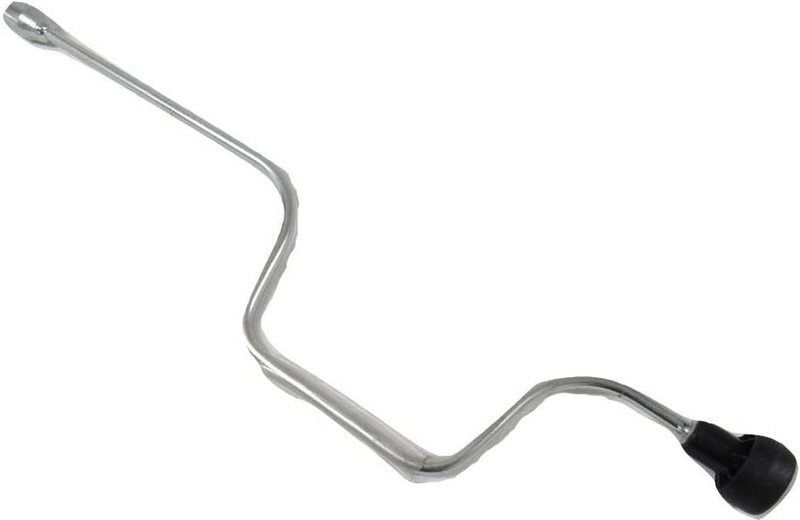 This Secure Fix caravan leg winder measure 67cm in length so you can use it at a comfortable distance without having to force yourself into an awkward position. This makes it simple to use on your caravan corner steady. The crank handle is compatible with hexagon shapes of 19mm.
It's constructed to have that familiar handle shape that allows quicker and easier rotation – meaning that you save both time and strain. The winder is lightweight and runs smoothly while also being easy on the hands. Overall, it's an effective manual winding tool and does the job well.
For those who aren't put off by a little manual labour, it's a good piece of kit to have in the toolbox.
What To Look For When Buying A Caravan Leg Winder
Weight
The weight of the leg winder is essential, especially if you have a manual version because you'll need to use your strength to get it into the right position. So ideally, you'll want a lightweight version so you can easily carry.
Higher quality leg winders will be made of strong metal that gives it a good weight to it so you can feel the quality, but it won't be heavy. However, it won't feel flimsy and likely to break when you use it.
Material
A caravan leg winder is the type of product you only want to buy once every few years, so the material that it's made from is essential. Ideally, it should be some form of metal because this means it'll be more durable and last longer.
Let's be honest; sometimes we don't take the best care of our tools so sometimes they'll be left outside in the rain so a metal leg winder will be able to withstand these conditions without losing its quality.
Durable metal means that it'll need replacing less often, which will save you money in the long term.
Manual or Automatic?
There are two different types of caravan leg winders for you to choose from:
Manual Caravan Leg Winder
This is the traditional version of a leg winder that you have probably seen, or you currently have in your toolbox. This requires you to use your own body weight and strength to turn the winder for it to function.
Automatic Drill Attachment Leg Winder
This is a more advanced version of the manual caravan leg winder and allows you to attach this to a drill which then powers the turning action, so you don't have to use your strength. This saves a lot of time and is also great for those that may be physically unable to use the manual version, such as if you have arthritis or other conditions.
Just make sure that the drill you have is suitable with the adapter on the leg winder.
See also: the best caravan levelling ramps.
Brand
Caravan leg winders are a specialist product which means that only a few specific brands manufacture and sell them. This is a benefit because you know you're buying from a high-quality brand. These brands have built a strong reputation over many years, such as Maypole.
The other benefit of an established brand is they have considerably more customer reviews so you can get a better idea of what to expect from your purchase.
Price
Leg winders will vary in price, which is affected by several factors including the brand, material and the type. Winders come in a range of prices so we'd recommend that you first browse what's available.
A manual caravan leg winder will be cheaper to operate than an electric leg winder that requires a drill attachment, but if you already have a suitable drill then the difference will be negligible.
Size
The size of the winder is important for when it's not in use. A caravan is generally compact, so every item size is accounted for. So you need to ensure that you have an adequate space to store it when it's not in use. The best caravan leg winders are small in size so they can either be placed in your existing toolbox or be stored discreetly in a cupboard or storage box.
The size length of the winder is important because if it's too short, then you'll have to get closer to the caravan which could force you into an uncomfortable position. Whereas with a lengthier winder, you can sit slightly further away, which makes the process easier to complete.