Parking a regular vehicle on the uneven ground would typically present no issues, but with a caravan, it can. Because caravans are your home on wheels, it means you have additional appliances that an average vehicle doesn't have such as cookers, fridges etc.
These types of appliances shouldn't be operated on uneven ground and just generally living in a caravan space can be uncomfortable if it isn't level. The type of ground you have access to will vary from campsite to campsite, and some will be uneven throughout the entire site, so you need to make some adjustments to your set up.
There are several DIY workarounds, including wooden blocks, but the best way to level your caravan is with the use of levelling blocks. These blocks have a unique design which means they can handle the weight of your caravan and adjust it to your desired height.
We've created this in-depth guide to show you the best caravan levelling blocks and also what you need to look for.
Thule 307617 Caravan Ramps Motorhome Level Wheel
Thule have been involved in the outdoor and caravanning industry for many years, so it comes as no surprise to see these HD levelling ramps which are specifically designed for caravans and motorhomes.
The ramps come as a pair and are simple to use with a maximum weight load of 5 tonnes while also giving you the choice of 3 steps heights depending on how uneven your ground surface is. The three heights are 44mm, 78mm and 112 mm.
The ramps have a large surface area which provides a greater level of stability for your caravan, so it's more secure and less likely to slip. The ramps are supplied in a convenient carry bag so you can easily store them away when they're not in use and also limits the amount of dirt that will be transferred onto your other caravan items.
Fiamma 136/133 Ramp Level Pro
The Fiamma Level Up ramps are the original version designed by them which allows you to maintain a levelled surface for your caravan. The ramps are light yet strong, which means they can not only withstand a high weight load but also they're easy to carry into position.
Unlike using wood to level your caravan, these blocks will not crack or snap, and they also have non-skid properties, so your caravan is properly gripped into position. The blocks have a solid construction made of polyethene which creates a self-locking overlap system.
The blocks come as a pair and are anticorrosive so will provide you with years of service even when subjected to the worst weather conditions. Due to their design, they are best suited for caravans and vehicles with small wheels.
Fiamma Level Up Kit Grey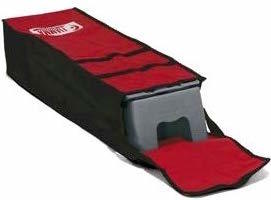 Now if you want to stick with the iconic Fiamma brand but want greater height choices, then the Fiamma Level Up kit is the choice for you.  
The Level Up kit provides you with three height levels and is made from lightweight material so you can quickly get them into place, so the process is straightforward even if you arrive at your caravan site in the worst weather conditions.
The three heights you can choose from are 40mm, 70mm and 100mm, giving you the flexibility depending on the level of slope that you find yourself in.
The blocks have a ridged surface for added caravan wheel grip while also being rust-proof, easy to clean and UV-resistant. The blocks are durable and maintain a perfectly levelled surface for your caravan as they're made from UV-resistant polyethene. The kit comes supplied with a carry bag and comes sold as a pair.
Maypole MP4601 Level Ramp Set
The Maypole twin level ramp set comes in a convenient set of two and is designed for heavy use which has been reflected in its strong, durable plastic construction so they can function in even the worst weather conditions.
The blocks have a load capacity of 2000kg per wheel but are also simple and easy to use so you can get these in place quickly without having any frustrating experiences. The blocks can level up to a maximum height of 80mm per wheel and have a total footprint of 160mm x 450mm.
If you need a higher height than 80mm, then the blocks are also stackable as they can latch onto each other. These blocks are a good step up if you've previously been using blocks of wood to level your caravan.
Maypole MP4607 Multi-Level Ramp Set
The Maypole Twin Multi-Level Ramp Set gives you a greater choice depending on the degree of slope that you find yourself in. Each caravan site you go to will likely have a different level of the slope which will then change the block height that you need.
This where the Maypole ramp set comes in use because it gives you a choice of three heights; 1st level height: 40mm; 2nd level height: 70mm; 3rd level height: 100mm.
The blocks are designed for heavy-duty use and have a max load capacity of 1250kg per wheel so you can rest assured that it will firmly hold your caravan in position without slipping.
The size dimensions of the area that your wheel sits on are 62 cm x 17 x 23.5 and give you the versatility to use them on other types of vehicles, not just caravans.
What is a Caravan Levelling Block?
A caravan levelling block allows you to adjust the height of your caravan when you're parked on uneven ground. This protects the interior of your caravan, particularly the expensive appliances such as fridges which are sensitive to tilts which can cause damage.
The levellers are simple devices that align the rig of your caravan, ensuring that appliances inside to shift or slide out of place once you've parked up. The effects of not using a leveller on uneven ground can be dramatic and can even cause your expensive appliances to stop working.
Several different types of levelling blocks are best used in different circumstances. You then simply need to drive over the blocks, which then removes the uneven ground. Blocks can also be stacked on top of one another until you reach your required height.
Most campsites won't be levelled for public use, so with a small investment, you can make your experience considerably better. You can also even use them when you return home with your caravan if your driveway or pavement has an uneven surface.
Giving you a better overall camping experience is the goal here. So you shouldn't have to "make do" with a titled caravan trying to fight gravity and the tilt as you try to cook dinner which could be causing expensive damage to your appliances.
Caravan levelling blocks will also save you a considerable amount of time. Gone are the days of having to guess where the most level ground is on the campsite or having to pack dirt underneath your caravan wheels manually. Instead, just use a levelling block that takes this headache away.
Types of Levelling Block
Ramp Blocks
Ramp blocks are easy to use because they don't need to be stacked like interlocking blocks. Ramp blocks come pre-moulded into the shape of stairs with each one having a pre-set height.
Interlocking Blocks
Interlocking blocks are constructed of square plastic tiles which allows you to stack them up like a stair necessarily. Each pack of blocks come with several per packs and gives you the flexibility to adjust the height of your caravan to your desired height.
One block will usually be 1-2 inches in height and the more you stack, the higher the height you can reach until your caravan is correctly levelled.
Electric Blocks
If your budget is much higher and you are open to spending a significant amount of money on levelling blocks, then you can opt for electric levelling blocks that work to level your caravan automatically. Not only do you need to buy the system, but unless you have the electrical skill, you'll need to pay for it to be installed.
Stabilizing Jack Pads
Jack pads are originally intended to support levelling jacks, but they can also be used to level your caravan. They work by creating a level surface due to their flat and square shape, which adds support to your caravan. 
Buying Guide
Weight Capacity
It's important to remember that not all caravans weigh the same and similarly levelling blocks will vary in the amount of weight that they can support without failing. So when you're comparing different options, you need to ensure that the blocks can handle the weight of your caravan.
The last thing you want to do is buy the wrong set of blocks and then realizing that they don't work once you reach the caravan site. If you use a block on a caravan above its weight limit, then they can break and cause your appliances inside to slide around.
Durability
Just like anything you buy for your caravan you should ensure that it is long-lasting which usually means that they're made from heavy-duty materials so that it can deliver several years of service without fail.
The best caravan levelling blocks will not split when you use them because this can cause your caravan to suddenly shift which can bring problems not only for your appliances but is also a hazard if you're inside when this happens.
If you have a caravan leveller made from a strong material, then this can withstand the pressure of both your caravan and harsh weather conditions, especially if it's extremely cold.
Non-Slip Gripped Coating
Although your blocks need to be durable, the best caravan blocks need to have the ability to hold your wheels securely in place without the chance of slipping. Ideally, they need to have a grippy coating that creates a tight grip so you can rest assured that your caravan isn't going to slip out of the blocks.
Ease of Use
If you've decided to buy caravan levelling blocks, then you should opt for ones that are easy to use. The last thing you want is to end up with a fiddly set that takes hours to correctly use, especially if you turn up to the caravan site in the rain.
You also need to consider how easy they are to transport and store when not in use. An included carry case is a useful addition that can make the process easier. Ultimately you're looking for levelling blocks that are not only easy to use but also effective once set up.
Warranty
Whenever you use the levelling blocks, they will have vast amounts of weight pressure applied to them, so there's always a chance that they could fail depending on their quality. The better quality blocks will not only be long-lasting but may also come provided with a warranty.
This means that should they deteriorate before a certain time, they will repair or replace them free of charge giving you added peace of mind that you're not only buying a quality product but also that it's a high-quality company.
Price
You'll likely have a predetermined budget in mind before you start looking for caravan levelling blocks. Different blocks will have different prices, and the brand and the quality will largely determine this.
Higher quality brands will usually make higher quality, longer-lasting products, so it's often better to spend a little more because they will last longer saving you money in the long run.
Tire Diameter
The best caravan blocks will be suitable for standard tire sizes, but you should double-check the that the width of your desired tire blocks will fit your caravan tires. This helps for the weight of your caravan to spread more effectively because of the larger surface area making a greater level of stabilisation.
Adjustability
If your chosen caravan blocks can be adjusted, then this can save you a considerable amount of time. In times of very uneven ground, this means that you can place the wheels on different height levels. However, if you're campsite is incredibly uneven then we recommend that you search the whole site until you find the least uneven surface.
How do I know if I need levelling Blocks?
There's a simple way to work out whether you need levelling blocks because you may not even realise it. Just place a pen on one of your surfaces and see if it rolls in a certain direction and take note of the speed. If the pen doesn't roll much, then your caravan is level, however, if your pen rolls fast, then you need to start using levelling blocks.
How do I know if my caravan is level?
Once you've installed your blocks, you now need to work out if it's level. You have several ways of doing this; you can use a pen to see if it rolls or fill a glass with water and see if the fill line is straight. Otherwise, for a more accurate reading, you can use a spirit level. Then you can use caravan steps to easily get into your caravan.