Caravanning is one of the most freeing experiences allowing you to explore nature and the local environment with also zero restrictions. It's normal for you to join fellow caravan owners in designated parks, but this leaves you all close to each other.
Although caravan owners are a close-knit community, there are some times when you want some privacy and peace not only from other people but also from the weather. Buying an awning can be a pricey investment. Hence, you also have the option of purchasing a caravan windbreak which can provide you with enough protection against a range of weather conditions.
Fortunately, there is a well-established caravan windbreak market giving you a wide range of choice to choose from. However, this wide choice can make it challenging to understand what the best option is, so we've created this buying guide to show you the best caravan windbreak on the market and the key features that you need to consider.
Kampa Pro Deluxe Windbreak 5 Panel
This five-panel deluxe windbreak was updated in 2018 to include even more market-leading features. It has Adjustable aluminium poles not only making it lightweight but also sturdy once in position.
It's constructed using Feel the Difference' double coated Weathershield Pro polyester making it extremely high quality. 
The windbreak is easy to install while providing you with a high level of wind protection. The windbreak also has adjustable support bars and includes a high level of privacy but also has crystal clear windows inbuilt.
Also supplied is a durable carry case and pegs while there is also no need for guy lines.
Vango Family Windbreak
The Vango family-sized windbreak uses high-quality Sentinel Active fabric which brings a high level of safety due to its fire-retardant nature which ensures that it exceeds European EN5912 safety standards.
The windbreak has Power Plus Steel Poles which provide maximum strength and stability in even the strongest winds. There are also high visibility guy lines which are still visible in low light conditions.
Waterproofed to a 4,000 mm HH rating, the windbreak is also compact and when not in use can be packed into the supplied carry bag.
Kampa Air Break 5 Inflatable Windbreak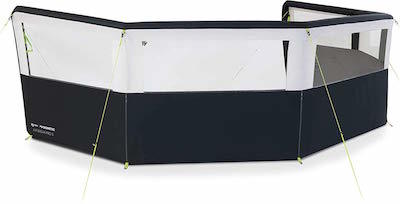 Kampa is one of the market-leading camping product providers due to their forward-thinking innovation, so it's no surprise that they have introduced the worlds first inflatable windbreak into the market.
It is freestanding, but it can also be attached to either an airframe or awning. It also comes with a carry case, so you securely pack it away when it's not in use. This is easy to set up as all you need to do peg it into the ground, and they pump it up.
The windbreak also has a window panel that runs throughout the windbreak, allowing to see out clearly. Made from Feel the Difference' double coated Weathershield™ Pro polyester this gives it durability with soft feel so this is a worthy investment.
Kampa 4 Pole Windbreak
Now this Kampa 4 pole windbreak is a simple yet effective way of providing you with the wind protection and privacy that you need. It is steel poled so once installed it'll stay securely in position even in windy and rainy conditions.
 It features polyester material making it durable and long-lasting while measuring 500 x 140cm in size. There is also an inbuilt viewing panel, so you do not entirely block off from the outside world, and it's also supplied with an easy to use carry bag, so it's not only easy to transport, but you can also neatly pack it away when it's not in use.
Bo-Camp – Windbreak Solid with window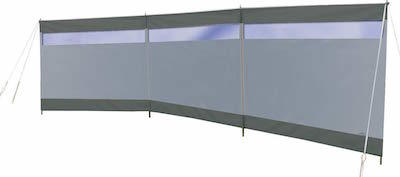 Bo-Camp has introduced their very own windbreak into the market which is constructed using weather-resistant nylon windbreak with a PU coating. It also has top beams and a sturdy frame, so once installed into the position, it will be sturdy and firm.
The windbreak has steel poles included which are durable and strong while it also has a PVC window inbuilt. A handy carry bag also comes with the windbreak making it simple to transport.
There are three compartments the angle can be adjusted to any situation plus also supplied are guy ropes and pegs.
Caravan Windbreak Buying Guide
Height
The height of your caravan windbreak is essential to understand because then you'll know how much protection it will provide from the weather, especially the wind. The greater the height of the windbreak, the more wind protection you'll have, whereas with a shorter windbreak you'll be exposed the wind conditions more.
Weight
Although you want a windbreak that is durable and made from hard-wearing materials, the overall weight is important to understand because you'll need to get it into position each time you install it. If it's too heavy, then it not only might be more difficult to use but also may need more than one person to get it into the position which is even more critical if you're a solo caravan user.
Portability
As with all caravan products, one large consideration is how easy it is to move around. Ideally, your chosen windbreak will come with a carry bag which allows you to roll down the windbreak and fit inside easily. This not only makes it easy to carry but also compact to store away.  
You might also want to invest in an awning draught skirt, which can be particularly handy in windy weather.
Warranty
Regardless of the quality of any product you purchase, there is always the chance that a fault can develop. With this in mind, you should check if your chosen windbreak comes supplied with a warranty so in the scenario that a fault surfaces, the manufacturer will be on hand to either offer you a replacement or repair. Some products will also come with a money-back guarantee to ensure that you have satisfaction with the item.
Brand
Luckily, you have a large range of brands to choose from but generally speaking, the best brands will be well established with many years of experience having provided reliable goods to the market. This shows that the brand is here to stay, and you're more likely to receive a high-quality product.
Visibility
Safety is always important, especially in a busy caravan park so ideally, your chosen windbreak will be highly visible so reversing vehicles, pets and children can see it so accidents can be avoided.
Multi-Use
The best caravan windbreaks aren't just compatible for caravan use but can also be used for camping, beaches and much more. This is a consideration to make, especially if you don't often caravan because then you can use it for the remainder of the year to get better value for your money.
Installation
The last thing you want to do is have a windbreak that takes ages to install and has a confusing set of instructions. You should ensure that you choose a caravan windbreak that just takes a few minutes to both assemble and dissemble. There are extra points for a windbreak that has easy to install pegs that can go straight through the top surface of the ground. 
Pole Material
Most windbreaks will have poles that penetrate through the ground to fit securely into place. The material on these poles will determine how securely the windbreak will fit into place. The best caravan windbreak will have steel poles which are not only strong but also long-lasting and won't deteriorate over time even after constant exposure to wind and rain. 
Durability
The whole point of a windbreak is to provide you with protection from the weather, especially the wind, so it's important to have one that is made from durable materials that won't tear or rip. A durable windbreak will also last longer so you won't be needing to replace it every season, so it's a longer-term investment.