Traditionally to be able to use your number plate on your caravan you'd need to drill holes in your caravan to mount it will nails. However, there are now more straightforward ways that don't require you to go through the hassle of buying a drill or paying money at your auto repair centre for them to fit it.
Using number plate tape is a much quicker solution and often provides just as strong bonding due to the strong adhesives that are used. 
If you're towing your caravan, then it needs to have a rear number plate that matches the towing vehicle. This must be illuminated when you're driving at night.
So you can save yourself some time and money as we've reviewed the best caravan number plate tape so you can quickly get back out onto the road legally with your number plate in clear view to motorists in your rear.
Gorilla Glue 3044101 Heavy-Duty Double-Sided Mounting Tape
Gorilla adhesives are a company that focuses on creating products with strong adhesive uses. They have built an excellent reputation for extremely strong holding power products, and this mounting tape is no exception.
Gorilla glue mounting tape provides you with a fast and easy way to mount your number plate onto your caravan. The tape is double-sided and creates an instant, crystal clear and weatherproof bond.
The tape is suitable for both indoor and outdoor use on a range of materials including Plastic**, Metal, Glass, Wood, Stone, Brick, Ceramic, the tape grips to both rough and smooth surfaces and is high strength to create an instant hold.
The Gorilla Glue Mounting industrial strength tape allows you to mount your caravan number plate without traditional fasteners.
The great thing about this product is that there are numerous reviews of happy customers who have used the tape to mount their number plate successfully, so you know that this product will work. Also once you remove the tape, it won't leave any damage on the surface.
Eboot 10 m (25 mm) Foam Tape Double Sided Sponge Tape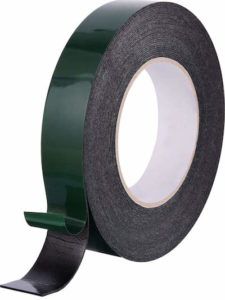 The Eboot double-sided tape is approximately 25 mm/ 1 inch in width and 1 mm/ 0.04 inch in thickness with each roll measuring 10 metres in length which means you'll have more than enough to mount your number plate.
The sponge tape is made using PE foam which gives it a strong level of adhesion and retention while also being anti-ultraviolet, temperature, flame, solvent, water, and rub resistant.
The tape is also double-sided while also being easy to tear to your desired size. This stickiness is maintained over a long period. This means that it can be used for a range of needs, including number plates.
The tape can also resist heat and absorb shock, so it isn't likely to just fall off when you're towing your caravan. So you can trust that it will hold your number plate firmly in place.
Hestya Double Sided Foam Number Plate Sticky Pads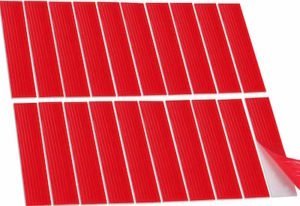 These number plate sticky pads come in a pack of 20 and are double-sided, so you can firmly bond your number plate to your caravan without the need of any drilling. Each pad measures 3 x 1 x 0.07 inch/ 75 x 25 x 2 mm and is sticky on both sides.
They are easy to replace, so you don't need to go to your auto repair shop to help mount your number plate, and you can simply just do it yourself. The tape isn't only limited for use on caravans but can be used for a range of applications on cars vans, boats, trucks, motors and more.
The double-sided pads are heavy duty so they can be used to fix other parts of your caravan, for example, fixing mirrors and other fixtures.
Don't underestimate the sticking power of these pads as they will firmly fuse your number plate to your caravan and you won't be disappointed. The pack of 20 means that you will have enough supply for an extended period with needed to replenish.
Sanojtape Ultra Strong Black Double Sided Tape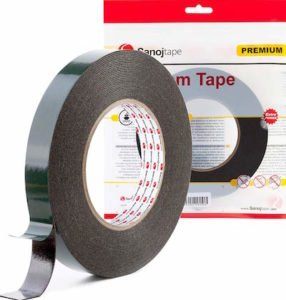 Sanojtape Double Sided Black Foam Tape has a high-density foam core which makes it ideal for fusing your number plate on to your caravan due to its strength and durability. 
The tape is double-sided with a strong permanent acrylic adhesive that creates a strong bond. This tape can also be used for a range of automotive and household applications both indoor and outdoor.
So even in the harsh conditions of rain and wind that we're used to in the UK, you can trust that this will hold your number plate firmly in place. The tape reaches maximum adhesion almost instantly, so you don't need to wait numerous hours for it to set before you start using your caravan.
The tape uses a foam closed cell structure which makes it weatherproof, and all you need to do before applying is to make sure the surface is dry and clean. The tape has a thickness of 1mm and comes in a roll measuring one roll 9mm x 10m. So if you need to create a strong bond between two materials, this would be an ideal choice.
Hills Double Sided Adhesive Number Plate Sticky Pads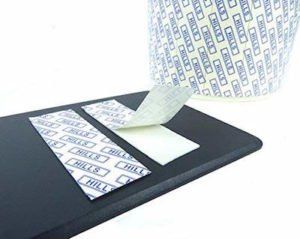 Hills High-Quality Number Plate Double Sided Sticky Pads are widely recognised across the caravan market due to there high sticking power. This provides a good alternative to having to drill holes into both your number plate and caravan.
The sticky pads are simple to apply and replace, and each one measures 75mm x 25mm, which makes it suitable for standard UK number plates. All you need to do is make sure the surface of both materials is dry and clean before applying the sticky pad. 
The pads use high strength adhesive, so its use isn't just limited to caravan number plates but has multiple uses both indoors and outdoors. These sticky pads are ideal if you're on a bit of a tighter budget because they are low cost and you get eight pads in a pack.
So hopefully you've found a mounting tap for your caravan, and you can now put down the drill and use the easy to apply pads. Any pad that you choose, just follow the easy instructions that each product comes with and you'll be up and running in only a few minutes.