If you've got an awning with your caravan, then you'll know how great they are for extending your living space. Caravan awning draught skirts are a great add on item which has seen significant growth in interest in recent times.
A caravan draught skirt is simply a product that is attached to the lower part of your caravan, which reduces the emergence of drafts from forming in the space underneath. If you have an awning installed then this helps to maintain warmth inside.
This is especially important if you're using a heater inside your awning or caravan because this will help you conserve energy. After all, you aren't fighting against heat being lost.
An awning draught skirt is great if you're travelling in windy weather conditions which is sometimes unavoidable depending on the time of year or if you're in a high altitude location. It's a superb item to have on hand, and we've created this guide to show you the best awning draught skirts available on the market and the considerations that you need to make.
Fortunately, they are relatively affordable, so you have plenty to choose from.
Kampa Caravan Awning Organiser Draught Skirt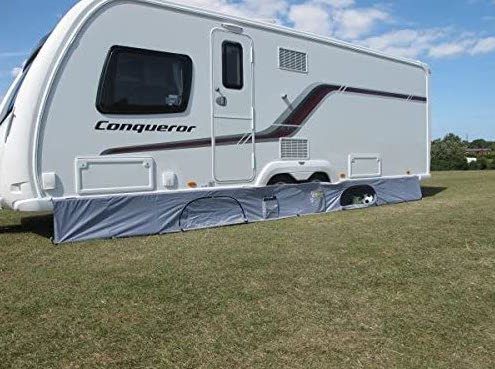 Kampa isn't new to the camping product market and is very firmly established as one of the top brands.
This awning skirt is the premium offering available which means that it's slightly more costly, but it makes up for this by being more effective and easy to use.
The draught skirt comes sized at 60×600 cm however you can cut it down to your preferred size, making it customisable to your caravan. If you prefer not to permanently cut it down, then you can always fold in down to your required size.
The product also has storage bins and pockets attached, which provides you with added storage compartments to store your possessions. These pockets have zips so you can secure them into place making them great for things such as additional tools, muddy shoes or anything that you need to store but don't want in your caravan living space.
The Kampa caravan draught skirt slides onto the bottom rail piping of your caravan, and It effectively reduces the drafts so you can have a noise-free and warmer experience.
Eurotrail Caravan Grey Universal Awning Draught Skirt 400 x 60 cm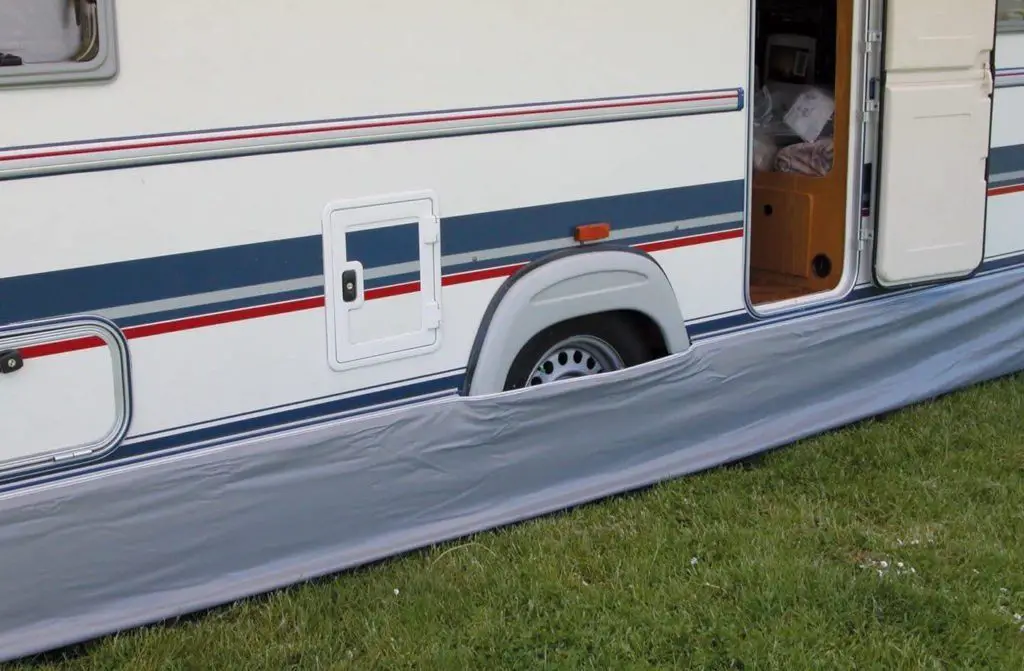 Eurotrail has created a caravan draught skirt that is suitable for universal use and comes in a light grey colour which makes it ideal for the majority of caravans.
The skirt measures 400x60cm, but it allows you to tailor it to the exact length that you need. The material is strong PVC polyester so it can withstand harsh weather condition but is also easier to clean and maintain.
The caravan skirt effectively prevents draughts from forming in both your awning and underneath your caravan and has 7mm PVC keder that fits standard piping rails. This makes it straightforward to install and has eyelets every 50cm, so once it's been passed through the piping, it just needs fixing to the ground.
Eurotrail is a well-established brand which has a huge range of products that are distributed all over Europe.
Vanilla Leisure 4m Caravan and Motorhome Awning Draught Skirt
Vanilla leisure has designed a caravan awning draught skirt which provides you with multiple metre lengths to choose from so you can pick one to match the specific size requirements of your caravan. It's available in 1, 2, 3, 4, 5, 6, 7, 8, 9, and 10-metre lengths.
This is great for those that have larger than normal caravans, and the product are made using high-quality PVC material making it lightweight and durable while simple to clean as all you need to do is rinse or wipe it down.
There are brass eyelets that are space out with 1 metre between each and requires your caravan to have a piping rail for easy installation.
It's a well-made product that will not only deliver great results but will also last many years due to its durable construction.
Kampa Draught Skirt 4m x 70cm Universal Caravan & Motorhome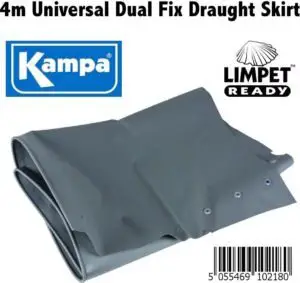 As previously said in this guide, Kampa is one of the leaders in the market, so it's no surprise to see that they have introduced the latest innovations.
This draught skirt has a width of 4 metres but has a great new adjustment system which allows you to attach to your caravan via suction if you don't have a piping rail. If you do have a piping rail then you can still use this method or via limpets.
The product you with three different anchorage heights for your caravan and there are eyelets spaced 1 metre apart. It uses PVC fabric making it highly robust and strong, so you don't have to worry when it's been used in harsh weather conditions.
Hindermann 8135-1450 Floor Apron Dark Grey Caravan Skirt
Hinderman has created this caravan skirt to prevent draughts in your awning and underneath your caravan. It comes in a dark grey colour and is compatible with standard piping rails and has an integrated 7mm keder strip.
This makes it easy to simply slide into position then you can firmly fix it to the ground using pegs with its eyelets that are spaced 50cm apart. It has dimensions of 600x75cm, but If it's too large, then you can cut it down to size.
This is great if you want a product that is quick to install and you have larger size demands.
Caravan Draught Skirt Buying Guide
Size
The size of your awning skirt is important because it needs to at minimum match the length of your caravan. If it's too short, then this will still stop a draught, but it won't be as effective so cold air could still get into your caravan or awning.
You simply need to know the length of your caravan which will be in your manual caravan description or you could measure it with a tape measure. You can then match this to a draught skirt with a similar size where the length will be displayed on the product description.
Material
The material that your caravan skirt is made of is relevant because it'll be outside whenever it's in use. Hence, it needs to be a durable material that can withstand the pressure of weather, especially when it gets bad such as wind and rain.
The material also needs to be lightweight, which makes it easier for you to not only transport it with you but also when you fit it to your caravan, it won't take much physical effort. The best awning skirts will usually be made of a PVC or polyester type material which is lightweight, durable and waterproof.
This isn't the type of product that you should expect to replace every year but should be quite the opposite where it lasts many years.
Fixing Mechanism
Different awning skirts will have different ways of attaching to your caravan or awning. It's essential to understand this because you don't want to be surprised when you receive it because the fixing mechanism will affect how easy or difficult it is to set up.
Some awning skirts will slide along the bottom rail of your caravan; if this is the case, then you need to ensure that your caravan has this rail. If not then some alternatives don't require this and a great way to understand the fixing mechanism is not only by reading the product description but also by reading the product reviews that are left by previous purchasers.
Brand
Caravan skirts are quite a specialist product that doesn't have dozens of manufacturers however we'd recommend sticking to the caravan brands that are well established. This means that they have been creating and selling products for several years and have a strong number of customer reviews which gives you a clearer idea about how effective their product is.
Well established brands often use higher quality materials so you get a more effective product which will save you money in the long run because you don't have to keep replacing it.
Price
Awning skirts will vary in price, which is dictated by several factors. The first main factor is the size so if your caravan is longer then you'll need a bigger skirt which can incur a greater cost. Also, you should set a budget for the maximum amount that you're willing to spend.
IF you're struggling to set a budget, then you should browse what's available in this guide so you can get a better idea of the selling prices for this type of product. Once you have a budget, it allows you to make a faster buying decision.
Colour
Awning skirts don't come in a huge range of colours; however the most common is grey with this being neutral, so it blends in well with the rest of your caravan and awning. Colour shouldn't be a big factor because this can severely reduce the number of great options that are available to you.
Adjustability
Your chosen awning skirt should be easy to adjust and fit your caravan. An important consideration is how many eyelets that your skirt has and how far apart they are, and eyelets that are closer together gives a better fit.
Also, if you're struggling to find a skirt that meets your size requirements and they're all too long, then you can adjust them by cutting them. However, you need to check that the material used for your chosen waning skirt can be cut.
Is a Draught Skirt Essential?
A draught skirt may not be seen as an essential piece of caravan equipment, but it's these small products that can drastically improve your overall experience. We've all had small annoyances that stick in our mind for ages, and a draught is one of them.
It's very common to be kept awake at night because you can hear the wind rasping and swirling underneath your caravan, but a draught skirt will stop this from happening. If you use a caravan heater, then this will also reduce heat lost through the bottom of your caravan keeping it warmer for longer.
If you're looking for the utmost comfort on your caravan travels, then this is highly recommended.