There are so many accessories and parts that you need for your caravan that it can be easy to feel overwhelmed, but here at Pod Caravans, we've got you covered bringing you all the in-depth advice that you need.
You'll likely already have a hitch which allows you to connect your caravan to another vehicle giving you the ability to tow it. So it's likely you'll have the first-hand experience of how much dirt and grime build-up can happen which can then make it difficult to use the hitch when the time comes. The hitch cover will allow you to keep the hitch receiver tube clean when it's not in use.
Hitches come in a range of shapes and sizes but to protect the hitch you can use a hitch cover, but because of the wide choice, it can make this buying decision more difficult. So we've created this easy to follow guide to show you the best caravan hitch cover.
Speedwellstar Hitch Cover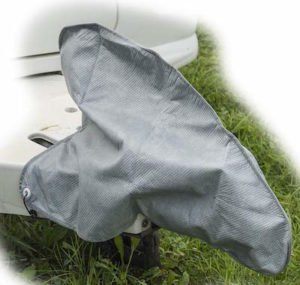 This high-quality Speedwellstar hitch cover can fit many types of hitch and measures Length -86 cm (33″) * Height – 61 cm (24″). It keeps you hitch clean and dry while also protecting against elements such as dirt and dust.
The design is durable with extra protective strip stitched hems that add strength and water resistance so you can trust it to protect your hitch. The cover is made from water-resistant & breathable four layers, non woven fabric – which lowers the levels of condensation build-up.
The cover is easy to install, and all you need to do is slide it over your hitch. There is also a free bungee included.
ELUTO Universal Hitch Cover
Made from high-quality material that is both water-resistant and breathable due to its four layers of non woven fabric which makes it considerably more tear-resistant and durable than traditional nylon. It's sized universally to fit a range of hitches and measures Length: 95cm; Height: 61cm; Height (Clutch): 35cm.
For added safety, the cover also has fluorescent strips added to it for increased visibility while also having a tridimensional design, which makes it windproof and waterproof so you can easily fit it will string cord to prevent it from blowing away in the wind.
The cover will protect your hitch in all weather conditions and comes with a storage bag for when it's not in use. 
Maypole MP9256 9256 Hitch Cover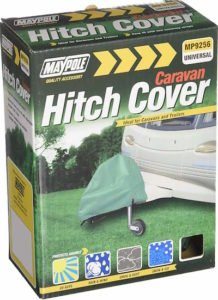 Maypole has been in the caravanning industry for several years, creating high-quality, durable products, and this hitch cover is no different. It is manufactured using heavy-duty reinforced PVC plastic which is extremely durable to protect your hitch against the weather and from dirt.
The hitch cover has a universal size and is easy to fit using its adjustable buckles and straps so you can create a snug fit on your hitch. It comes in the colour green, which is great for safety, making it visible, so you're less likely to have accidents such as people tripping over your hitch.
Defender Dark Grey Caravan Tow Hitch Cover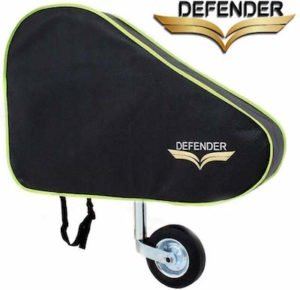 Introducing one of the best selling caravan hitch covers, this is easy and quick to fit using its strap and buckle which not only makes installation easy but also removal. The cover has a universal fit due to its size of 62cm x 90cm, making it easy to fit most hitches. 
The cover is also 100% waterproof due to having four layers of breathable waterproof fabric while also having hi-visibility trim for added safety. Also included is a no quibble seven-day satisfaction guarantee in the rare event that you're not happy with the product.
Blue Diamond Universal Caravan / Trailer XL Hitch Cover
If you're keen for a large universal hitch cover, then Blue Diamond has the product for you. As well as being low cost, it also has an elasticated cord and drawstring to help you secure it to your hitch instead of using clips.
The hitch cover is made from high-quality nylon-like material which gives it a beautiful finish, but more importantly, makes it durable and robust. Due to its XL size, it can fit onto a large range of hitches. The only complaint from users is that it's prone to fading in colour quickly, although this doesn't affect the level of protection it provides.
Why do you need a Hitch Cover?
A hitch cover is a simple yet effective product that's designed to protect your hitch from the harmful elements such as rain. As a one-off, these elements won't do any harm to your hitch, but over time this can cause damage such as rust. 
A hitch cover not only protects from the elements but also protects people. Hitches naturally attract dirt and over time get dirtier and dirtier, which means that if you touch the hitch, this grime and grease will be easily transferred onto your clothing.
More dangerously hitches can cut or scrape your skin so a hitch cover will minimise the chances of this happening.
Hitch Cover Buying Guide
Durability
You, of course, want a product that's designed to last, which is why durability is so important. The more durable your hitch cover is, the longer it will last which will save you money in the long run while also giving your hitch a greater level of protection meaning that the hitch will also last longer before being replaced.
To ensure your hitch cover provides a high level of durability, you should ensure that it has a heavy-duty construction, is scratch resistant and weatherproof. Any elements that can get through the cover can cause damage to your hitch.
Cost
Let's be honest; the price of a product will be a leading factor for the majority of people throughout the selection stage. The price is not always a reflection of quality. The cheapest hitch cover is not always the poorest quality and the most expensive hitch cover is not always the highest quality.
However, price is always a general indication of overall quality depending on the features that it has. You should ensure that your desired hitch cover has all the features you need and then see if this fits into your price budget.  
Compatibility
Hitch covers come in several sizes, so the main consideration is that it fits your hitch to begin with, which includes it being too big or too small. If it's too big, then it can easily be blown off, or elements can get into through gaps which can cause damage to your hitch. If it's too small, then it either won't fit on properly or won't fit at all, rendering it useless.
You need to check the model specifications for the size of the cover, so you also need to know the size of your hitch. To stay on the safe side, you can buy a universal sized hitch cover which then has adjustable straps so you can still fit it securely to your hitch. If you have a hitch lock then your hitch cover needs to accommodate that too.
Ease of Use
This relates to how simple it is to put the cover on and take the cover off. Different hitch covers have different designs which affect how easy they are to use. You don't want to be wasting time with a fiddly design trying to get it off your hitch when it's pouring rain. 
So you need to consider the ease of use, with desirable features being a simple design with zips, hooks or straps which provide secure and stable fitting. 
A combination of features will help the product to still work effectively even in driving wind and rain or while you drive and high speeds on the motorway.
Material
Hitch covers are made from a range of materials with each having their positives and negatives.
Plastic
Plastic made covers are ideal for providing a stylish, sleek look to your hitch cover while also being able to withstand harsh and varying environments. Plastic material is often UV- resistant, water-resistant and chemical resistant. 
Rubber
Hitch covers made from rubber material has the main advantage of being easy to install because the material allows it to slide over the hitch while also being corrosion free and being a strong shock absorber.
Steel
Stainless steel covers are a premium choice and give a lovely shiny finish to your hitch. Stainless steel not only looks great, but it is also durable, but this is reflected in the higher selling price.
 Chrome
Chrome-plated covers are rust and corrosion free, which means they can last a long period. They are also scratch-resistant, which is essential because hitches can often be bumped, so this gives you added protection.
Design 
Depending on how important it is, the design of your hitch cover also needs to be considered as they can come in normal colours or you can put your attention-grabbing personal touches such as colours or designs. This isn't a huge consideration for most as the majority just opt for a plain-looking hitch cover. 
What is important about the design is the colour of your hitch cover. For added safety, many hitch covers will be a highly visible colour such as green which prevents people from trying to walk in between caravans which can cause them to trip over the hitch.
Maintenance
There are many accessories and components for your caravan that need regular maintenance, and you don't want to keep adding to this list. So you should choose a hitch cover that's easy to maintain and doesn't require constant cleaning.
 This not only saves you time but will also mean that the hitch cover will last longer until it needs to be replaced.