Your caravan may be one of the most significant financial commitments that you make in your life and caravans often get stolen, so you need to take the necessary steps to keep it secure. If you're not using a caravan hitch lock, then you're leaving your caravan open to thieves who can then just hitch your caravan to their vehicle and drive off.
However, with the use of a hitch lock, you can keep your caravan secure unless you unlock it with its unique key. We've reviewed the best caravan hitch locks on the market and show you the things you need to consider before making a final buying decision.
MAYPOLE Alko Hitch Lock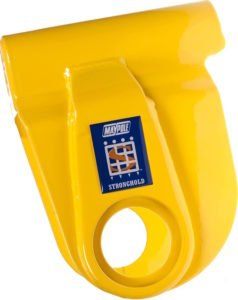 The Maypole ALKO hitch lock has a yellow anti-saw steel casing that not only makes it difficult to break into but is also a visual deterrent to thieves. The lock also has a unique high security patented locking system.
This is a high-security pick-free lock that has thousands of possible key combinations and is supplied with three keys, plus a key identity tag. The lock is also water and corrosion proof, so it's unlikely to fail due to the weather conditions.
The locks quality has been highlighted by it being approved to Sold Secure Gold standard for caravan and trailers. It can also be fitted into position in under 10 seconds and weighs just 3kg so you can easily fit it to your caravan hitch.
If you're looking for the best caravan hitch lock on the market, then you've found it.
Streetwize SWTT125 Guardian Hitch Lock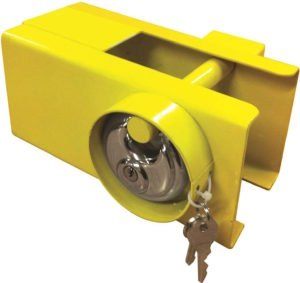 The Streetwize SWTT125 Guardian Hitch Lock is a lower-cost solution so is great if you're on a budget but still looking for a secure hitch lock. This hitch lock is compatible with standard-sized hitches and has a universal coupling system that uses a lock guard to block the tow ball so no other vehicles can hitch to your caravan.
The hitch is clearly anti-theft as it is brightly coloured, making it clearly visible. The lock itself is a disc-style padlock system constructed from heavy-duty steel that makes it hard to tamper with.
It's supplied with a spare key while the bolts of this locking system are hidden away from view, which increases security.
Milenco 4534 Lightweight Safety Coupling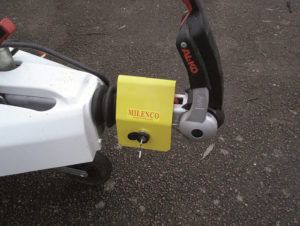 Milenco is one of the leading caravan product manufacturers, so it's no surprise to see that they have produced their Hitch Lock. This hitch lock has a bright yellow exterior making it instantly visible to potential thieves acting as a deterrent.
The hitch fits hitched or unhitched, and Covers handle of the safety coupling fully, and It is also compatible with all Alko unstabilised hitches and stabilised hitches. The lock is also insurance approved which is ideal because it makes the claims process much more favourable when your caravan is secured with an anti-theft device.
The lock itself weighs just 1.1kg  but still feels very sturdy and is operated using the included key and lock.
Hyfive Heavy Duty Caravan Hitch Lock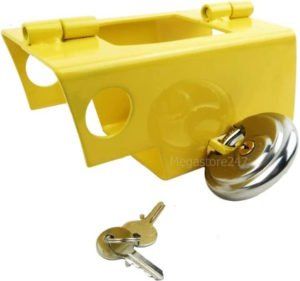 The Hyfive Heavy Duty Caravan Hitch Lock has been constructed to fit most hitches on trailers and caravans. The lock has been forged from carbon steel under high intensity making it water and corrosion-proof
It is supplied with a heavy-duty stainless steel padlock which measures 70mm. This lock has a thick locking bar and is supplied with two keys.
The lock is a bright yellow to act as a visible deterrent, and all the parts are easy to install in under 10 seconds from start to finish with just a few simple steps.
Like most hitch locks, this can also be attached while your caravan is still attached to your car or vehicle so it can be used when you're parked up in your caravan park for extra security.
Trident Purpleline Saracen FHL400 Hitch Lock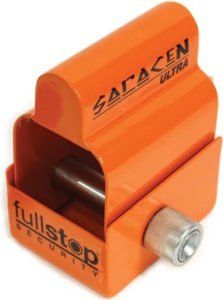 The Purpleline Saracen FHL400 Hitch Lock is made to fit AL-KO Coupling Heads. The lock itself has a heavy-duty construction to prevent access to the main coupling hitch handle to reduce the chance of your caravan being stolen.
The Alko stabiliser handle fits over the top of hitch lock while also being a Highly visible orange colour. The Lock is British made and uses a high-security barrel lock but is also quick and simple to fit.
The lock is supplied with a five-year warranty and is also insurance approved to give you that added peace of mind. The lock is also Sold Secure Gold Approved (2006 – 2010).
Overall the Saracen hitch lock is a highly recommended means of caravan security, and you won't be disappointed by its performance.
Types of Hitch Lock
There are several different types of locks available, but the main types are coupler hitch locks and receiver-style hitch locks:
Receiver Style Hitch Lock
A receiver-style hitch lock is the basic entry type of hitch lock and consists of a metal pin that has a lock on each end. This stops would-be thieves from unhitching your caravan and attaching it to their vehicle.
Receiver locks are only useful when your caravan is already hitched to your vehicle. They are almost useless if your caravan is already unhitched, which is why you should never leave your caravan unhitched under any circumstances, especially in areas that it can be easily stolen.
This lock is mainly used when your caravan is being towed, and they are usually made from durable steel which gives it durability and strength.
Coupler Hitch Locks­­
­Coupler locks have a U-shaped design which means it can fit onto the tongue of the trailer which then prevents anyone from hooking up your caravan to their vehicle.
This type of lock also has a ball-shaped top which then is fixed over the ball unit of the trailer, which makes it even harder for a theft to occur.
Coupler hitch locks can still be used even when your caravan is unhitched such as when you have it parked on your driveway without being hitched to a vehicle. This is the ideal solution, and we'd recommend a coupler hitch lock.
Buying Guide
Hitch Size
The hitch size is incredibly important and is just as important as the type of lock that you decide to purchase. If you end up buying a lock that doesn't fit, then you won't even be able to use it, making all your pre-purchase research redundant.
Most hitches are universally sized, and won't fit comfortably on specific models. You first need to measure your hitch size and compare it to the specifications of your chosen hitch lock to check that it's suitable.
If you can't measure your hitch, you can just look at the size of your existing hitch lock for guidance.
Weather
You should consider the weather conditions that you'll be using your caravan in before you make a final buying decision. If you're going to be using your caravan in harsh conditions such as constant wind and rain or very low degrees, then you'll need a lock that can withstand these types of conditions.
For added protection, you can also use a hitch lock cover to give you added peace of mind that your product is protected.
Material
The material of your lock will go a long way to proving how durable it is. The two main materials that are usually used is either Steel or Aluminium.
Steel is the ideal choice because they are more secure but also means that they will be more expensive. However, Aluminium is lighter, which makes the lock easier to handle, but this also makes it easier to break into.
A thief will find it considerably harder to break into a steel lock compared to an Aluminium lock.
Colour
You may be wondering why colour is a buying factor, but it's quite simple, a brightly coloured hitch lock acts as a deterrent to potential thieves. This means that they can see from afar that you're using a hitch lock and are unlikely to even get closer and attempt to unhitch your caravan.
Most thieves are opportunistic and want the easiest theft so aren't going to stick around trying to break through a lock and will move onto finding an easier target. So a hitch lock that's a bright colour is ideal.
Durability & Life Expectancy
Many locks aren't able to withstand harsher environments without failing. Cheap locks will quickly begin to corrode, and you'll realise that the locking mechanism may start to fail due to the low-quality materials.
To avoid this issue, it's essential to check out customer reviews and the materials that your chosen lock is made from. This will allow you to make a more informed decision. The life expectancy of a lock should be high and you should be needing to replace it every year. 
It's essential to check if your lock has a water-resistant cap that covers the keyhole as this will protect it from corrosion. A hitch cover will also help to extend its life by keeping it protected.
Brand
There are several prominent brands in the caravan hitch lock product space that have been leading the market for several years. They have established themselves with top quality products that are built to last.
The best brands will often have higher price points, but they are made with better quality parts which give you a stronger lock which is less likely for a thieve to successfully break into.
Budget/Price
Caravan hitch locks come in a range of prices so you need to have a budget in mind which will help you to make a better buying decision. It's important to understand that you shouldn't try to cut corners and just choose the cheapest option.
Many manufacturers pass on lower prices by keeping the production low, but this is often done by using lower-quality materials. These materials may not be strong enough, which means that thieves may find it easier to break into these locks.