The key to safe towing is creating a strong match between you caravan and car, although there are many other things to consider, such as the load weight of your vehicles. You should understand that you can have the perfect match between your caravan and car; however, you can't control the weather and one gust of wind or a hidden pothole can cause instant instability.
To prevent this from happening, you can use a caravan stabiliser to create a more stable connection and journey. There are several different types and brands to choose from, so we've created this easy to follow guide to show you the best caravan stabilisers on the market. We'll also explain the features that you need to consider before finally deciding on a product.
Bulldog 200Q Caravan Stabiliser

The Bulldog stabiliser is easy to fit and requires no drilling so won't invalidate your caravan warranty, and will instantly reduce the effects of road hazards such as potholes and uneven road sources that can lead to your caravan swaying. This is compatible with all types of hitch heads. The Bulldog stabiliser has a friction area that is ten times larger than those found in a regular integral hitch.
This is inbuilt to the torque head when it's assembled and doesn't rely on the ball being gripped to provide resistance against unwanted swaying movement. The stabiliser also has a silicone chrome leaf spring that responds to pitching movement. Over 250,000 users have purchased this stabiliser with this number growing each day due to its effectiveness.
The stabiliser has a proven quick-release device and having it installed will improve your driver confidence.
Maypole 5492C Stronghold Stabiliser with Carry Bag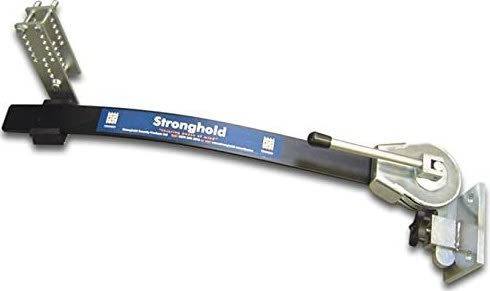 There's no doubt that you've come across the Maypole brand before if you've ever searched for any kind of caravan product. This Stronghold blade stabiliser comes complete with a carry bag and is constructed to provide anti-sway capabilities and pitch control for flange type tow balls.
This is suitable for trailers, caravans and horseboxes while it's also easy to install as it comes supplied with a fast-fit L-bracket. For ease of removal, there is also a quick-release mechanism. The stabiliser has a heavy-duty construction making it extremely durable, and it comes with a spring torque that is factory preset.
Snakemaster Quick-Release Caravan Stabiliser for Swan-Neck Towbars

The Snakemaster blade stabiliser is built to fit towing brackets that have a swan neck type tow ball. Once installed, it reduces the amount of snaking and pitching that you experience when towing your caravan. It also has a quick-release system with dual friction discs to prevent snaking movements.
There is also a leaf spring provided which is fully adjustable and reversible to also limit the amount of pitching.
Buying Guide
Caravan stabilisers are often seen as an optional piece of equipment; however, we would always recommend that you use one. However, it shouldn't be used as a solution to cover up problems that you have with your vehicles such as a poorly loaded caravan. It should be used to enhance and provide an added layer of safety to your journey.
You can have perfectly matched vehicles, but you can still be affected by external factors that can lead to sudden swaying, which is where a stabiliser can be used.
Types of Caravan Movement
When it comes to using a stabiliser, there are two main types of movement:
Pitching/Vertical Movement
Pitching is described as a vertical movement which is suddenly caused when you drive through a sudden dip, or you drive into a pothole. This is often a quick experience that is usually over just as quick as it starts and is usually unavoidable. Despite it not lasting long, it usually isn't a nice experience for the driver.
Lateral Movement
Lateral movement is when you caravan sways from side to side. This can range in seriousness from a light sway to a serious situation that can result in you losing control of your vehicle, which can be made even worse depending on the speed that you're travelling at.
Types of Caravan Stabiliser
Blade Stabilisers
Blade type caravan stabilisers have been the go-to choice for many years due to its effectiveness. It incorporates a system that uses a metal leaf spring in combination with a friction caravans drawbar often referred to as an A-frame.
Once in transit, when your caravan moves from side to side, the stabiliser has friction pads that prevent the movement from happening. The inbuilt spring, which is made of strong metal, also generates resistance to the vertical movements to lower the amount of pitching.
To be able to use this stabiliser effectively, you need to fit an angle bracket to your caravan chassis simply by following the included instructions. Under no circumstances should you drill into your caravan chassis as this can compromise the strength of the structure.
You should instead clamp the angle bracket to the chassis whilst taking care to ensure that no damage is caused. Once the installation is complete, you need to check that your friction turntables are tightened enough to provide the right level of friction.
This can be checked using a set of standard home scales to weigh your springs, and you should expect to see a weight resistance of between 25-30kg however this may vary depending on your stabiliser so you should always check with your manufacturer's manual.
Over time, the friction pads inside the turntable will eventually wear down so will need to be replaced. You have two option; you can either do it yourself or take it into a caravan specialist.
The main issue people have with blade stabilisers is that just installing doesn't mean that it will work at it's best. You need to make adjustments to the fitting to ensure that it performs at its optimal level.
Also, a blade stabiliser can delay the caravans overrun braking operation because the device implements friction to the forward movement of your caravan, although this effect is minimal.
Blade stabilisers have seen a lot of improvement over the years, with twin-blade versions providing higher levels of stabilisation for larger sized caravans. Some stabilisers have a gas-filled damper in the place of friction pads. How this works is that if the caravan moves out of its correct line, then it uses gas power to force the caravan back into a straight line.
Benefits
Less expensive than other types of stabiliser
Reduces the level of pitching and snaking
Easy to maintain and service
Increases your critical speed
Easy to fit a new caravan
Towball Mounted Stabilisers
Tow balls have quickly grown in popularity because of their simplicity as it doesn't require a whole load of equipment or constant adjustment, which make it an ideal alternative to blade stabilisers.
This popularity has been developed because many caravan manufacturers fit them as standard to their caravan models. One thing to note is that they're often more expensive than blade stabilisers, and some have claimed that they are less effective; however, this is definitely up for debate.
So this has a simple way of working. Your standard hitch is replaced with a specially shaped hitch that fits over a dry tow ball. A set of friction pads are built into the tow ball, which then places pressure onto the tow ball which generates resistance to reduce the level of hitch rotation and caravan sideways movement.
A tow ball stabiliser will also help to keep your caravan maintain a consistent line of movement when you get passed on the motorway by heavier vehicles at high speed. The more advanced tow ball stabilisers also have to build friction pads that reduce the amount of vertical movement as well.
Al-Ko is one of the leaders in the industry and has created different models which are suited to different caravan weights, so you must buy the correct one. On each device, there is also a reading that will indicate when the pads need changing. You can replace the pads by simply following the instructions.
When installing this stabiliser, your caravan tow ball must be free of grease, paint or other substances. You can easily do this by giving it a quick rub down with methylated spirit to remove all traces. This step is very important and using a wet cloth isn't enough.
You will also need to degrease the ball each time if you use the same lead car to tow other vehicles without using a tow ball stabiliser. One consideration that needs to be remembered is that the AL-KOKO tow ball stabiliser is large that the standard size so a special extended tow ball is required. This can be a problem if you have a spare wheel mounted on the rear of the car.
Benefits
Easy to use
Nothing to store
Increases critical speed
You'll never forget to use
Active Stability Braking Systems
Automatic trailer control is still a relatively new concept that has broken into the mainstream in around 2007. This has led to several other manufacturers following AL – KO's lead and fitting this as standard in many newer models.
These systems are incredibly effective at maintaining your caravan stability through strong weather conditions. The systems need little human interaction after the installation as it uses sensors. When they detect unwanted sideways movement, they then apply pressure to the caravan brakes until then it straightens out.
Cars electrics powers the system, and for added safety, there is also a self-testing mode that you can use before setting off. The system status is also displayed, and you are alerted when it's ready to be used.
Although this is more of an automatic system, you still need to ensure that your stabiliser matches the weight and load of your car and caravan. You need to remember that these are emergency systems and shouldn't be relied on to do all the work. They should be used to improve your existing high levels of safety, and you can't expect it to fix mistakes that you've made in the build-up.
Benefits
Automatic system
Highly effective
Maintenance-free
You'll never forget to use as it's electronically connected.
Check out our full guide to find to the best jockey wheel to make your caravan experience even better.