A caravan waste water carrier allows you to drop your wastewater from your caravan and makes your sanitation system much more hygienic and practical. It may not be the nicest side of caravanning, but it's important to have this in place.
We've designed this guide to show you the best wastewater carrier and the factors you need to consider before making a final buying decision.
Hinchman eco. 38L Wastemaster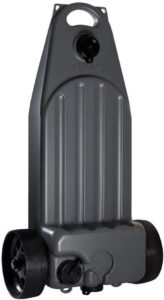 If you're looking for the standout waste water carrier, then look no further. The Hinchman Wastemaster measures 355mm x 1000mm x 160mm and provides a convenient way to dispose of your wastewater instead of it flowing around your caravan pitch.
The product has a capacity of 38 litres which is very generous and makes it suitable for even the biggest of travelling parties. The product is easy to transport as is mounted on two durable wheels.
The Wastemaster is UK manufactured from recycled, polymer material and has thin container walls without compromising durability while making it more lightweight and easier to carry.
Also included is a free 2-year guarantee in the unlikely event that a defect develops with the product.
Fiamma Roll-Tank 23 W Portable Waste Water Tank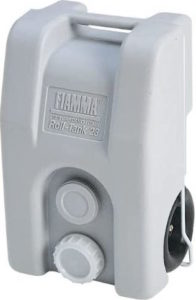 Fiamma is one of the leading caravan product manufacturers and has established themselves in the marketplace due to their high-quality products and service.
This wastewater carrier has a generous capacity of 23L and also comes supplied with an extra cap for immersion pump. The carrier measures 50cm x 33cm x 25cm and has a weight of 3kg, so it's also extremely light and easy to carry, get into position and to stow away when not needed.
A common complaint about waster water carriers is that they take up too much space; however, this is one of the most compact versions available on the market. The carrier mounts onto two wide shaped wheels, so it's still easy to transport even on boggy ground.
Hitchman Aquaroll & Wastemaster Bundle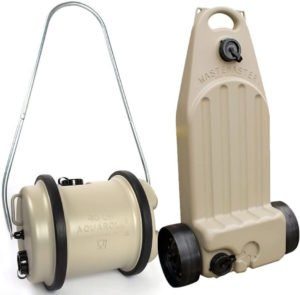 This waste carrier has a capacity of 40L and has the added benefit of an installation to connect via a network adapter kit directly to a mains water supply.
The kit also comes complete with a 7.5m length food hose and screw on the ball valve, which ensures that there is no pressure of the net inside the caravan to eliminate the danger of flooding.
This waste carrier has a dual purpose which means you can take wastewater and toilet cassette for a single point travel. The unit also has two filling points with a capacity of 20 litres on the top of the tank plus an extra 10L capacity on the base. Due to its dimensions, it can slide under most caravans.
Leisurewize Wastehog – 45L Waste Water Carrier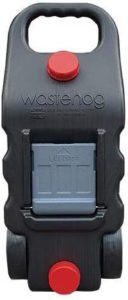 The Wastehog has a capacity of 45L and allows you to effectively store your wastewater until you can find an appropriate time to dispose of properly. This carrier helps to move wastewater in a quick, hassle-free manner. It's also mounted onto the wheel, which means you can easily manoeuvre the wastewater carrier.
This waste carrier is constructed using recycled material which helps you be a more responsible and eco-friendly consumer. It has a compact design and lightweight construction, plus it fits easily underneath the caravan, ensuring no leaks occur.
In terms of usability, no corners have been cut. It has an Ergonomically design and an enhanced grip handle. Its fold-down shelf makes it easy to carry plus its large capacity of 45L. The unit also has extra-wide wheels to prevent sinking in muddy and boggy campsite surfaces.
Wastehog 45 Litre Waste Water Carrier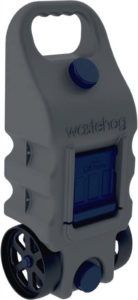 This wastewater carrier is made from strong and durable recycled material which makes the transportation of wastewater easy. The waste carrier has an ergonomically designed handle for enhanced grip. With a 45 litre capacity, this is one of the largest carriers available on the market.
There is a large wheel for easy transportation whilst also having separate inlet/outlet caps for easy use. There are inbuilt storage compartment for cleaners, bungees etc.
The unit has dimensions of: Height: 95cm, Width: 36cm, Depth: 24cm. The Waste Hog also has a fold-down carrying shelf which allows the container to also be used as a trolley for a toilet waste tank, full bin liners etc.
Do I need a Waste Water Carrier?
The simple answer is Yes. To explain further, a wastewater carrier offers a huge level of convenience if you're on a campsite or off-grid where you don't have waste dumping stations. You can still store your waste into your carrier and then tow it over to the dumping station.
It also means that you can empty your caravan without moving your whole caravan, which can be difficult in a packed campsite. This makes a waste carrier a very useful product that can save you a whole lot of hassle. The best waste carriers also have separate compartments for different types of waste.
Benefits of Wastewater Carrier
Functional
Not only do you need a wastewater carrier that's light, but it also needs to be functional and easy to operate.  This includes emptying, which needs to be easy to action because the last thing you need is a load of hassle.
The best wastewater carriers will have a low drain hole which empties quickly. Some will also have a feature that warns you when the tank is nearly full, which will limit the chance of it leaking or overflowing.
Heavy Duty
This isn't the type of product that you want to have to replace every year, so you must choose a wastewater carrier that has a heavy-duty and sturdy design. Remember that when this product's in use, it'll be outside, so it needs to be able to withstand the natural elements such as wind and rain. If you have a robust model, then you don't have to worry about replacing it for many years.
Portable
One of the main benefits of a caravan waste water carrier is that you don't need to move your entire caravan to get to the dumping station. This can be even more awkward if you need to tow your caravan in a crowded campsite. The best carriers will have wheels, so all you need to do is detach it from your caravan and wheel it to the campsite waste station.
Lightweight
Wastewater carriers are made of lightweight materials such as polyethylene and polypropylene, which is now commonplace. This means that they are lightweight and easy to carry and put into position. So when it's not being used it's not going to add a whole lot of weight to your caravan when you're driving.
Hygienic
If you're using a carrier, then you can keep your wastewater away from your caravan which provides a healthier and more hygienic alternative.
Buying Guide
Portability
It's essential to understand how easy it'll be to move the tank before you buy as it's important to remember that the more features your carrier is, could affect its overall portability.
The biggest sign of portability is the number of wheels that it comes with and will usually be an even number of wheels to provide more stability. The more wheels there are; generally, the easier it'll be to tow and empty when needed.
We recommend you choose the model with the most wheels which will be four because it may feel light when it's empty, but when it's at full capacity this is when you'll see the full benefit of the wheels. It's not only important to just consider the number of wheels, but also the wheel materials as ideally you need something lightweight like rubber which is also durable.
The material of the carrier itself will also affect how portable it is. If it's made from a lightweight material, then it'll be considerably easier to move.
Budget
Before you start looking at potential options, you need to decide on a budget that you want to stick too because this will ensure that you don't overspend or end up with a model that you don't really want. Generally, the price will also tie into the brand of the carrier that you buy with higher quality brands having higher prices.
Also, you should decide on the features that you class as necessary because the more features that you require, the higher the selling price will be. For example, a high capacity lightweight carrier with four wheels will be near the top end.,
If you are going to buy a more expensive carrier, be honest with yourself about whether you actually need the additional features because some manufacturers will encourage you to pay for things that you're never going to use.
Ease of Use
The last thing you want to do is spend ages fiddling around with the waste carrier trying to get it to work. So it's important to understand how easy your chosen waste water tank will be to operate and use, the less complicated, the better.
You need a carrier that will easily connect to your caravan hose so it can automatically empty the waste from your vehicle. You can get some models that have an integrated flush valve which makes this connection even easier.
You can also read customer reviews to understand how easy the model is to use and if there were any regular issues with the product.
Capacity and Size
The caravans waste tanks size is a key factor into which model you decide to purchase. You need to understand how many people will be using your caravan and how long you'll be going away for. If you have a caravan with several people, then you're going to generate considerably more waste compared to If you're a solo caravanner.
Although there's nothing wrong with having a smaller waste tank even if there's a lot of people, it just makes it more inconvenient because you'll need to empty it more often. Also, you need to remember that the tank will be on board when it's not in use and space on a caravan is often limited so you need to pick a size that will fit on board. Although if you have a roof rack, then you can easily secure it when it's not in use or when you're in transit.
If you're struggling to think of a starting point, then you should get a tank that can completely drain your caravan's wastewater tank. For example, if your caravan tank has a capacity of 15 litres, then it makes sense to purchase a waster water carrier which has a minimum capacity of 15 litres.
Length of Trip
You should consider how long your caravan trips tend to be before making a final buying decision. If you're only going away for a couple of days, then a lower capacity waste tank would suffice, however, if you're going away for more than a couple of days then a larger capacity waste tank would be more appropriate.
A higher capacity carrier will mean that you don't need to empty it as frequently, which is often seen as a hassle when you're trying to have fun on your holiday.
Accessories
Caravan waster water carrier accessories are essential because they can bring additional features and benefits to your overall experience. You may need additional parts such as hoses and tow handle extensions. However, if you want to avoid having to worry about it all, then you can just buy an all in one model which comes with all the necessary parts.
An all in one solution is usually cheaper than trying to buy a load of parts separately, which will probably take you above your designated budget. It'll also save you a considerable amount of time because you won't have to go searching for different parts.
A waste water pipe can be used in combination with the waste water carrier to dispose of the used water.