Having a caravan gives you a sense of freedom that is difficult to replicate, but with all this freedom comes several tasks that are not so glamorous and one of those tasks is getting rid of the wastewater that you produce.
A caravan wastewater pipe is a hose extension that allows you to connect your internal water tank system to the external waste system. This means that whenever you want to dispose of the waste, you can just simply connect these pipes to the sewers which are usually provided by the caravan site. This also stops you from having to manually empty your waste tank, which isn't the most delightful task and also means you don't have to store days old waste in your water tank.
However, it's not as simple as just buy any old hose because if it's low quality, then leaks can develop which can cause wastewater to seep out. We've evaluated and laid out the best caravan waste pipes.
Colapz Caravan Accessories – Collapsible Flexible and Extendable Caravan Waste Pipe System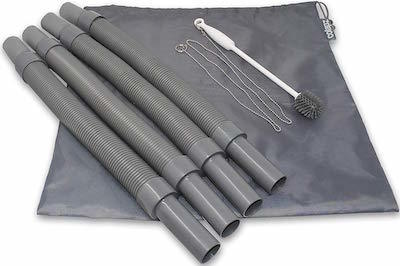 Colapz is a British homegrown brand that high-quality design products in the Caravan and camping industry. They have created an all in one kit that contains all the parts you need to install a caravan waste pipe which makes it the standout product in the market, allowing you to get up and running quickly.
Each all in one kit is supplied with:
8 x Expandable Pipes (Expandable from 50cm to 1m)
Cleaning brush
1m Pull-through chain
Carry bag for storage
Expandable Pipes
The pipes have a collapsible design which makes it ideal for caravanning use and they easily link together using push-fit technology. Each of the included pipes has a flexible length starting at 50cm but can extend to up to 1 metre. The pipes can then connect to create a maximum of 8 metres of pipe. You also have the option to add further pipes to extend the length beyond this.
The expandable pipes are also durable yet light, making them easy to put into place while also being UV stabilised so this will protect against sun rays. How many times have you had to mess around with a pipe that was too long or too short? Now that trouble has gone because you can use the Colapz pipes to customise your length.
Motor Home Adaptor
The optional motor home adaptor is rubberised allows you to adjust the size of the connecting point that attaches to your wastewater pipe. 
This is especially relevant if you need to change the diameter of the pipe so it can connect to the waste outlet. The adaptor will allow you to fit waste pipe diameters from 19mm up to 50mm. The motor home adaptor tightly connects to both the drain and the pipe to create a watertight seal.
Metal Pegs
Regardless of whether you're using the standard grey wastewater flexible piping or rigid pipes, it can be difficult to get the pipes into the exact position that you desire. To help with flow ideally, you want to create a slight slope towards the outlet to let the waste drain more effectively and have no reason to sit still. 
To help the kit comes with ten galvanised metal pegs that are specifically designed to add support to your installed waste pipes. The pegs are 30cm in length and are constructed from a 5mm diameter galvanised metal, so you can easily push them into the ground while still having length available above the ground.
Cleaning Brush & Ring Pull
The Colapz cleaning brush allows you to clean your waste pipes and also included manually is a chain with a ring pull constructed from stainless steel. This gives you the option to fully clean the waste pipes when they are fully extended to get rid of any dirt grime and bacteria that could have formed.
The best way to clean your waste pipe is to flush it out and then backwash it completely. Ideally, you should use enzyme treatments to give it a full clean and remove all bacteria.
Carry Bag
When you waste pipe system is not in use, you can use the included carry bag to discreetly and quickly store the system away. It also means that you can store the whole kit together, which will reduce the chances of losing parts.
What is a Caravan Waste Pipe?
So in the opening section, we gave a brief intro into what a caravan waste pipe does. However, we must go into slightly more detail so you can fully understand. A sewer waste pipe directly connects your internal waste management system to the external caravan site waste system. This means that you can regularly remove your waste from your caravan with have to store it internally for several days.
The waste pipe connects to your waste tank, and pressure forces your wastewater through the pipe and out into the external waste system. This is why the quality of the pipe is so essential because you don't want leaks or rust to develop.
Benefits of a Caravan Wastewater Pipe
Hygiene
If you've been caravanning before then, you'll know that if you keep your waste inside its tank for more than just a few days, then it can start to smell. Just generally it's bad for hygiene reasons to have waste loitering, and by using a waste pipe, you can halt the spread and development of nasty bacteria and germs that are airborne. 
Saves Time
If you ask any caravan owner, they'll tell you that waste disposal is one of the tasks that they would prefer not to do. By using a wastewater pipe, you can remove this horrible task from your daily routine and allow it to be done automatically by installing this kit.
Low Cost
Considering the level of convenience that a caravan waste pipe brings, they're extremely affordable, making them well worth the money. This can transform your waste management, and even the best caravan pipes won't break the bank while lasting several years of use depending on how frequently you use your caravan.
Reliability
The materials used in wastewater pipes are usually strong plastic which is durable and long-lasting so you can rely on it to last a long time without failing. This, of course, will depend on how well it's maintained.
Ease of use
Although when you open a waste pipe kit, it can seem quite daunting because of the number of parts, it's straight forward to install, and it's doubtful that you'll need to pay for external help. All you need to do is connect one end to your waste tank and the other end to the external waste system. 
The kit is supplied with easy to understand instructions to help you along the way. If you have a waste water carrier then this makes disposing of waste water even simpler.
Buying Guide
Cost
The cost that you're willing to pay comes down to personal preference and circumstances. The price you pay will come down to the quality of the pipe, and generally cheaper pipes will be thinner and more prone to splitting whereas more expensive, high-quality pipes will last considerably longer.
Storage
When it's not in use your waste pipe will need to be stored away which is why you need to understand if the pipes can fold down or if it's supplied with a carry case, so you compress it down into a smaller space.
Flexibility
It's likely the path from you waste tank to the external waste system isn't going to be a direct straight line so you need a pipe that has a bit of flexibility otherwise a rigid pipe can snap and break. 
Flow Rate
The quality of the pipe will also affect how freely the waste flows through the pipe because you don't want it to become clogged. The most effective way to understand how well it flows is by how big the pipe diameter is because the bigger the diameter, the better the flow will be.
Pipe/Hose Length
The length of the hose is probably the most crucial consideration because first of all, you need to ensure that you can reach the waste system. Having a longer pipe length also means that you can park your caravan a little further away from the waste system, which is ideal for general hygiene reasons.
Pipe/Hose Thickness
Hose thickness will determine how durable it is so if you plan to use it frequently then a thicker hose will be able to handle the increased usage, whereas a thinner hose is better suited to infrequent use.
Additional Accessories
Many waste pipe kits will come with accessories or allow you to purchase additional accessories to make the tank emptying process easier. Some of the parts are compulsory, but they can make life slightly easier. 
For example, you may need an adaptor to make it compatible and connect with a specific diameter external waste system pipe, or you may need some extra pegs if you add on additional pipe len