For most people with a caravan, it'll be one of the most significant financial investments made in their lifetime after a home and car. So it's no surprise that increasing amounts of money are spent by owners into additional accessories and parts to make it run more efficiently and safely.
A caravan gas regulator is an essential piece of kit that's often overlooked or forgotten about. Still, it's key to keeping you safe if you regularly use a gas outlet to power appliances within your caravan. 
It's likely a purchase that you don't often make so it can be challenging to understand what the best gas regulator is. We've created this guide to show you the best items on the market.
Igt 37Mbar Propane Gas Regulator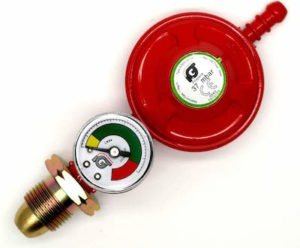 The IGT 37Mbar Propane gas regulator has an inbuilt pressure gauge and comes in either silver or red colour. It is easy to install and is compatible with brands of a screw-on red propane gas cylinders including 47Kg, 19Kg, 13Kg, 11Kg, 6Kg, 3.9Kg.
This gas regulator is best suited for caravans, camping stoves and patio heaters and provides you with an outlet pressure of 37Mbar. The connection is made secure using a standard propane screw. The gas regulator has a maximum flow rate of 1.5Kg Per Hour.
The pressure gauge will tell you the current pressure level in the cylinder and will give a few hours warning of the supply running low (as the pressure falls) – making it useful as a gas bottle level indicator, too. Before using it's important to screw it tight fully, so gas doesn't leak out.
Silverline 940053 21 mm Butane Click-On Regulator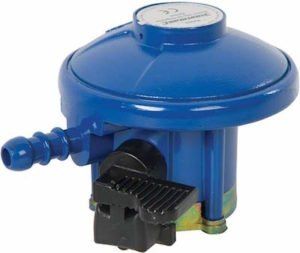 This Silverline Butane click-on gas regulator is exceptionally durable due to its die-cast zinc construction. This makes strong and corrosion-proof, which means it will provide many years of reliable use.
The regulator has solid brass fittings which give it added strength, and it places itself between your gas source and your appliances to safely regulate gas flow between the two.
This regulator is suitable for a range of applications including caravans, BBQ's and heaters. It has a clip-on fitting and is compatible with Propane gas canisters providing an operating pressure of 29Mbar while also maintaining a flow rate of 1.5kg per hour.
Silverline 772190 37 Mbar Propane Gas Regulator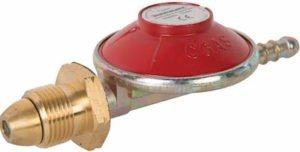 Silverline have built a reputation for creating a strong product line that is exceptionally reliable. This is no different with the Silverline 772190 37 Mbar Propane Gas Regulator which simply attaches to propane gas tanks with its integrated 5/8 inch POL-type valve. 
It has a nozzle that is compatible with 8mm gas hoses making it ideal for camping, gas cookers and patio heaters while also providing an operating pressure of 37 mbar and delivering a max flow rate of 1.5kg per hour.
Not only is it incredibly effective but is also low priced, so won't require a huge cost outlay
Cadac Dual Power Pak – Gas Regulator and Hose Kit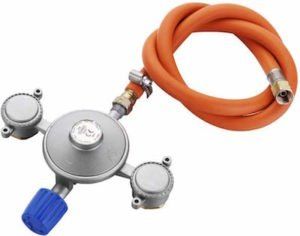 Now if you have two gas cylinders that you want to switch between when one gets empty, then this is the regulator for you. It includes two inlets that make it highly suitable for camping and caravans.
This regulator gives you great consistent pressure so you won't be let down when it's time to use your appliances. It's not only easy to set up but also quick to disconnect the cartridges making it extremely portable so gone are the days of having a fiddly regulator that takes too much time to install.
Silverline 196559 Gas Regulator 0.5-4 bar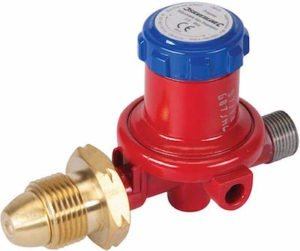 This Silverline 196559 Gas Regulator attaches to propane gas tanks with its inbuilt 5/8 inch POL-type valve. It then connects to your propane gas cylinder and efficiently manages the pressure between your appliances to keep you safer.
This gas regulator is best suited for camping, gas cookers, barbecues and patio heaters and has an Operating pressure range 500 – 4000 mbar. It's easy to regulate by simply using the easy to adjust handwheel.
All Silverline products are Subjected to thorough testing before being released to the market. This ensures that they deliver tools that comply with the very latest compliance standards in quality and safety.
What is a Gas Regulator?
A gas regulator will make your caravan life much easier to handle, and it has slowly become essential onboard a caravan because it helps you to run your appliances, including fridges, ovens and grills.
The regulator works by making gas use safer within your caravan. Without this, it could lead to instant fires or explosions because there won't be any mechanisms to help regulate the amount of gas that is released by your gas tank.
It's recommended that you don't use gas onboard your caravan without a regulator in place because this helps to monitor the pressure levels to ensure that it stays within a safe level. This is especially necessary if you have a caravan hob or caravan bbq.
How does a Gas Regulator work?
A gas regulator is a device that attaches to your Propane, or other types of gas, tank and it controls the amount of gas that is released by the tank. 
There are several different types of a gas regulator with some offering more protection and features than others.
Types of Gas Regulator
Single Stage Regulator
Single-stage gas regulators are more suitable for simpler applications such as an outdoor grill or single stove. It's recommended only for outdoor use and not for use inside of your caravan because it doesn't fully restrict the amount of gas that comes out of your gas tank, so this can be dangerous indoors.
Dual Stage Regulator
A dual-stage regulator is a step up from the single-stage regulator, which also means it can be safely used for larger appliances including fridges and ovens. This is because they can effectively lower the tank pressure to increase safety before the gas can reach your appliances inside your caravan.
Automatic Regulator
An automatic gas regulator is the best option to choose because it has an inbuilt easy to use a lever and is ideal if you have more than one gas tank. So when one becomes empty, it will automatically switch to a full gas tank, so your supply is uninterrupted. 
Benefits of a Gas Regulator
Reduces Propane gas pressure
Your propane gas tanks that you're using to fuel your caravan appliances and is under a large amount of pressure which means that once you connect it to an appliance, this is released at high pressure. Normally, your appliances won't be able to handle gas coming in at a high pressure which is why it's crucial to incorporate a gas regulator.
Maintain Pressure
In your caravan, you will have a range of different appliances that each have different gas demand levels. For example, when you ignite one hob on your stove, this will need significantly less gas flow compared to if you had all four lit. The best gas regulator can maintain a constant level and pressure of gas to all the burners.
Maintains Safety
High-quality gas regulators have an inbuilt bypass mechanism which is a small feature which automatically switches off the gas supply from the gas tank when the pressure drops within the hose. If this happens, this can signal that there is a leak or you have forgotten to turn it off after using. This level of safety can prevent serious accidents from happening.
Seamless Tank Switching
A common occurrence is your gas tank running out when you're in the middle of using a gas supply such as cooking. Instead of having to go out and switch in a new gas tank, a gas regulator allows you to have two propane gas tanks and will automatically detect when one tank is empty and switch to the full tank. This is very handy in awkward situations such as in the middle of the night when you can't suddenly go out and buy a new tank if you don't already have a spare.
Reduces Gas Wastage
Without a gas regulator, appliances can use more propane gas than they need to function. By using a gas regulator, this will almost instantly decrease the amount of gas you consume, saving you money and helping the environment in the process.
Buying Guide
Price 
Gas regulators are generally well priced, but the price will be influenced by several factors such as features and capabilities which will increase the selling price of the regulator. You need to understand what features are important to you, which will allow you to avoid overpaying for a regulator that you won't use to its maximum capabilities. 
Prices of gas regulators will also vary depending on the brand, and you should choose quality over the number of special features. Build quality and durability are more important than a gas regulator with a higher BTU capacity.
Everyone has a budget they need to stick to whether this is high or low. So, it's vital to set out a budget because this will make the buying decision easier as it will decrease the number of options available to you.
Cover
A useful added feature is the inclusion of a cover for your regulator. Although the UK weather isn't particularly harsh, over time the constant exposure to rain and sun UV rays may start to negatively affect the performance of the regulator, which will decrease the life of your product. If a cover is included in your purchase, then this will protect from these elements.
If your regulator doesn't come with a cover, then it's not the end of the world because if the regulator is made from highly durable materials such as stainless steel, then this will still provide excellent protection.
Materials
The build quality of your chosen gas regulator is a big consideration as this will give you a good idea of how long the regulator will last for. You need to understand the materials that it's built with because you'll ideally want it to last at least ten years as it's something that you'll want to avoid replacing every year.
It's not uncommon for the best gas regulators to last for 15 years, but you're the materials used will affect the selling price. The better and more durable the materials, the higher the selling price.
We'd recommend buying a higher quality model as although this will cost you more initially; you'll save money in the long run as it will deliver a longer length of service. There are several easy to spot materials that will quickly alert you that it is high quality, such as stainless steel.
Warranty
Gas regulators tend to last for 5+ years before needing to be replaced which will depend on how well you look after it. However, a warranty gives you added protection if any faults develop and higher quality regulators will often come included with one as an additional benefit. Warranties can range anywhere up to lifetime cover but will vary from product to product.
Capacity
Gas regulators will have a specific BTU capacity which means the amount of gas that the regulator will allow to reach your appliances.
When you're deciding on which caravan gas regulator to pick you to need to consider its capacity, a higher capacity regulator can release higher levels of gas compared to regulators with a lower capacity.
As a result, a higher capacity regulator will generally be more expensive than a lower capacity regulator. You also need to consider the appliances you have in your caravan to understand what capacity regulator will be best suited. If you choose a regulator with a too low capacity, then this can either cause your appliances not to work as well or can even damage them.
Knowing the requirements of your appliances will allow you to run them effectively and also not to waste money on inefficient regulators.
Ease of installation
Installing a caravan gas regulator is a task that you should be able to complete yourself, so it's best to choose a user-friendly model. 
Some gas regulators will be simple to install, whereas others will be more difficult, and this comes down to the brand. This isn't a task that you want to spend an hour fiddling around with so it's essential to understand if it's easy to install.
An easy way to do this is by reading the reviews in this article about the best gas regulators as we've handpicked the best options. You should also take note if your chosen gas regulator comes with all the necessary parts and accessories needed to get up and to run. The last thing you want is to go to install it, and then realise you're missing parts that you need to buy separately.