Caravan Jockey wheels are often forgotten about, but they play a vital role in the life of a caravan which helps to tow and park. Most modern caravans come supplied with a jockey wheel built-in, but this can vary in quality depending on the manufacturer. After considerable usage, it will come time to replace it. 
Luckily there are plenty of high-quality jockey wheels available on the market, but this also makes the buying decision harder. So we've created this guide to not only educate you on what a jockey wheel is but also the key features to consider to ensure you buy the best jockey wheel.
AL-KO Alko 48 mm Jockey Wheel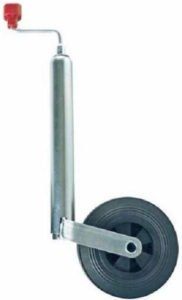 The AL-KO jockey wheel is made from galvanised steel and has a zinc plated 48mm diameter tube with a plastic wheel. The static nose has a maximum load of 150kg and a 90kg dynamic nose load.
It's easy to fit especially if you already have a 48mm shaft then you simply just remove the old one out and replace with this one. The jockey has a Wheel size of 200 x 50mm and makes a great replacement for your existing jockey wheel while also being sturdy and less likely to slip even under soft ground.
Maypole MP436 48MM Telescopic Jockey Wheel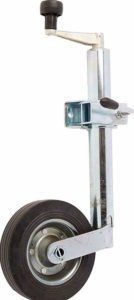 For over 40 years, Maypole has been manufacturing and marketing of products in the caravan industry. This telescopic jockey wheel has up to 100 kg of static nose weight, which makes it ideal for small trailers or caravans.
It has a 48mm outer tube diameter, 240mm Height extension range and a tyre size of 200x48mm plus it has a solid rubber tyre and steel rim. The jockey wheel takes just a few minutes to fit so you'll be up and running in no time.
Maypole MP9743 42mm Heavy Duty Telescopic Jockey Wheel

This Maypole Telescopic Jockey Wheel is great as a replacement for your current damaged or poor performing jockey wheel, or if you need to tow a new nose weight because it can tow up to 500kg of nose weight.
When in use, the jockey wheel is strong, sturdy and has a superb range of movement. It's smooth in operation and effortlessly raises and lowers with a full load. An additional feature is a lock for the raising lever which prevents the wheel from dropping while in transit.
It's no surprise to see multiple Maypole products on this list due to the quality of the jockey wheels.
Ross Castors Heavy Duty Jockey 48mm Wheel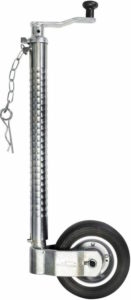 Ross Castor jockey wheel has a 200mm pneumatic tire which makes it effective on the softer ground when the tire pressure is at the optimal level. The jockey wheel also has a nose weight 350kg load capacity making it suitable for a large majority of modern caravans.
This is a fairly new product into the market, but you can see that the build quality is high, so if you're in the market to try out a new brand then Ross Castors is a viable option.
What is a Jockey Wheel?
A jockey wheel is normally found near the hitch at the front of your caravan, and its primary use is to help move your tourer when it's not attached to your towing vehicle. 
This is usually helpful if you are trying to unhitch or hitch your caravan to your towing vehicle because it means that you don't have to spend time trying to perfectly position your vehicle to be able to connect the hitch to the ball.
It's normal to think that any jockey wheel will do, but it's important to remember that jockey wheels need to be able to handle nose weights which can weigh up to 90kg. So, for this reason, a wider, larger wheel is more effective because it has a larger surface areas base and minimises the amount of strain on the caravan.
Grip mats for soft ground
When the ground is soft, most jockey wheels will find it more challenging to perform because the weight of the caravan is too much for it to turn effectively. One great solution is to use a grip mat under and in front of the jockey wheel, that helps to manoeuvre it into place.
These Kampa wheel grip mats are designed with Herringbone ribs on both sides for the maximum wheel to ground traction for more effective movement and are ideal for use in harsh conditions including mud, wet grass and even snow. 
Types of Jockey wheel
Plastic Wheels
Plastic jockey wheels are the most common type and are the go-to for most caravan manufacturers. They usually have a larger and wider wheel which makes them more effective on soft ground because they're able to displace the weight of the caravan better. 
The issue with plastic jockey wheel is that over time they can crack and damage, so it's recommended that you always have a spare wheel with you just in case. For instance, if you unintentionally hit a speed bump, then this can cause it to crack because although they're quite solid, the rim can be quite thin which means any sudden impacts can ruin them.
One benefit is that replacement wheels are low cost so in most cases you can afford to have a spare with you. Plastic wheels can also be serviced when you bring your caravan in for its annual check-up.
It's essential to try and buy a plastic jockey wheel that has UV protection because overtime UV rays can discolour and damage it over time, making it brittle and more likely to crack. This is less likely in the UK due to the lower levels of sunlight; however, the rate at which they need to be replaced will be determined by often you use your caravan.
Inflatable Air Wheels
Inflatable air wheels allow you to alter the air pressure within the wheel, which can alter how effective they are on different types of ground. The higher the pressure, the better they will perform on the softer ground, which is usually the case in British caravan parks.
You can also get twin pneumatic jockey wheels which help to displace a greater amount of weight from the nose of the caravan which stops the wheels from sinking into the ground. 
As with any kind of inflatable wheel, there is the chance that a puncture could occur. The weight of the average caravan nose is around 90kg, and this can be a considerable amount of weight to place onto one wheel. Even a small nail can get through a thin rubber layer.
Rubber Jockey Wheel
The higher quality jockey wheels will be using rubber tyres which helps them to avoid any puncture issues. So not only does this stop simple punctures from repeatedly happening but it also means that they will last longer so you'll need to replace them less often.
A rubber tyre also means that the tyre is less likely to come off the rim and is suitable for a larger range of surfaces including gravel, tarmac as well as the soft and hard ground. Ideally, the rubber wheel should have a steel rim for extra durability.
Motorised Jockey Wheel
In addition to plastic, rubber and inflatable jockey wheels there is also motorised jockey wheel which has entered the market. While they sound good in theory, in practice, it's almost the complete opposite. 
The main problem is that the wheel is often very small and it's being used to push a pull a whole caravan. It can be difficult to generate enough traction even on a solid hard surface without losing control of the caravan.
The other problem with motorised jockey wheels is the noseweight because it's going to struggle to stabilise the nose weight of your caravan with its low limit. This problem will be further highlighted on uneven, soft ground.
Load capacity
It's essential to consider the load capacity of the jockey wheel. This refers to the max weight that the jockey can bear, and this will relate to the overall weight of the nose weight, and if you use a jockey wheel with a load capacity that's lower than nose weight, then this can either break it or just struggle to move.
You can find the nose weight by looking in your caravan manual or by contacting its manufacturer.
Brand
Several different brands create jockey wheels, so this can make the buying decision a little harder. The brand that you choose will alter the price that you pay because generally the higher quality the brand, the more you can expect to pay.
It's often worth paying for a higher quality product because they will often last longer and may even come complete with a warranty or money-back guarantee to give you added protection. 
Warranty
This ties in with the brand of jockey wheel that you buy. As mentioned, a jockey wheel can develop faults over time. Still, the best jockey wheels are not only less likely to develop faults but often come with a warranty which means that if a defect occurs, the manufacturer will usually offer a replacement or repair free of charge giving you extra peace of mind.
Wheel Bearings
Wheel bearings are essential for the smooth operation of a jockey wheel. Usually, with plastic or inflatable jockey wheel, there is usually no wheel bearing present and is just the jockey wheel. However, Overtime without any wheel bearing, the high weight of the nose causes friction to develop, which makes it more challenging to manoeuvre the caravan into position.