There was a time where having a caravan toilet was seen as a luxury, and if you needed the bathroom, you had to go to the caravan site toilets which was made worse if it was in the middle of the night. Luckily these days a caravan toilet is now seen as an essential just like a portable washing machine.
But this hasn't made the buying process any more manageable, and we've done all the research for you and compiled a list of the best caravan toilets. You are supported with a buying guide so you can understand all the considerations that you need to make before making a final decision.
Thetford 92820 Porta Potti 365 Portable Toilet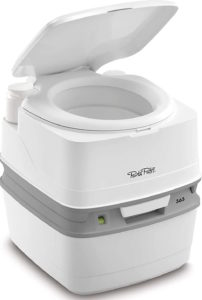 Thetford has established themselves as one of the main leaders in the caravan toilet industry due to their innovative sleek designs, making them the closest thing to a normal residential toilet.
This toilet measures (H x W x D): 414 x 383 x 427 mm and has a flush water tank capacity of 15 litres while also having an inbuilt Level indicator display for the waste-holding tank, so you'll know when it needs to emptied.
The waste holding tank has a total capacity of 21L while the toilet itself weighs just 4kg so you can easily get it into position for installation. The toilet also uses a piston pump system which means that your waste will effectively be forced down into your waste tank without anything being left behind.
The toilet doesn't give off any smells, and any odours are sealed inside. Emptying the unit is also easy, and all you need to do is simply open the cap press the button and release.
Dometic sanipottie-966 Portable Toilet, Grey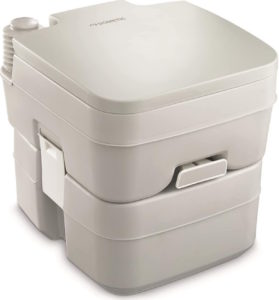 This portable caravan toilet comes with a full-size seat and lid, so it is slightly larger with dimensions of 41.9 x 36.8 x 39.4 cm. The toilet has a One-piece tank construction to prevent leaks and is double sealed to keep any odours sealed inside, so you don't have to worry about having it inside your caravan especially if you have young children.
The toilet has a 19-litre waste tank and a 9.6-litre flush tank. The toilet is not only fairly priced, but it's easy to maintain and clean. Dometic is a company that you can trust having been established in 1919 and between then and the present time, they have developed a huge range of high-quality products that consumers all around the world love.
Excelvan 20L Travel Portable Toilet 5 Gallon Flush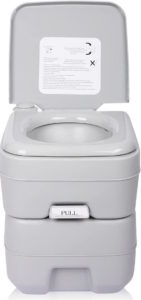 The Excelvan 20L Travel Portable Toilet is not only easy to use, but it's also easy to install and assemble so you'll have no issues getting it up and running. The toilet has an adult-sized seat providing you with more comfort.
The toilet has a load-bearing weight of 130kg and has a Double-layer slide valve helps to protect against leakage and diffusion. There is a two gallon/10 litre fresh-water tank, and a five gallon/20 Litre waste-water holding tank makes it adequate to use 2-3 days.
Once the tank is full, you can easily empty and carry it to your waste disposal point and no additional tools are required to detach.
The toilet requires just a good steady push to flush, which means that it can be used by adults of all ages as well as children.
HOMCOM Portable Travel Mobile Toilet Outdoor Camping Handle WC Grey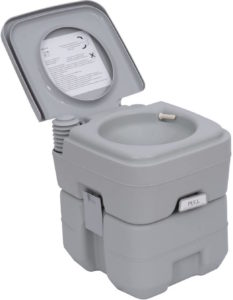 The H HOMCOM portable caravan toilet is made of high-quality light plastic and is built into two parts. The upper part consists of a fresh-water tank in combination with a toilet bowl attached to seat with a cover.
The second part is a lower holding tank than needs no attaching to a fresh-water system or sewer system. This makes it ideal for caravan and outdoor use. The toilet uses a Push type flushing system making it easy to flush.
The toilet also has an inbuilt carry handle with a large waste outlet makes emptying easy. The detachable holding tank makes it not only easy to transport but also to separate. The toilet weighs 6.2kg and has a weight load capacity of 200kg while also having a Fresh-water capacity of 10L and a Holding tank capacity of 20L. The overall dimensions are: 38L × 38W × 45H(cm)
Fiamma Bi Pot 39 Portable Motorhome & Caravan Toilet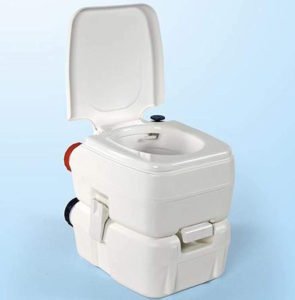 The Fiamma Bi Pot 39 is an upgraded version of the bi pot 1520. This toilet is strong and sturdy and is self-contained fresh water flush portable toilet, while also being easy to maintain and clean due to it being able to be completely dismantled, including the valve.
Each tank is electronically tested for a perfect seal so you'll have a leak-proof toilet. There is no clogging, and there are handy side clips to connect the upper and lower tanks. The toilet has dimensions of D43.5 x H39.2 x W36 cms and has a Waste tank capacity of 20 litres and Weighs 4.8 kg.
The flush system uses a piston pump that guarantees three powerful rinse jets.
Caravan Toilet Paper
You must understand what toilet paper works best with your toilet because you have to buy the specific paper because caravan toilet paper is made to disintegrate quicker in water compared to standard toiler roll which prevents
blockages.
Before you leave on your travels, it's also important to test your caravan toilet paper. All you need to do is get a bowl of water and a couple of sheets of your toilet paper. Let the paper sit in water for an hour or so then shake it to see if it's completely disintegrated.
Before testing, You'll also be able to feel the paper to see how soft it is, so you can get a better idea of what it'll be like to use when you're on your travels.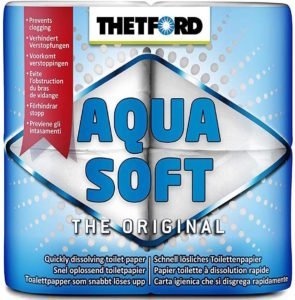 Caravan Toilet Cleaner
Toilet cleaner chemicals have two main purposes which are to reduce odours and to help to break down any lingering waste. However, traditional caravan toilet cleaner often contains toxic compounds which are also banned in many campsites which have a focus on environmentally friendly people.
Luckily there is a strong choice of formaldehyde-free chemicals, which are less damaging to the environment.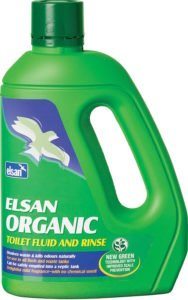 Types of Caravan Toilet
Gravity Flush Caravan Toilet
Gravity flush toilets are the most common type of toilet found in caravans, and it has a similar action to the toilets in your residential home as it uses gravity to force the waste down the pipe. This has been commonplace on caravans for many years and is seen as the staple option
Because it uses a gravity flush, it needs to be installed straight above your waste tank for the waste to be collected. This is a key installation point as without this in place; it won't work correctly.
Macerating Flush Caravan Toilet
A macerating flush caravan toilet uses blades to break up waste particles and substances before they are forced into your waste tank. This particle breaking process converts the waste into a smoother paste which prevents blockages from happening.
By limiting the potential of blockages, you can see how effective this type of caravan toilet is because the last thing you want to encounter when you're caravanning is a blocked toilet.
Portable Caravan Toilet
This is a great solution if you don't already have a toilet onboard your caravan and you need a short term solution without a big financial outlay. This type of toilet, as the name suggests, is portable as it's small and lightweight.
The portable caravan toilet collects the waste in the tank beneath, and all you need to do is remove the tank once you have finished and you bring it to your nearest campsite disposal point and get rid of it. Once this is completed, you can then reconnect it back to the toilet bowl, and the process begins again.
Vacuum Flush Caravan Toilet
A vacuum flush caravan toilet functions in a similar fashion to a macerating toilet but it takes the process one step further by converting the waste into a liquid before it goes down into your waste tank.
This means that the liquid is smooth and reduces the chance of a blockage to almost zero. You also have greater flexibility of the installation location within your caravan compare to other types of caravan toilets.
Cassette Caravan Toilet
Cassette caravan toilets have been specifically designed for caravan and camping use and have a small bowl which is installed over a small-sized removable waste tank. When it's in operation, the waste falls directly into the waste tank, and when the tank becomes full, you simply open the service door and physically remove the tank.
You can then empty this waste tank into a normal toilet or a disposing unit; then you can return the toilet bowl to its original position for use again.
Composting Caravan Toilet
The composting toilet is made for all environmentally friendly consumers. For many people, the thought of composting would put them off; however, this is a superb eco-friendly way of disposing of your waste.
Composting toilets function without needing water which is even more useful if you're going to caravanning somewhere where there isn't a reliable water source. The added benefit of a composting toilet is that once you have used the toilet, it separates liquid waste from solid waste and the solid waste is then converted into humus which can then be used as soil.
Buying Guide
Space
Space is an essential consideration before you make a purchasing decision. You need to first understand the space you have available in your caravan. It's normal for caravans to have unfamiliar layouts and have limited space. This means that space is an important consideration in your decision to pick the best caravan toilet for your vehicle.
If you're limited for space, then it's recommended that you go for a cassette toilet because they usually have a 360-degree blow to base rotation which means that you can position whatever way is needed to fit into a particular space.
If you have a small amount of space, then a lower profile toilet will also be ideal because they are smaller in size and therefore are more flexible for your needs. Obviously, the size of your toilet can affect how comfortable it is to use.
The Users
It's important to take into account which will be using your caravan toilet as this may affect your final buying decision. For example, if you have disabled or elderly people using the toilet, then you'll want to avoid low profile toilets because these will be harder to use. If you only have a low profile toilet to choose, then you may need to place it on a raised platform to make it easier to use.
High profile toilets are the best choice because they are the most similar to residential toilets so they will be easier to not only sit on but to also lift from. The flush mechanism also plays a role depending on the users. Ideally, you want to stick to toilets that have an easy tradition handle or push wall button.
Length of Travel
If you're away for long periods, then this should be factored into your buying decision. For instance, if you tend to have a low number of opportunities to discharge the waste tank, then you may want to have a bigger waste tank or an additional waste tank.
If you're away for prolonged periods, then it's recommended that you look for a caravan toilet, which has features designed to make you more comfortable.
Travel Locations
Your travel location will affect the type of caravan toilet that you decide to choose. If you think that you'll be far away from electrical power and water supply, then you'd be better of buying either a cassette toilet, portable toilet, or compost toilet.
This is because these three types of toilet can be used without having to rely on electricity, whereas composting toilets require no additional water to function.
Durability
Like most products, durability is an important concern with a caravan toilet because you'll want your chosen toilet to last as long as possible. Hence, you need to understand how durable it is.
Durability will be determined not only by build quality but also the materials used to construct it. You can also read the user reviews from actual product owners to understand the durability so you can gauge how long you can expect the product to last before it needs to be replaced.
You can only understand so much just by reading the manufacturer description, and they can often lie or exaggerate the quality of their product.
Ease of Installation
Most of us aren't plumbers or tradespeople, so you must choose a model that's easy to install once you've received it. Your chosen toilet can be the most durable in the world with the best features, but if you can't install it, then it's completely pointless.
Before buying, you should see if you can access the installation instructions to understand how easy or difficult it will be to install. Customer reviews are also another good way to understand the ease of installation because whether it's easy or hard, a customer is likely to say in their review.
Depending on the manufacturer, there may also be installation videos, phone or online, so this should also be considered as you may need additional help outside of the instruction manual.
See more: the best caravan water pumps (12 volts)
Comfort
There's a common complaint that caravan toilets aren't comfortable to use, with the main criticism being that the seats aren't wide enough or shaped differently to a traditional toilet seat. This makes you feel less balanced and more likely to fall over.
It's recommended that you choose a wider toilet. Other you'll regret having a smaller toilet seat as this can be very unpleasant, and you'll resent it every time you need to use it.
Comfort also extends to the type of material that the toilet seat is made from. You should choose a toilet that has a toilet seat made from a comfortable material.
Features
Other than just flushing, caravan toilets will often have many other features that will separate the best caravan toilets from the average toilets. You may think that you just need a toilet that effectively flushes, but there are many other benefits that you can get from your toilet.
The best caravan toilets can contain unwanted smells while also being leak-free. To understand whether the stated features work, you can also read other actual customer reviews to see if they make a difference to the overall experience.
To understand what features are available in a caravan toilet you should look through many different products to get a feel for what features are normal vs what features are premium add-ons. In this guide, we've highlighted this within each product.
Sanitation
Not all caravan toilets have the same level of sanitation, so this should be high on your list of must-haves. You need to check that your chosen toilet can flush properly because if it doesn't, then it will leave behind germs and bacteria.
Sanitation also extends to the toilet being leak-free as this can cause the spread of harmful waste and bacteria. Generally, the higher quality toilets won't have an issue with sanitation, and it will often be one of their main selling points.
It's also vital that you find a caravan toilet that can contain smells effectively. Caravans are small spaces, so if it can't, then smell can linger for days which would make your caravan experience significantly worse.
Price
No matter who you are, you'll have a budget in mind with a max amount of money that you're willing to spend. Having a budget also makes the buying decision easier as it naturally narrows down your options.
This means you can make a quicker buying decision, but you should base your decision on budget alone. You need to make sure that it caters to as many of your needs as possible. Having a budget that's too low could mean that you end up with a low-quality toilet that doesn't last long. Generally, you get what you pay for, so it's often in your best interests to spend a little more.
Waste Capacity
The importance of Waste capacity will be dependant on your travel plans. You need to strike a balance because you don't want to have too small of a waste capacity, which means you have to keep dumping it out continually. Similarly, you don't want to have too big of a waste tank and have it gathering for days on end leading to a foul odour. If you do need a larger tank, then you must ensure that it's efficient at keeping out smells.
Weight
Caravans will have a max overall capacity, so it's essential to consider the weight of your chosen toilet and how this adds to your total load weight.
This doesn't just include the empty weight but also the weight of the toilet once it has been filled as this will be significantly more, so you need to get an accurate view on its weight.
Warranty
Warranties provide you with extra protection so, if a defect develops with your product, the manufacture will provide you with a repair or a replacement. This gives you added security and encouragement that you're buying a high-quality product that they believe in. Warranties will vary, so you must understand the length before purchasing