If you're going on a short trip, then you can often bring enough clothes for the whole trip, but for longer trips you need to make arrangements for how you're going to wash your clothes.
Being in a caravan doesn't mean you have to leave your homely comforts. There are a variety of mini or portable washing machines that can help you get clothes clean without the hassle of washing by hand.
Of course, it won't be as big or powerful as a full-size washing machine, but it's still an effective way of cleaning your clothes. This is especially suitable if you're in a rural location away from any launderettes.
We'll take you through the best portable washing machines available on the market – and the features you need to consider to get the best wash.
Best Portable Washing Machines for Caravans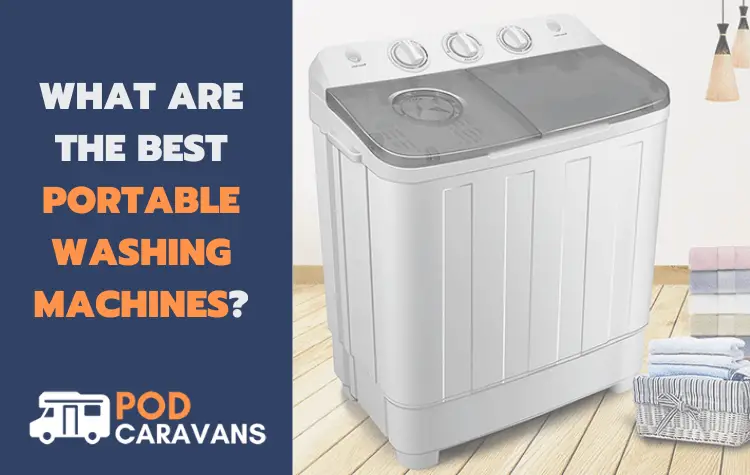 Let's start by taking a look at one of our favourite mini camping washing machines…
You'll find this in many motorhomes…
Portable Compact Twin Tub 4.5kg Washing Machine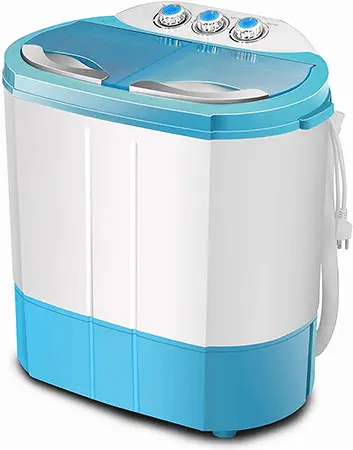 The great thing about the twin tub design on this washing machine is that you can save massive time by washing and spinning dry loads simultaneously. There are two separate timers to control each.
The space-saving design means that it is less intrusive in your caravan where space is likely to be more limited. The washing machine is quiet in operation yet still powerful due to its 1300 RPM motor, which also has a maximum frequency of 50Hz.
Like most portable washing machines, it requires a 220v power supply.
The machine is advertised as having a 4.5kg capacity – but remember that this applies to the washing and drying capacities combined. Separately, the washer has a 2.5 KG capacity and the spin cycle is 2 kg.
It comes with a powerful motor, is energy efficient and is one of the most reliable models on the market today.
Leisure Direct Portable Washing Machine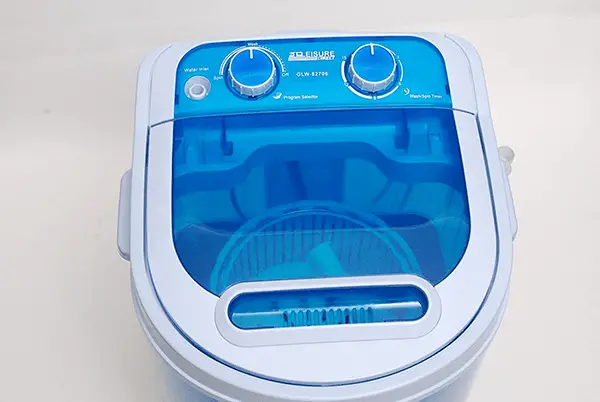 The Leisure Direct portable washing machine (230v) comes with added spin function, making it ideal for use in environments where space is limited, such as caravans.
This mini washing machine has a max load of up to 3kg of dry washing weight. It also measures 34 x 33.5 x 51cm so will fit into tight spaces and has a large opening lid. It boasts up to 15-minute built-in Washing setting, with a separate 5-minute Spin Timer.
No plumbing is required; all you need to do is fill the washing machine with hot water and detergent. The item is supplied with a water drain function and a 12-month warranty.
The washing machine automatically switches off after each timed program, and it pumps away wastewater from both the washer and spin dryer.
As for the drying spinner, it's more than good enough for most small garments. Your heavier clothes may still be a little wet, but for most purposes it's a good – and affordable – machine.
Portable Compact Twin Tub 7.6kg Washing Machine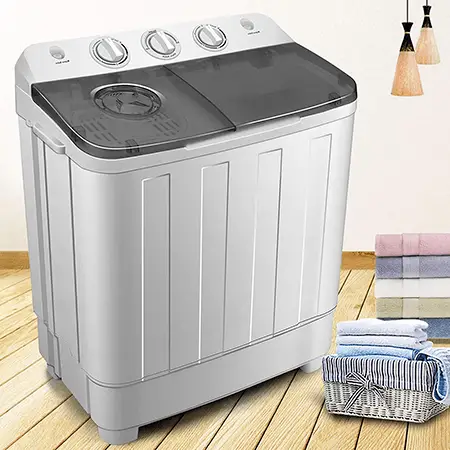 Need a portable washing machine that can handle larger loads than your average machine?
Here's another twin tub design, a semi-auto machine, that is capable of handling a total of 7.6KG in dry weight. That includes the washer capacity of 4.6kg and the spin cycle of 3 kg. The machine operates with a powerful 1300RPM motor at a max frequency of 50MHz.
It's quiet and it looks great. The sleek silver design sits nicely in any utility area, or a small caravan's kitchen. At 60 x 37 x 73 cm, it's relatively small – although by no means the smallest machine on our list.
How do you use the machine? It's simple.
No plumbing required. Just add your clothes, load it up with hot water and detergent, then adjust the timer (1-15 minutes for a wash cycle). The drainage pipe will automatically drain away the dirty water.
The machine has an environment-friendly A+ energy class rating.
LeisureWize 5L Eco Washing Machine
Looking for a cheap eco-friendly portable washing machine that gets the job done?
This free-standing machine from LeisureWize is manually operated. That means it requires no electricity, although obviously you'll have to work it yourself. Simply turn the manual handle and you have the most environmentally friendly method of washing clothes on the move.
The machine has a capacity of 4-5 litres per wash cycle. If you can't visualise that, it equates to about 1 daily change of clothes for a family of 3-4. It also has both rinse and spin features, making this an excellent budget-range portable washer.
There is no plumbing needed; all you need to do is add water so you can use it almost straight from the box. There is also a 12-month guarantee included.
On the downside, operating the machine is a bit of a workout and some users may prefer simply hand-washing for a more no-thrills approach.
How To Use a Portable Washing Machine
A mini washing machine is a great asset to have on hand for small loads of laundry. Whether you're stuck in an RV, camping, or just don't have the space for a full-sized machine, these machines are perfect for the occasional load of laundry. Here are some tips on how to get the most out of your portable washer:
Make sure you read the manufacturer's instructions carefully. Each machine is different and has its own specific set of instructions.

Choose the right detergent. Not all detergents are created equal – some are made specifically for high-efficiency machines while others are meant for traditional top-loading washers. Be sure to choose the right detergent for your portable washer.

Check the water level. Many portable washing machines have adjustable water levels, so be sure to check and adjust it according to your needs. You don't want too much or too little water in the machine – both can damage your clothes.

Fill the machine correctly. It's important to fill a camping washing machine correctly in order to get the best results. Be sure to use the correct amount of water and detergent, and make sure that everything is properly balanced in the machine.

Let the clothes soak. If you have a particularly soiled load of laundry, it's a good idea to let the clothes soak for a while before starting the wash cycle. This will help loosen up any dirt or stains and make them easier to remove.

Add some vinegar. If you're having trouble getting your clothes clean, try adding a little vinegar to the wash cycle. Vinegar is a natural fabric softener and can help remove any stubborn dirt or stains.

Hang the clothes to dry. Most portable washing machines don't have a proper "drying cycle", so be sure to hang the clothes to dry once they're done washing. This will help them last longer and keep them from shrinking.

Clean the machine regularly. Just like any other piece of machinery, it's important to clean your portable washing machine regularly in order to keep it running properly. Be sure to read the manufacturer's instructions for cleaning tips.
With these tips in mind, you can use your portable washing machine to quickly and easily wash small loads of laundry.
What Makes A Good Portable Washing Machine?
Despite what the name suggests, you can't exactly pack a portable washing machine inside your suitcase. Still, they are considerably smaller than a regular-sized washing machine that you'd find in a normal residential kitchen.
They are smaller in height and width, which means that you can easily move it out of sight when it's not in use. They are also easier to set up and usually just need to be plugged in, unlike a traditional washing machine that often requires professional plumbing set up.
You can set up a portable washing machine in 5-10 minutes as it only needs an electrical power source.
Capacity
Generally, the capacity of a portable machine will be reduced so you won't be able to wash your whole wardrobe at once; however, they can still wash enough clothes for a single person. 
Capacity limits will range from model to model, so if you're a small family, you'd be better off buying a model that can fit more clothes, so you don't have to be washing clothes regularly. 
Size
The physical size of the portable washing machine is critical because you need to be small enough that it can comfortably fit onto a tabletop because space is likely to be at a premium in your caravan.
Its size also needs to be considered because when it's not in use, you need to be able to easily remove it from view without it taking u to much space or still being noticeable.
Washing Mechanism
The two main types of washing mechanisms are agitators and pulsators. Pulsator models are more effective and better because they treat your clothes with softer care which is especially useful if you have delicate clothes. Whereas agitator washing mechanisms are a little rougher but also provide a cheaper and stronger wash making it ideal if you have heavier and dirtier clothes.
Available Cycles
The best portable washing machines will provide you with a setting that allows you to adjust its water levels and to program different wash cycles. Of course, you don't need dozens of different settings so you should priorities the settings that you think you'll use the most, and the rest will be a bonus.
Ideally, you should expect your washing machine to have both wash and spin cycles. Without the spin cycle, it means your clothes will be very wet, which can take days to dry.
The spin cycle is unlikely to fully dry your clothes, so you may want to invest in a clothes airer.
Or a heated caravan towel rail.
Ease of Use
Portable washing machines are usually simple appliances to operate with only a few available settings. You don't want to be fiddling around with a complicated set of controls when you just want to be enjoying your holiday. 
Choose a washing machine that is easy to use and has straightforward operation settings so you can set it to wash and leave it until it's completed.
Portability
You need a mini washing machine that's easy to transport, which means it needs to be light, especially if you're going to be storing it away from view after each time you use it. It also helps if it has inbuilt handles that allow you to carry it without the risk of it slipping out of your hands.
Energy Usage
If you're using this washing machine in your caravan, then it's likely that there will be a limited supply of electricity, so it's essential to check the energy consumption of your desired portable washing machine.
The more electricity it uses, the more expensive it is to run; however, most will require a power source of 230 volts.