We take our caravans on a lot of adventures. To repay it, you should give it a full deep cleaning from top to bottom at least once a year. Not only does this protect it against premature wear and tear, but it can also improve the caravan's resale value.
All you need to clean your caravan properly is some time, elbow grease, and the right products. We're going to take you through how to clean your caravan and tell you about some of the best products on the market.
Here's our caravan cleaning products checklist:
1. Prep For Cleaning
Prepping to clean your caravan is the first step and makes the entire process easier. First, position the caravan so you can walk all the way around it. Park it on a slope if you can to enable water to run off easily, and make sure that the caravan is as stable as possible.
The best way to clean a caravan is from top to bottom, meaning you should start on the roof. The roof is likely to be one of the dirtiest places on an RV. It constantly comes in contact with rain, leaves, and bird droppings and is prone to housing algae, mould, and mildew.
To safely reach the roof, we recommend using a step ladder. Some manufacturers may tell you it's safe to walk on the roof, but when you're going to be cleaning with water and soap, it's not a good idea. The roof is bound to become slippery, and a ladder is a better choice.
Best Ladders for Reaching the Top of Your Caravan:
Home Vida 4 Step Ladder with Safety Handrail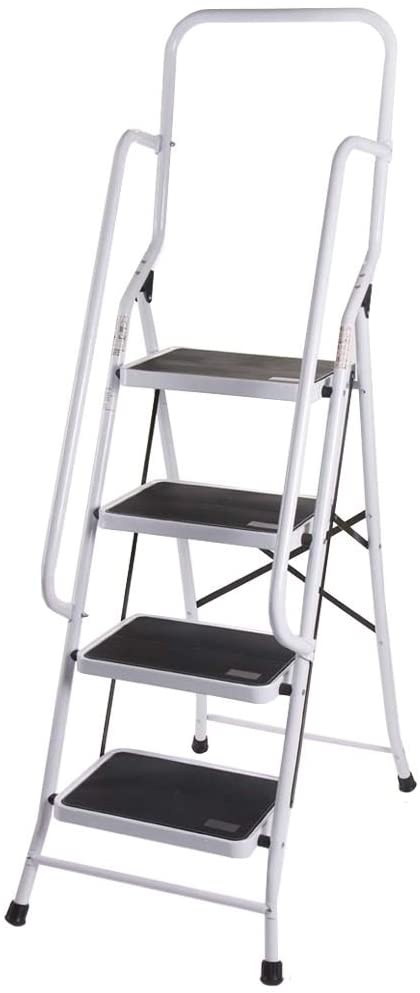 This 4-step ladder from Home Vida is great for reaching the top of your caravan. It's 160 cm tall and has non-slip rubber treads on the steps, making it safe to use while splashing water around. The two handrails provide extra stability and support, and the whole thing folds down for easy storage.
BAOYOUNI 4 Step Lightweight Aluminum Step Stool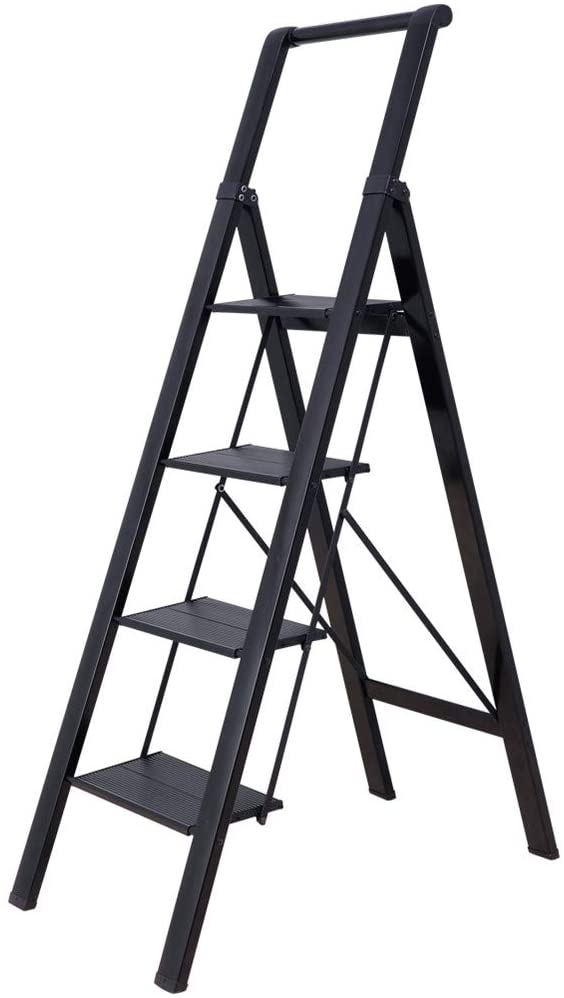 Another great 4-step ladder with excellent safety features is this product from BAOYOUNI. It's lightweight and folds down so you can easily tuck it away when not in use. The aluminium alloy frame holds up to 135kg, and the anti-slip feet, wide non-slip steps, and top handle make it a safe choice when cleaning your caravan.
2. Hose it down
Now, it's time to get started. Begin by hosing down the entire caravan to remove any loose debris, like stubborn dirt, grime, or leaves. Most debris comes off pretty easily with a good spray of the hose. Plus, you don't want to scrub when there is dirt or grit present that can damage the hard surface or paintwork of the caravan.
You might be tempted to use a pressure washer, but be careful. If you use too much pressure, you could damage the more delicate surfaces of the caravan, like the window seals or the silicone seals around the antenna.
3. Scrub
After you spray down the whole caravan, it's time to start scrubbing. Work in a small section, starting on the caravan roof. Spray on your chosen cleaning product or all-purpose cleaner, scrub using a brush or a sponge, then rinse the cleaning solution with clean water. Work section by section until you clean the entire caravan.
Don't forget to get into all of the little nooks and crannies, like inside the windows and skylights. When you're finished, use a large silicone blade or squeegee to remove any excess water or dry all hard surfaces with a microfibre cloth.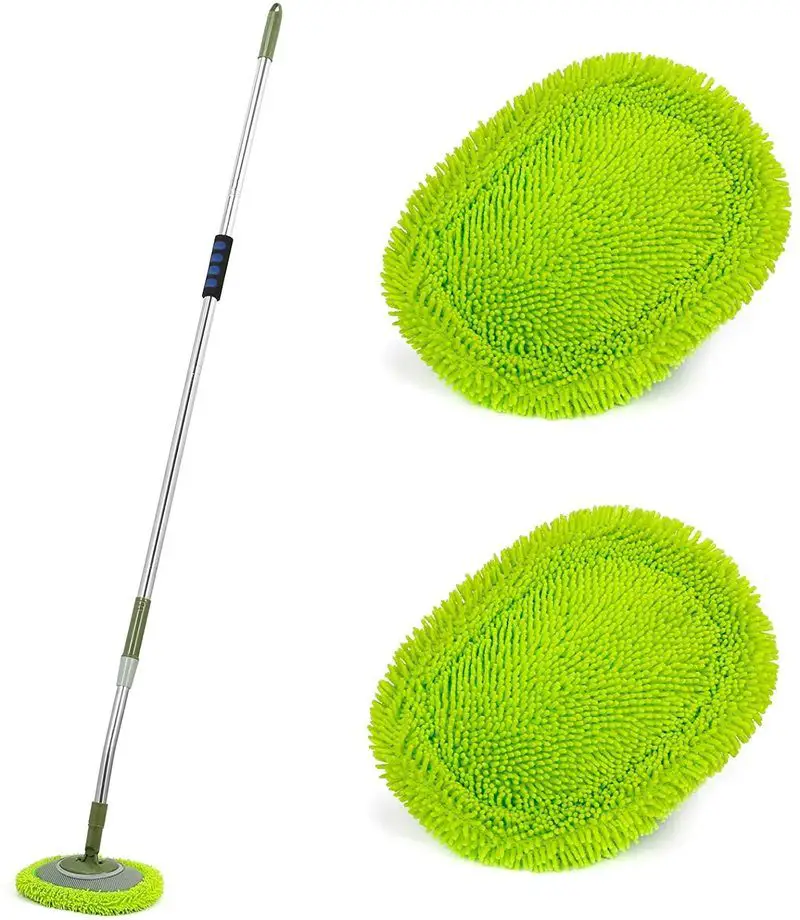 Best Caravan Cleaners:
Fenwicks Caravan Cleaner Concentrate
Rhino Goo! 5 litres Concentrated Caravan Cleaner
Dirtbusters Premium Caravan Motorhome Wash And Wax
Best Caravan Scrubbers:
MATCEE 62″ Brush with Long Handle Car Wash Mop
Martin Cox Deluxe Caravan Car Cleaning Telescopic Brush Broom
Car Wash Brush with Long Handle for Caravan Washing
Best Squeegees:
Telescopic Window Squeegee and Microfiber Scrubber
Draper Telescopic Squeegee with Sponge
DocaPole Extension Pole + Squeegee & Window Washer Combo
4. Polish
Caravans spend a lot of time in direct sunlight, and the UV rays can damage the finish and ruin the paint job. If your caravan looks a little dull, a good polish once a year will bring it back to life. Most polishes also have ingredients that will also correct any oxidisation.
To polish, add a small amount of the product onto the applicator. Then, apply the polish in thin layers, working in small circles over the surfaces of your caravan. Be sure to only put the polish on the painted finish. Avoid any plastic trim or rubber seals.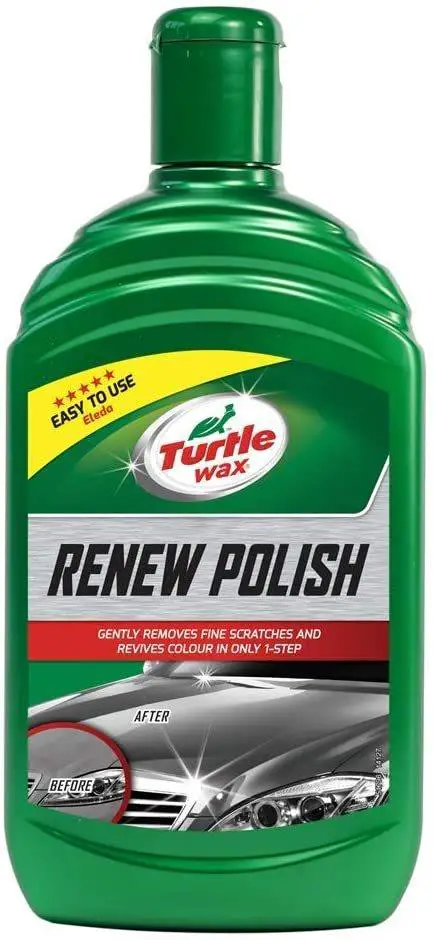 Leave the polish sit for about 20 minutes or so, then use a finishing cloth to buff it back to life.
Best Caravan Polish:
Turtle Wax Renew Liquid Car Polish
Meguiar's Ultimate Compound Colour & Clarity Restorer
5. Wax
After you polish, it's time to wax the exterior surface. Many people think that polishing and waxing a vehicle are the same, but they have two different results. While the polish also has a cleaning element to it, wax is purely for protection. It acts as a barrier to the elements, preventing dirt from building up on the paint and keeping the finish nice and shiny.
Work in small sections, using a small amount of wax and working it onto the surface of the caravan. Then, leave the wax sit for about a half-hour, then use a cloth to buff it to a shine.
After you apply the wax, you can actually see how it protects the surface of your caravan. Splatter some water on the caravan, and you'll see it bead and easily run right off.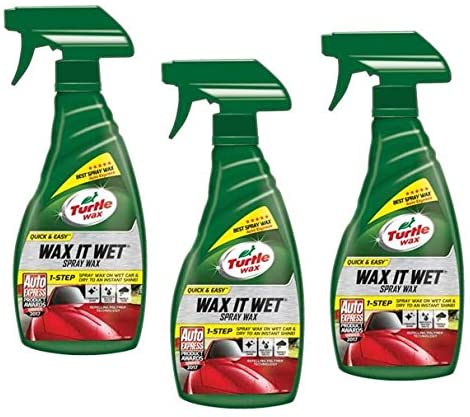 Best Caravan Wax:
Turtle Wax Wax It Wet Car Spray Wax
Collinite 845 Insulator Wax
What About The Windows?
Some caravan windows are made of acrylic, which scratches easily, so it's important to clean them the right way. Any small pieces of dirt or grit can cause significant damage, so the best thing to do is use a cleaning spray and cloth meant for caravan windows.
Best Caravan Window Cleaners:
VuPlex Caravan Acrylic Window Glass Cleaner
Final Thoughts
Keeping your caravan surface clean is the best way to ensure it keeps you adventuring for years. Regular maintenance is important, and thorough cleaning from top to bottom is necessary at least once a year.
Follow the steps above using the products we recommended, and you'll be all ready for your next adventure.