It's not a great experience when you step out of a warm shower to be greeted by a cold towel. Especially in the dead of winter when the temperature has plunged.
Of course, there's a simple solution – you can use a heated towel rail to warm your towel up, or even to dry your clothes if you're in a pinch.
But there are a few things you'll want to consider if you're installing one in your caravan or motorhome, such as the size and power usage.
In this guide to the best caravan heated towel rails, we'll run you through our pick of the best options on the market today. We'll look at the towel rails which specialise in good heat output on low power, and those that are suitable for installation in small spaces.
Let's get to it!
Best Caravan Heated Towel Rails
Marko Heated Towel Rail and Clothes Warmer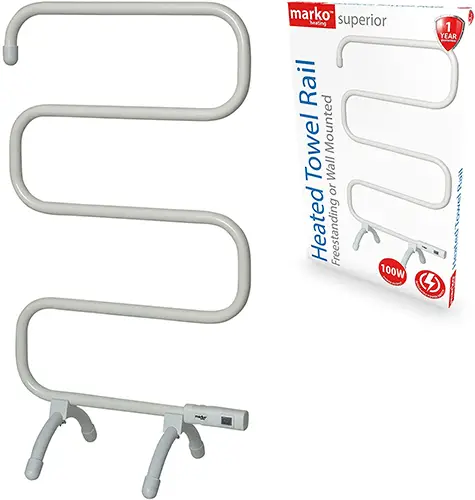 The Marko Heated Towel Rail is a particular favourite in the caravanning community for a few good reasons. It provides excellent heating, with a low power usage (just 100 watts!) and a wonderfully compact design that is suitable for small spaces.
It comes with a wall mounting kit, or freestanding legs, so you can choose how you want to store it.
The towel rail does an excellent job of heating towels or drying small items of clothes without being excessively hot to the touch (and thus using up excess power). That's all the more impressive given that it consumes the same amount of power as a 100w light bulb.
Economic to use, doesn't get in the way… exactly what we're looking for in a heated towel rail for use in a caravan on our travels.
Pennine Caravan Six Bar Heated Towel Rail Sirocco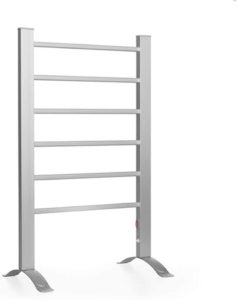 This Pennine Towel Rail allows you to not only heat your towels but also dry other items of clothing quickly. It's low cost, making it great value and has 6 bars for you to hang garments on. It's free-standing and easy to set up with an on/off switch that you can toggle when you're ready to use.
It comes supplied with feet that you can attach the bottom of the unit, or you can mount it on the wall to save space. It's lightweight, and it has a quick heating element, so you don't have to wait for it to heat up once you turn it on.
It requires the power of just 100 watts so you won't see a huge increase in your energy consumption on your caravan.
Prem-I-Air Electric Freestanding Portable Towel Rail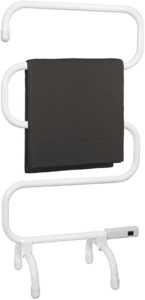 This S-shaped towel rail requires a power source of just 100w to get your towel heating needs fulfilled. It consumes low amounts of energy and costs roughly just 3p per hour to run while also being lightweight so you can move it around and use it in any caravan room.
It has a simple to use on/off switch and isn't only suitable for drying your towels, but you can also use it to dry clothes. The rail has five heated bars which provide you with a good capacity for items. Its compact size means that it doesn't take up too much space and has legs so it can support its weight.
Caravan Motorhome Mistral Swing 6 Bar Heated Towel Rail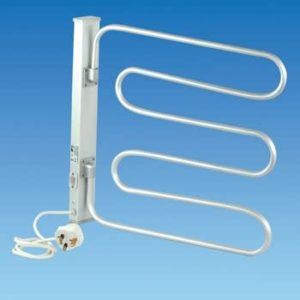 Pennine have been producing caravan products for many years and have established themselves as one of the leaders in the industry by creating great portable products. This towel rail has 6 bars to provide ample room for your items to dry and be warmed.
The rail has been designed so it can safely run for 24 hours if you decide and it's energy-efficient so uses a low level of power. It's compact, so it won't clutter your caravan where space is already at a premium, and it has dimensions of just 460mm x 430mm x 50mm.
You can have this as a free-standing unit, or you can mount it to the wall. Good heating rail at a very good price.
What To Look For In A Heated Caravan Towel Rail
Types of Heated Towel Rails and Radiators
There are three main types of towel warmers available on the market:
Bar Heater
A bar heater is the most popular type of towel rail and is usually made of a strong metal material such as stainless steel. The steel has a heating mechanism inbuilt which then heats the towel. Because the bars heat the items that are in direct contact will dry and heat the fastest. Bar heaters come in a range of different sizes so their capacity will vary.
Bucket Heater
A bucket heater is exactly how it sounds – the heater is shaped like a bucket. You simply place your items inside the heater and then place the lid on top and turn on. The heater has an internal heating element that produces heat on all sides, which means that it can fully heat the contents. It's not as effective as a bar heater, but it can still heat your towels.
Cabinet Heater
A cabinet heater is similar to a microwave and works as a bucket heater with a heating mechanism on all sides to heat your towels. Once the heating process has finished, you just need to open it up and take out your items. Cabinet heaters are great for caravanning because they come in portable sizes.
Choosing a Towel Rail Size
Having a caravan towel rail can bring space-saving benefits which are ideal for a caravan where floor space is limited. You can get towel rails that are completely wall-mounted or rails that can be pushed flush against the wall.
You can then save space that would have been otherwise taken up so you can truly maximise your caravan space. Before choosing a model, you should measure your bathroom to see if it will actually fit. If your bathroom is on the smaller side, then a more portable model will be suitable.
You want to ensure that you keep the rail as far away from water as possible to avoid any damage. Ideally, it would be out the way of the walkway; otherwise, you may accidentally bump into it when it's on.
Capacity
When deciding on a unit, you need to ensure that you buy one that has enough capacity for your needs and can hold enough items of clothes or towels. You should consider how many towels you expect to hang at any one time.
Once you calculate this, you can understand which unit is best for you. Buying one that's too small isn't the end of the world, but it can just create a hassle where you have to swap towels in and out.
Heating Source
Unlike a traditional clothes airer, the power source for your towel rail is important because you need to understand if you have the necessary type of power.
The main types of power source are electric heating element or a hydronic heater. However, a hydronic system is usually found in homes because it uses hot water which uses thermal energy to heat the bars on your towel rail. This is extremely expensive and highly unlikely to be present onboard even the highest tech caravan.
This makes an electric heating element the best option. This works by passing electricity through a resistor which then converts it into heat which then causes heat to pass through the bars and heat the items that you place on the rail. This is the most common type of power source amongst towel rails.
Heated towel rails are a popular way of drying the items that a portable washing machine's spin cycle hasn't fully dried.
Ease of Installation
Caravan towel rails are incredibly easy to install especially electric rails which are plug and play items that you can use straight out of the box. Due to their energy efficiency, they need minimal energy to run, which means that they can plug into any power outlet that you have in your caravan, it will be ready to go.
It's highly unlikely that you'll need a professional to install your unit. However, you can understand how easy you rail is to use by reading customer reviews from users because they will provide their honest opinions about their experience with the product.
Warranty
As with any type of electrical item, there always the chance that a fault could develop with the product. It's important to understand if your product is covered by a warranty which will cover you for any faults.
Warranty lengths will vary depending on the manufacturer but the longer the length, the better because you'll be covered for longer, which gives you greater peace of mind and satisfaction.
Running Costs
Heated towel rails will naturally consume electricity or another power source to run. However, these towel rails generally don't require much energy to run, which means that the best caravan towel rails are economically great.
The options on our list above consume as much energy as a 100W light bulb – or less! That's super efficient.
You won't be adding much energy expenditure on top of your existing usage by installing one in your caravan. Many of them even have inbuilt timers that you can activate to minimise energy wastage. This means that after a certain period, the unit will turn off.