For many, a television is considered a mandatory piece of kit in a caravan. If you care about the quality of your television reception, then a portable satellite dish is a very useful investment.
You can plan a whole host of outdoor activities for your trip – but British weather is unpredictable. There will be days where it does nothing but rain. It's days like this you need a reliable TV to keep the family occupied when you're restricted to being indoors.
There are several reasons why you'd buy a dedicated caravan satellite dish. In this guide we'll look at the key considerations, the features to look for, plus our top picks: what is the best portable satellite dish?
Let's get started!
5 Best Portable Satellite Dish Options For Caravans
SSL Satellites Caravan Dish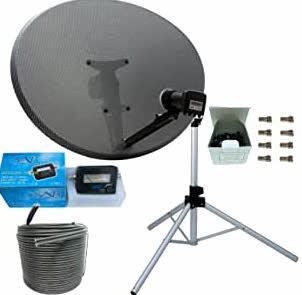 This is a high-quality premium product, and the package includes an 80cm Mk4 satellite dish. This Zone 2 dish is ideal for camping and caravanning. It is an improvement on a Zone 1 dish because it's larger, meaning the signal is stronger.
Yet it still has a compact size which makes it portable. Also included is a foldable tripod stand that you can mount the dish onto. Both the dish and tripod are sturdy even in harsh outdoor conditions.
The satellite dish has a signal finder. It has a pointer display and signal sound so you can quickly and accurately find the best source of the signal. The satellite is ready to install so you simply just align the satellite and then add the connectors included. Then you can begin to enjoy your new-found to improve TV quality.
Included in the package is:
80cm Mk4 satellite dish
Quad LNB
5m twin coax cable
cable clips, 
satellite finder/meter
satellite folding aluminium tripod 
Digitalis Full DIY Kit Caravan Satellite Dish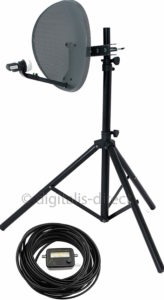 This package comes complete with a sturdy Konig Tripod 43cm Zone 1 Dish and a tripod which is both lightweight and stable – suitable for dishes up to 1000cm.
You just need to anchor the dish to the tripod's rotating head. Once you have aligned the satellite to its correct position, tighten the knob and you are good to go.
The tripod is built to have a low centre of gravity which makes it even more sturdy in windy conditions. The package is great for the UK. It has all the components included except for a receiver which is normal for a satellite dish package.
Of all the satellite dishes available, this could be the best value for money, so if you're on a tight budget, it's worth checking out.
Maxview Suction Mounted Portable Satellite TV Dish Caravan
This UK-manufactured portable satellite dish comes in three parts but also has inbuilt high strength suction mounts. These mounts provide an easy and secure way to attach it to your vehicle even when you're on the move.
The suction is applied using adjustable levers that you secure into place once you're happy with its position.
Don't underestimate the power of this robust piece of kit that is specially manufactured for outdoor use. It can also be easily adjusted even after you've fixed it into position. Also included is a 2-year guarantee to protect you against any potential defects that may occur.
In terms of compatibility, the satellite can pair with all SD/HD free-to-air satellite receivers including most Sky receivers. No separate power supply is required for it to operate.
SSL Zone 1 Portable Satellite Dish Kit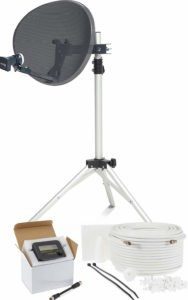 Similar to other options listed, this is an all-in-one satellite dish package that includes a Zone 1 portable satellite dish and a tripod for the satellite to be mounted on to.
The satellite comes with brackets in case that you want more of a permanent fixture via a wall or pole. Once it has been physically set up, you can then use the sat finder to find the optimal signal.
SSL is one of the main leaders in the satellite dish industry, and it's not by chance because of quality products like this one. The package also comes complete with a 10M Single White Cable for the Zone 1 Satellite.
SatGear 57cm Portable Satellite Caravan Travel Kit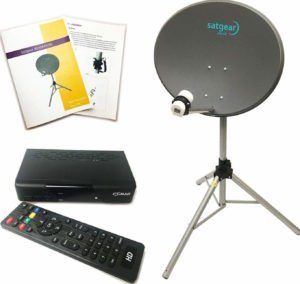 The Satgear NK60R Satellite High Definition Mini Dish Kit is a high-quality solution to your caravan TV viewing needs. This is a full package and includes everything you need to get going (except for an HD TV).
The 57cm Zone 2 dish is high quality and can be mounted on the included tripod making alignment easy. Both the dish and tripod are small and compact, which make it simple to move into position. When the tripod is not in use, you can simply collapse it while it also has a hole and pegs which allow you to anchor it to the ground.
Also included is a receiver that you connect to the dish which then feeds the signal into your TV to show your newly found TV channels.
Why Buy a Portable Satellite Dish?
Why wouldn't we use an old fashioned TV aerial?
A camping satellite dish gives us access to things such as satellite broadcasting, Freeview and digital hard drive recording.
This means that when you're caravanning, you can watch almost identical programmes to what you would watch at home – with the picture quality and sound to match.
If you've already got a television, then you'll have the dilemma of whether to trust your aerial to give you a clear picture or whether you should invest in a satellite dish.
The problem with aerial is that the reliability can vary depending on your location, which can bring issues if you're regularly moving location.
A mobile satellite can supply you with a high-quality signal regardless of your location and all increases the number of channels that you'll be able to discover.
Even if you're travelling outside of the UK, a satellite dish means that you often don't have to miss out on your favourite British shows. For some of us, a caravan tv aeriel is good enough. But if you're travelling with kids you'll surely appreciate the benefits of a reliable TV signal…
Types of Mobile Satellite Dishes
Manual Portable Dishes
Portable satellite dishes are the most affordable on the market. They are generally small in size, which makes them handy to store away if they're not being used. You can simply set them up using a tripod or table and usually have a diameter of 30cm – 100cm.
The dish sizes vary so much because your most suitable size depends on where it's going to be used. i.e. the further you're away from the UK, the bigger the dish you'll generally need to pick up the channels.
Standard dishes that you might find in a residential home will be heavier and bigger, which makes them unappealing to have in your caravan. This is where a portable dish becomes very useful. 
Fixed Manually Operated Satellite Dishes
Fixed satellite dishes give you less flexibility as they need to be fixed onto the roof of your caravan. You can then control its position by remote from inside your caravan. Don't worry; you won't have to get on the roof each time you need to adjust its position!
Having the ability to control it from inside means that you don't need to try setting it up when it's raining, or each time you want to use it. This is ideal if you're a regular TV watcher. 
The number of times you have to reposition your satellite will depend on how often you move the location of your caravan. However, there are many apps such as "sat finder" which makes this process easy.
Which Satellite Receiver To Use?
So now you've got your fancy new satellite dish, to be able to watch the transmission that it picks up, you'll need to have a satellite receiver.
The most common one you've probably seen is a Skybox, however, if you only want free to air channels, then a free sat box will be sufficient with this being inbuilt with most modern up to date TVs.
Satellite Construction
Satellite dishes are commonly constructed of either plastic, steel, aluminium or a mixture of the three. Plastic satellite dishes are usually covered in a fibreglass layer which makes it more durable and protected.
Steel dishes are built to last longer than plastic dishes, but they need to have there surface covered otherwise over time they can begin to rust.
Aluminium is regarded as the most durable option because they can withstand most weather conditions. Although you may want the satellite dish colour to match your vehicle, this can be difficult because most come in a neutral grey or black colour. However, if you want to personalise your dish, you could paint it.
You must consider the build quality and the material used because once a dish breaks it hard to repair them and most of the time they'll need to be replaced completely. Cheaper dishes will often be less effective at receiving signals throughout spells of bad weather.
Satellite Installation
When it comes to installation, there are two clear options. Some satellites are built to be permanently installed, and others are temporary. If you're looking for a caravan satellite, then you'll need one that's designed for portability and easy to install. 
If you have a dish that has a manual alignment, then you must try to set it up at home before you go on your trip, so you're used to the controls and alignment process.
What Does A Portable Satellite Dish Cost?
As you'd expect, satellite dishes can vary in price, and this is dependent on several different factors and features. For example, the latest lightweight, portable satellite dish that has the most advanced technology to find signal and channels will be more expensive than an older model satellite.
The price will also be affected by the brand, customer reviews, ease of installation and the length of warranty.
You can generally pick up a good portable satellite dish for under £75.