Caravan travel and biking go hand in hand, especially throughout the summer months where you want to explore the land. If you're sick of cramming your bikes into your caravan, then there's a simple solution which is a caravan bike rack. This allows you to mount your bikes to the back or side of your caravan freeing up room inside your caravan while allowing you to easily access your bikes when you're ready to use them.
Bike racks come in a range of sizes and materials which can make it hard to work out which one to buy which is why we've created this in-depth guide to show you how to make a more accurate buying decision.
Fiamma Carry-Bike XL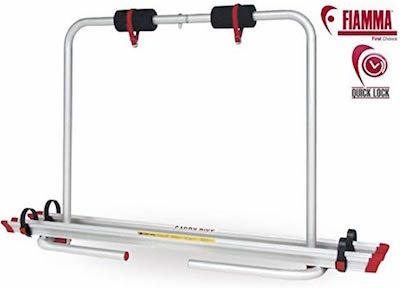 The Fiamma XL bike rack can fit almost all caravan types while also being an inexpensive solution. The bike rack needs to be installed on the front part of the caravan on the A-frame.
This allows you to carry a maximum of two bikes at any one time, and it has the versatility to carry any type of bike with a load max of 35kg. The build quality of the bike rack is impressive as it's constructed from durable material which means that it can withstand the harshest weather conditions while still keeping your bike mounted to your caravan.
This carrier type of bike rack also makes it easier and quicker to access your bikes, so you don't have to get into an awkward position to unmount your bike.
Thule Elite G2 Bicycle Carrier
Thule are a well-renowned brand in the caravan and camping space, so it's no surprise to see their inclusion on this list. This bicycle carrier is designed to fit your bike to your caravan securely, and the carrier has a sturdy construction of high-quality anodized Aluminium oval tubes. Hence, you know you can rely on it even after several years of consistent use.
The carrier has a weight capacity of 60kg in total, which is more than sufficient for the majority of users. The carrier is delivered pre-assembled, which makes the installation extremely easy so you can start using it almost instantly.
Fabbri 6201835 Caravan Bike Rack
If you need a bike rack that has a larger capacity, then the Fabbri 6201835 Caravan Bike Rack will be suitable for you. It has a capacity of up to 3 full-size bikes which will meet the requirements of most users.
The bike rack has a sturdy construction so it can reliably hold the weight of up to three bikes without failing. Fabbri has been manufacturing and selling product for decades building up a strong reputation due to its reliable products so you can trust this product to deliver.
Benefits of a Caravan Bike Rack
Storage
The main benefit of using a caravan bike rack is that it gives you space just for your bikes to be stored. Storage space inside a caravan is normally limited so a bike rack will give you some of this space back.
The best caravan bike rack can also store multiple bikes at the same time, and you don't have to worry about running out of space onboard your caravan.
Maintains Bike Condition
Using a caravan bike rack will allow your bikes to stay in top condition because if you're forced to keep them in your caravan, then this can make them more likely to be scratched and scraped as you constantly pass by them.
This potential damage becomes more likely if you're travelling on a bumpy road route so it's a great idea to invest in a caravan bike rack because this will save you having to buy new bikes or repairs sooner than you need to.
Stops Bikes Tangling
If you've ever stored bikes together without using a bike rack, then you'll have experienced them getting tangled together, and it can be difficult to untangle with some sort of damage happening to either of the bikes.
A bike rack keeps them separated so they can't be damaged because bike racks often come with straps. 
Time-Saving
If you store your bikes onboard your caravan, then it's not always straight forward to take them out because there may be things blocking it that you also need to remove. Having a bike rack makes it simple to both store and remove your bike, so it requires less hassle. 
Caravan Bike Rack Buying Guide
Number of Bikes
You need to consider the number of bikes that you have before making a buying decision, which the majority of bike racks being best suited for two bikes. If you need more bike storage than this, then you need to ensure that your chosen bike rack can fulfil this need.
The more bikes that you need to store the less buying options that you have and likely, the more expensive the rack will be. It's not just the number of bikes that's important to understand, but also the max load weight.
Bike Size
The actual size dimensions of the bikes that you plan to rack are also important and something that you need to take into account. Some racks don't allow you to adjust depending on the size of the bike so if you buy a rack that's specifically for children's bikes, then you may not be able to secure adult bikes to it.
Ideally, you should buy a caravan bike rack that has an adjustable setting so you can tailor it to the size of your bikes. This is to avoid purchasing a bike rack and then realising that it can't be used. An adjustable feature also means that you can rack multiple bikes that all have different sizes.
Compatibility
It's essential to make sure that your chosen bike rack is compatible with your caravan, meaning that it can be fitted to the exterior of your vehicle. Caravan bike racks are designed to take into account the different needs of a caravan owner which can make them more ideal than using a car bike rack.
Price
Just like most products you can buy in today's world, bike racks can come in a range of different prices, so you need to consider your budget and the number of features that you need. 
It's essential to set a budget because then this will narrow your number of options which then makes the buying decision easier. As always, the most expensive bike rack doesn't always mean that it's the best, especially if the added features are unnecessary to your needs.
So you need to outline what you need from a bike rack and then find a model that fits into your budget, where possible.
Installation
Before committing to a purchasing decision, you need to understand how easy it is to fit the bike rack to your caravan. It's no good buying and then realising that it requires a lot of work to get it up and running. So ideally you'll buy one that is pre-assembled and just needs mounting to your caravan, or you may need to spend additional money to have it professionally fitted.
Brand/Quality
The brand of bike rack that you buy will be closely linked to the overall quality of the item. This is exactly what this guide is created to show which brands make the highest quality products. 
You can also use individual product reviews to understand the experience of other users. The overall quality is closely linked to the brand of the product because well-established brands have been around for many years, often due to creating high-quality products. In contrast, lower quality brands don't stand the test of time.
Types of Caravan Bike Rack
Hitch-Mounted Bike Racks
Hitch mounted bike racks are the most common type and choice for caravan owners because caravans usually come with hitches which makes installing the bike rack even easier. 
These racks have a loading capacity so you can choose depending on how many bikes you need to mount. 
Ladder Mounted Bike Racks
This type of rack is attached the back ladder on your caravan which securely attaches your bike in place. Because it's connected to your ladder, it can create a bit of a hassle where you need to remove your bikes if you want to access your ladder.
They also have a slightly lower loading capacity which is usually a maximum of two light bikes. If your caravan doesn't have a hitch or a bumper for you to use the alternative types of bike racks, then this is going to be your best solution.
Bumper Mounted Bike Rack
Bumper mounted racks main advantage is that it decreases the number of visibility issues that you may encounter, making it easier to manoeuvre when driving because they avoid blocking the windshield.
This type of bike rack is also capable of carrying more than two bikes at any one time and doesn't require you to block the use of your ladder or hitch like the alternative types of bike rack.