Are you one of the many caravaners who have to go without a hot shower when travelling because you don't own a water heating system?
We can't think of many feelings more satisfying than a warm shower after a long day exploring the great outdoors, and so investing in a caravan water heater is highly recommended.
But there's a few things you'll need to consider.
Should you use a gas powered heater or an electric water heater?
What size tank will you need to avoid running out of water?
How hot does the water need to be?
To help you come to a decision, we've put together this guide to the best caravan water heaters – as well as a checklist of factors to consider. We'll cover everything from thermal and electric energy benefits, to energy efficiency and the advantages to tank-based vs tankless heaters.
Let's start with our top picks…
What Are The Best Caravan Water Heaters?
Camplux 6L Tankless Gas Water Heater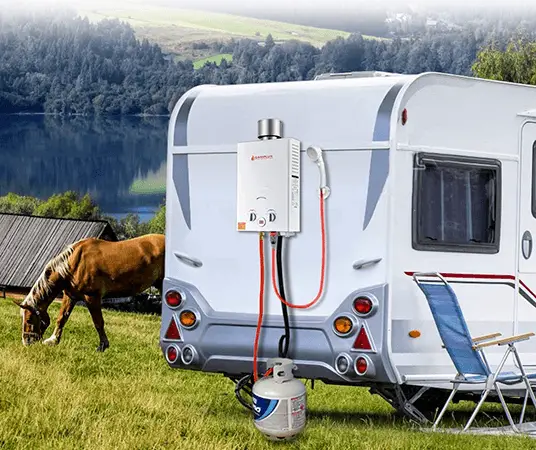 If you're looking for a high-quality tankless water heater, then look no further. The Camplux 6L Tankless Gas Water Heater has the capability of providing a supply of 6L per minute of hot water with just a flick of a switch.
It has an A+ energy efficiency rating as it only heats water that you need making it great for caravan use. It's also CE certified GAR standard throughout the EU market with multiple safety features including as flame failure protection, overheat protection and 20-min safety shutoff protection.
The unit also has a weatherproof rain cap to ensures that if you install it outside, then water will not run inside. This not only keeps you safer but also prolongs its lifespan. Made of rust and corrosion-resistant high-quality stainless steel this also prevents leaves, insects and other hazards from getting into the water heater,
The water heater is simple to install with the included installation kits and can be simply controlled using its inbuilt LED temperature display so you can select your desired temperature.
The heater is powered by 2D-cell batteries, making it great for off-grid caravanning.
Truma Therme TT2 Electric Water Heater Caravan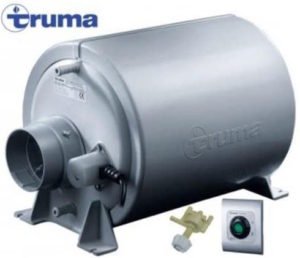 The Truma Therme TT2 Water Heater is ideal for caravans and motorhomes with its compact size, weighing just 2kg but with a capacity of 5 litres. This water heater has a simple operation can be powered by hot air generated from the vehicle's heating ducting, however it also has its own dedicated additional 300w electric heater element so water can be heated using electricity.
The 5 litre capacity means you have to be fairly frugal if you have, for example, a whole family waiting to shower. In that case you will need to wait for the water to reheat between use. However, it heats quickly and is efficient to use.
The thermostat control lets you heat water up to 65℃, which is more than enough for caravan use.
Propex 240v Electric 6L Water Heater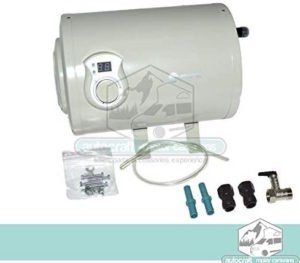 If you have your heart set on an electric water heater, then another good option to consider is the Propex 240v Electric 6L Water Heater. This provides you with a slightly higher capacity compared to the Truma Therme model, but the same caveats apply if you have multiple family members waiting to shower.
The water heater is power rated to 800w and has an inbuilt temperature display so you can easily adjust up to a maximum temperature of 75 degrees. That's more than you'll need on the move.
For added flexibility, performance and safety, the water heater also has a drain tap / pressure relief valve and pip.
It's a reliable 240-volt caravan water heater at a decent price.
Whale High Capacity 13L Water Heater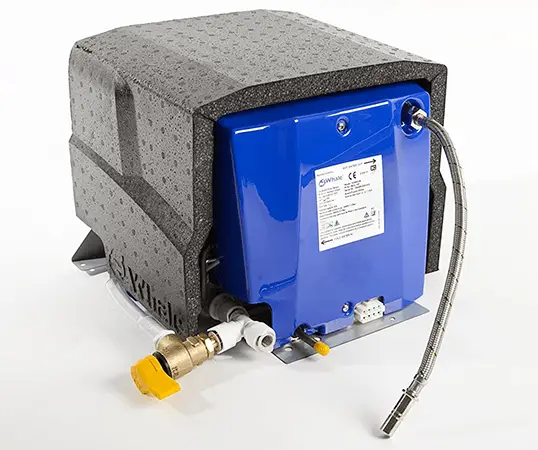 So, what options are there if you need a high capacity water heater that isn't going to run out of hot water between showers?
Well, here's a super effective option from Whale that delivers more than enough hot water for the whole family…
With a large 13 litre capacity, and an impressive installation that keeps water hotter for longer, you'll be paying a premium, but you'll certainly be getting your money's worth.
It provides the flexibility of running off either gas or electric, is easy to use, and is fairly lightweight (10kg) for the supply that it provides. The unit boasts a newly designed pressure relief valve with drain function, which helps to drain the entire water system faster.
This is a reliable long-term caravan water heater. It's considerably more expensive than the other options in our list, but it heats much more water for continuous use.
It's recommended that any Whale water heater be installed (and serviced) by a fully qualified gas engineer.
What Type of Water Heater Should I Buy?
There are two main types of water heater to consider:
Tank Based Water Heater
Tank based models are typically powered by propane, and the heater has a water capacity tank which will allow you to fill it will water manually. This amount of water will usually range anywhere from 5 litres to 15 litres with this being dependant on the model that you purchase.
Although some caravan water heaters will only work with Propane, others will allow you to use electricity hook up to offer an alternative power source. It's essential you check the power requirements of your ideal model before purchasing.
The unit will generally have a direct spark ignition that needs to be started to get the unit underway but be sure that your caravan is first parked and stable. Direct spark ignitions are much easier to operate, and the best water heaters will have inbuilt safety systems to stop things from going wrong such as the water pressure or temperature going too high.
Tankless Water Heater
Judging by the name, you have probably correctly assumed that tankless water heaters are a step up from tank-based water heaters. Tankless water heaters are more advanced to make your life easier.
These heaters will immediately heat your water once you turn your water flow on such as your shower or tap. The device also means that you don't need to fill a tank with water and it only heats the water when you need it. Tankless heaters are becoming more and more popular amongst the caravan community; however, it's important to note that because of their extensive benefits, they often cost more.
Top Benefits of a Tankless Water Heater
Compact Size
Tankless water heaters are usually smaller in size, and most peoples caravans space is at a premium, so this will free up some much-needed space. It's not unusual for a tankless system to take up half the space of a standard water heater.
This also means that you can fit it away from view, so you won't even realise that it's there.
Energy Savings
Tankless systems utilise energy more efficiently, which means that your gas reserves will last longer, which is even more important in a caravan environment, especially if you're not near a refill station. The main reason for less energy usage is because unlike a standard water heater, it doesn't need to continually maintain your water at a specific temperature at all times.
Environmentally Friendly
These energy savings are not only good for your wallet, but it's also great for the environment as you will be consuming less gas or electricity, making this a more environmentally friendly option.
No Wait Times
Water in this system is on-demand which means you will never run out of hot water, especially if your heater is powered by both electricity and gas. No matter the time of the day, you will be able to turn the tap on, and it will come out at your desired temperature.
No Water Tank To Refill
With this type of caravan water heater, you don't have to refill the tank with water, but you will still have access to an endless supply of hot water. Also without this tank, you're caravan load will be lighter.
Easy To Alter Water Temperature
Tankless systems often have an LCD display that allows you to easily and quickly change the temperature of your water to your preferred heat level.
Caravan Water Heater Power Sources
So for caravans, there are two main types of water heater, but they both have the potential to have the same power sources. Depending on the quality of your unit, you'll either be restricted to one power source or have two options:
Electric Water Heater
An electric caravan water heater can usually be powered by 120 volts of electricity which most caravans are equipped with. This means that all you need to do is plug it into your sockets and switch it on so your water will begin heating.
Because they're powered by electricity, it means that you can either run your water heater using your caravans electricity source or through the camp pitch sites electricity.
This makes electric water heaters extremely convenient because they are also energy efficient compared to Propane options. However, because of the savings, you make in energy, this often makes electric water heaters more expensive.
Propane Powered Caravan Water Heater
Propane water heaters have been around for the longest, and if you have an older style caravan, then there is a high chance that your existing water heater is Propane powered. They are the most trusted type of water heater because they have been in the market for many years.
They can be powered in two main way with the first being using a direct spark ignition and the second way using a manual pilot light. Of the two, direct spark ignition is the preferred method because they are easier to use while also using more advanced technology.
We'd always advise that you choose a direct spark ignition water heater. If a pilot light it goes out, you'll need to physically light a match to get the system going again especially if you're wary of having matches or lighters in your caravan.
Electric & Propane Water Heaters
The best caravan water heaters will give you an option of choosing between electric and liquid Propane. This gives you more flexibility so you can not only pick your preferred source, but then you always have an alternative source if your preferred source is not available.
You can never be certain when you're caravanning, especially if you're off-grid, so it's great to have more than one option to ensure you'll get a warm shower each day.
Buying A Water Heater For Your Caravan
Here are the main factors to consider:
Power Source
One of the main decisions you need to make is the power source for your water heater and as we've previously covered you have three main options being electric only, liquid Propane only, and a combination of the two.
Ideally, you should choose an option that gives you the flexibility of using both to give you added peace of mind that you'll always have a way to access hot water. Of course, water heaters that have a combination of power sources will generally be costlier so if you're on a stricter budget then you should either pick electric or Propane only.
You also need to ensure that the power source you choose matches the power source that you have access to. The last thing you want to do is pick a Propane powered water heater and then realise that you'll only have access to electricity.
Water Heater Size
Once you understand your desired water heater size, then this will make the buying process much simpler. Otherwise, you may mind it hard to make a final buying decision, or you'll end up with a water heater that doesn't fit into the same space where your old heater was.
All you need to do is measure the size of your existing unit or space where the water heater will be installed. If space is a minimal, then a tankless water heater will be a better option due to the additional space that a tank-based water heater will need.
Heat Output
Heat Output is measured in British Thermal Units or BTU and the higher the BTU, the greater the efficiency at generating hot water, so ideally the better BTU water heater you choose, the better service and quality you will be provided with.
Generally, the higher the BTU, the more expensive the unit will be so the best strategy would be to buy the highest BTU model that fits into your budget while also ensuring the other features of the unit fits your needs.
Water Capacity
You need to consider the actual water needs of your caravan. This will be dependant on factors such as how many people will be onboard? How many showers will you take each day? You need to buy water, a heater that has the capacity to supply you with enough hot water.
The capacity of water heaters is usually measured in litres, so if you're a family, then you'll need a bigger unit than the standard size of 5 litres. There will always be a limit in the size of a water heater so if you find that you can't find one big enough then you can always limit your hot water consumption by employing water-saving techniques such as shorter showers or only using hot water when it's completely necessary.
To avoid having to restrict hot water usage, you could always use a tankless system.
Durability
A water heater isn't something that you want to have to replace every year, so durability is an important factor to consider. You can ensure that you're buying the best water heater buy checking that it's made from high-quality materials.
High-quality materials mean that it won't fall apart or crack if you're driving over rough terrain while also being rust and corrosion-resistant.
Water heaters aren't cheap, so you'll need a product that'll deliver reliable service for many years. If you're buying from a new manufacturer, then you can always read user reviews which will highlight any potential issues, and it'll save you the bother of having to replace it in just a few months.
Ease of Installation
One factor that's often forgotten about is the installation of the water heater. People often flock to a model then realise when it's delivered that it's harder to install than they realised. It's essential to read the product description and also user reviews to find out how easy it is to install into your caravan because there's no point having a water heater that you can't even get running.
Most manufacturers will also provide installation guides both online and offline as well as providing phone support. If you can afford it, you can also pay for an installation service so a profession can get you up and running.
This can also be combined with a water filter to improve the overall water quality you have access to.
Warranty
Any consumer product has the chance of becoming defective regardless of the price. Some form of warranty will usually back a high-quality product, so it's important to consider whether your desired unit comes supplied with one. Warranties can vary depending on the manufacturer, and the coverage can range in length anywhere from six months to a lifetime.