Awnings are a great way to extend the space of your caravan while not costing you a lot of money. However the issue with awnings is that most don't have lights built-in, so when it turns to night time you have no available light sources, and you might end up using temporary solutions such as lanterns or torches.
Awning lights are a better way of lighting up your awning so you can continue your activities well into the night. With the advancement of technology, LED lights are a low cost yet effective way of lighting your awning.
There are several factors you need to consider when you're looking for a light source just like you would with any other type of electrical component or appliance. Without this research, there are several mistakes that you can make, such as buying lights that use too much electricity.
In this guide, we've reviewed the best caravan lights available plus what you need to consider before making a final buying decision.
Outdoor Revolution Lumi-Mosi Mosquito Light for Awnings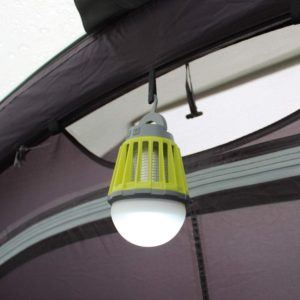 Introducing the Outdoor Revolution 2 in 1 Ultra-Violet Mosquito Killer & LED Lantern Light which doubles up as a lantern light and an ultraviolet insect killer. This is designed to deliver a lovely evening ambience so you can see clearly inside your awning.
This also removes your living space of insects before they get settled. The light is rain resistant and comes with a fold-out hanging hook so you can hang it up. You have the choice of three brightness settings allowing it to be used as a dim night light, medium light,  or a bright ceiling light to illuminate your whole awning on those dark nights.
The light is rechargeable via USB port, and on a full charge, it can deliver around 8 hours of light.
KKmoon 12V RV LED Awning Porch Light

This KKmoon awning light is an excellent solution to lighting your awning. It comes waterproof, so you don't have to worry about it failing in the rain. It has a LED light which has a lifespan over 30,000 hours so doesn't require you to keep having to change it while also using 85% less energy than traditional light sources.
The light is easy to install due to it being lightweight so you can mount it onto your ideal position in your awning. This is proven by the fact that it weighs just 143 grams.
Maypole 12v Awning Lamp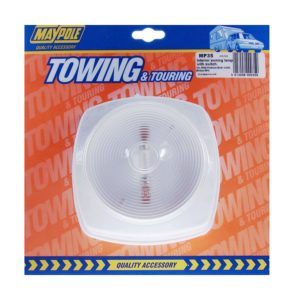 Maypole have been creating caravan products for decades and have elevated themselves to one of the best in the country due to their high-quality products. This 12v awning lamp isn't the latest model on the market, but this is great for those that have older types of lights and want the closest type of replacements. This means it'll take less time to replace.
It's low wattage so will use minimal energy while also being deceptively bright so can send a significant amount of light through your awning with no problems. This light is built to last, and it's normal for this type of light to not need replacing for many years.
Maypole 12v Halogen Awning Light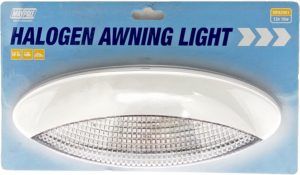 If LED lights aren't your preference, then Maypole has got you covered with this Halogen 12v awning light. This light is covered by a full OE Quality Warranty and makes a great replacement if you've got an existing awning light that needs replacing.
The light is low wattage so you can expect that this won't add any vast sums to your energy consumption.
Marvix LED Awning Light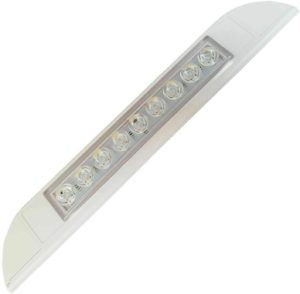 The Marvix LED awning light has an energy efficiency rating of A+, so there's no need to worry about using too much energy. The light is also CE Certified, and RoHS Approved from a safety regulation perspective while also having an integrated switch, this makes it a high energy-efficient replacement for your old traditional light.
The light delivered 550 Lumens which is powerful considering its size and would be a great addition to your new or existing awning.
Awning Lights Buying Guide
Brightness
LED lights are measured in lumens which determines how bright the lights will be and how much space they can fill. The bigger your awning is the more lumens that you'll require. It's not as simple as buying the highest number of lumens because if you have an LED that distributes the light in 360-degree directions, this will need more power than a LED light that spreads the light into one direction.
Due to the nature of an awning, you'd probably want an LED light that spreads the light in more directions.
For example, if you're trying to light a small tent, then 300-500 lumens will probably be sufficient, whereas if you're looking to illuminate a large awning then you will need at least 600-700 lumens and you'll need more than one LED.
Price
Price is an important consideration because awning lights come in shapes and sizes, which then means that they come in a range of prices too. Lights with higher quality bulbs and more features will have a higher selling price, but this usually means that they will last longer so you won't have to run out and replace them after every trip.
The brand will also affect the selling price of the lights as the top premium brands will normally have a higher selling price. Your budget will be determined by the number of lights that you need and the size of the space that you're trying to light.
Having a budget is recommended because then you can instantly rule out certain models so you can then make a quicker purchasing decision.
Weight
If you're going caravanning, then everything you take on board adds more weight to your load, so you need to understand the weight of your lights, especially if you have a big set up. You'll also need to carry them to put them into position so big heavy lights can be hard to get into position, so it makes sense to stick with lightweight solutions.
Linked to weight is the size of the lights because when they're not in use, you'll want to be able to store them away from view discreetly. You don't want to have to store them in the middle of your caravan living space.
Warranty
Like any electrical appliance or item, there is always the chance that a fault can develop. To cover yourself you should understand whether your awning lights are supplied with a warranty period to cover you.
Warranties last for a while after purchase, and if any fault occurs with the lights, then you are covered by the manufacturer to give you added peace of mind. It's also another sign of trust from the manufacturer that you're purchasing a higher quality product that they back themselves. There no standard warranty period and it's up to the manufacturer to choose the length but generally the can range from 1 year to lifetime.
Power Usage
Electricity is a premium commodity when you're caravanning so you should understand not only what power source your lights need but also how much power they need. Your awning light requirements will depend on the number of lights you have, their Lumen rating, and how long you plan to have them on for.
In terms of power usage, you should understand what energy efficiency rating your lights are, and this is one way to limit their power consumption while still enjoying their lighting capabilities.
Ease of Use
You'll want awning lights that are easy to set up and don't require you to be a lighting expert. The last thing you want is to go caravanning, and every time you set up your awning, you need to battle with setting up the lights as this will quickly get frustrating.
We've included awning lights in this guide that are easy to install. Still, you can also look at the customer reviews left by users who will describe their personal experiences so you can understand how easy the lights are to use, allowing you to make a more informed decision.
Durability
Let's face it when you're in the outdoors caravanning; your equipment is likely to be dropped, rained on or stepped on so you need to have items that can withstand a few bumps and knocks without breaking. Most LED lights will have some form of water resistance; this doesn't mean that you can have it out in the rain, but if you have an accident and spill water on it then it won't completely break.
LED lights are generally the most durable type of lights compared to a traditional light bulb. The more durable your awning lights are, the longer they will last, which means you won't have to replace them as often.
How to Attach/Mount Lights to Caravan Awning
Once you get your awning lights the job isn't over because you need to decide how you're going to mount them to the inside of your awning. There are several methods of doing this, but the simplest way to do this is to use tape if you're looking for a DIY makeshift way.
By understanding your awning size you can make a better decision or refer to our guide for the best porch awnings.
A more improved method is to use strips which have an adhesive layer on the back so you can attach them to almost any part of your awning. You stick one on your lights and the other on the surface that you want to attach it you. It's recommended you buy one of the top adhesive strip brands because this means the attachment will last for longer.
Using adhesive strips gives you greater flexibility so you can do what works best. Ideally, you want to position your lights higher up as this will generate the most effective light distribution, which means you'll need fewer lights.