When we're at home, there are lots of appliances that we use daily but take for granted. However, when you hit the road in your caravan, you quickly remember the convenience that these products bring.
This is certainly the case with hair dryers.
Let's be honest, having wet hair after a shower is an inconvenience – you just want to quickly dry your hair and go about the rest of your day.
Luckily there are 12V hair dryers which can plug in to your caravan (or car), providing a quick and easy method of drying your hair.
However, several things separate a 12v hair dryer from a conventional home hair dryer, and we'll show you the features you need to consider to ensure that you choose the best hairdryer for your needs.
Let's get started!
The Best 12v Hair Dryers For Your Travels
These dryers are great for plugging in to your car, caravan, campervan – or just about anywhere else with low wattage power available.
12V Hot & Cold Hair Dryer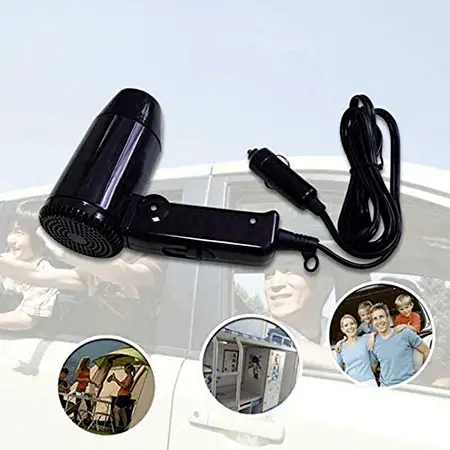 With this MP essential 12V hairdryer there is no excuse not to have a hairdryer on your caravan travels. It has a compact design with a folding handle which makes it easy to store away when not in use. It also has a dual use of being effective at defrosting your vehicle windows.
The hairdryer has two-speed settings and a 1.2-metre power cable which is handy, giving you greater freedom to use it throughout your caravan. The speed settings can be switched depending on the type of hair you have, and its heat demands. 
The hairdryer also has to overheat protection to keep you safe while using. You can simply use it by plugging it into a 12v power socket or other caravan power supply.
How does it compare to a normal hair dryer?
Well, let's be clear – it's nowhere near as powerful. Because the device is low wattage, it doesn't heat up as effectively as the one you have at home.
Most users will find that it does the job though. It will simply take a little longer to fully dry your hair.
Streetwize Travel Compact Hair Dryer 12V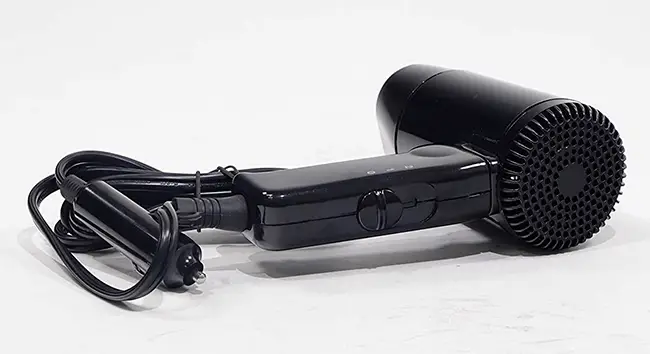 Another cheap and cheerful 12v hair dryer that is popular for camping, festivals, or caravan use.
The StreetWize hair dryer has a compact design with a folding handle which provides an easy storage solution. It also has two-speed heat settings making it suitable for a range of hair types. 
It's worth noting, if your hair is particularly thick or long, it will take considerably longer to dry with a portable hair dryer than with the one you use at home. The air is cooler.
This model has a 1.2 metre power cable while also having overheating protection making it safe to handle. The hairdryer can also be used for fast defrosting of any vehicle. The hairdryer uses a power source of 12v which can include a vehicle's cigarette lighter power source.
Monsun 12v Hairdryer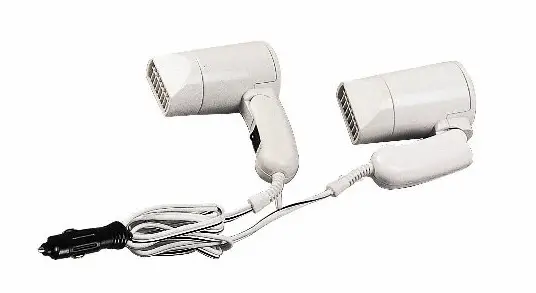 The Monsun hairdryer runs off 12v power supply, including your vehicle's power outlet. As is the trend, it has a folding handle so it can be quickly and discreetly stored away when not in use.
It's tough to find a hairdryer running off 12v that actually blows hot air, and the Monsun model is no different.
Yes, it will dry your hair – but it will take a while, and the air is a lot cooler than what you might be expecting.
On the plus side – it's cheap, and gets the job done (eventually!).
How to Choose a Caravan Hair Dryer
Weight
12v hair dryers are generally light to hold, but when you're drying your hair, this can start to cause your arm to ache, which is why you should consider buying a lightweight model. This makes the whole process easier and without issues.
This is even more important if you've got long and thick hair which means that you'll be drying for a more extended period.
Hair type 
You need to consider your hair type when it comes to choosing the best caravan hairdryer. If your hair is curly or thick, then you'll need a powerful hair dryer that has a higher working temperature. Whereas if you have light and fine hair, then a lower temperature hair dryer will be sufficient.
Temperature
You should consider the heat settings on your desired hairdryer. Some hair dryers will have only one heat setting, whereas others will give you the option to toggle between heat settings and functions.
Most 12v hair dryers are restricted to a single heat setting.
If you need more heat, consider a battery powered option.
Noise
Nobody goes out and buys a noisy hairdryer, but this can not only irritate you but also those within close vicinity who have to hear you use it. This is also important if you plan to use it early in the morning or late at night when other people could be sleeping.
Generally, the more expensive models will be quieter in operation. This is especially important if you have longer or thicker hair because you'll be using it for longer.
Cable Length
The cable length is an important thing to consider for your desired hairdryer. This will depend on your personal needs, including how far away your plug socket is from your mirror. 
A hairdryer with a shorter cord length is less versatile, whereas with a longer cord you have the freedom to use it throughout the area of your caravan.
Power (watts)
Similar to a 12v hair straightener, the most important consideration that is caravan specific is the amount of power that it will consume. If you're in a caravan, then power is limited, so you'll need to use it wisely so making sure you're aware of how much energy your hairdryer consumes is essential.
There's no point picking the lowest wattage hairdryer because if you have long or thick hair it may take considerably longer to dry your hair, so you need to strike a balance between the two.
Brand
There's no doubt that you've come across the big brand names in the hair drying industry, but it's essential to understand the benefit of choosing a reputable brand. A well-respected brand has likely been supplying products for several years to build up a strong reputation due to its high-quality products. 
This will give you the added peace of mind that you're buying a high-quality product that will last. The better brands will often cost more, but this is countered by the fact the products usually have a higher build quality meaning that they last longer.
Guarantee
Just like any electrical appliance, due to the complex electronic components, there's always a chance a fault can develop.
For this reason, it's important to understand if your chosen 12v hair dryer comes with a guarantee. This will ensure that if the product becomes faulty or breaks, then the manufacturer will offer you either a replacement or repair.
Guarantees will vary in length, but generally, the higher quality models will be supplied with longer length guarantees.
Attachments
Having additional attachments for your hairdryer such as combs will bring added convenience because it means that you don't need a separate comb to style your hair. This not only saves you time but also space because your hairdryer can be used as an all in one solution instead of having separate products for each part of your hairstyle routine.
These attachments also make your hair look better, so you get a better result from your hairdryer.
Size
The size of your hairdryer is even more important in a caravan because space is limited so generally the smaller and lighter it is the better. This is also important because a smaller hairdryer can be stored away easily in a cupboard because it's likely you'll only be using it once or twice a day at the most.
Safety
Hairdryers are powered by an electrical current which means that you need to respect it because it has the potential to be hazardous. You must check your desired hair dryer has the necessary safety certifications, which means that the model has been checked and cleared for being safe to use.
This information will be clearly on the label of the packaging, and you mustn't purchase a hairdryer without these certifications because it could be unsafe. For example, this could lead to it catching fire when you're using it.
Price
Just like any electrical appliance that you buy, you'll have a budget in mind. The price of the 12v hair dryer that you buy will largely determine how good it is. As a rule of thumb, the more expensive models will most likely be manufactured by more reputable companies and will have a greater number of features. 
A higher-quality hairdryer will often use better quality components which means that it will have a longer life and will be less likely to develop a fault.
Closing
It's clear that a 12v hair dryer is never going to be as powerful as your hairdryer in your home, but it's still considerably more effective than drying with a towel, which makes the small investment worthwhile.