Several products can make your caravan maintenance easier to manage, and caravan jack pads are one of the most important.
They allow you to increase the space between your caravan and the floor to make it easier for you the access the underside of your vehicle. You might also hear them referred to as steady feet or steady pads.
A caravan jack pad is an essential piece of equipment that is designed to help lift your caravan while maintaining stability in combination with a caravan jack. The best jack pads will deliver industrial-strength, which means that they will last for many years. 
In this guide, we'll be showing you the best caravan jack pads on the market – and the top factors to consider when buying them.
5 Best Caravan Jack Pads
There are caravan owners who create their DIY jack pads; however, this can bring safety risks, especially if your body is under the vehicle.
So we'd always recommend buying a jack pad that has passed several safety regulations and has been thoroughly tested.
Caravan feet pads aren't something that you regularly buy, so let's take a look at the top options on the market today.
Ko-Pads Heavy Duty Caravan Jack Pad
The Ko-Pads Heavy Duty Caravan Jack Pads quickly attach to your corner steady feet to effectively distribute the weight – giving plenty of extra support to your caravan. 
These are specifically designed for caravans so have extra durability which is provided by the durable composite material. It will withstand the weather elements to resist any cracking or fading. The Ko-Pads are also supplied with a five-year warranty to give you added peace of mind.
A simple and effective solution for lifting your caravan.
Outdoor Revolution AC450 Caravan Jack Pad Feet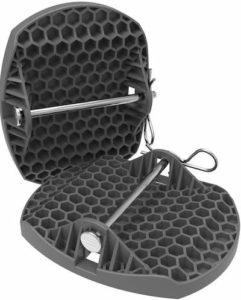 The best caravan jack pads need to be built from tough, durable materials and the Outdoor Revolution jack pads tick these boxes. Made with a robust and durable metal pin, it has added durability, and once you've installed them, you don't need to keep removing. At the same time, no additional tools are necessary for installation.
The jack pads effectively spread the load of your caravan to decrease the amount of sinkage. The jack pads have a universal fit making them compatible with 99% of caravans on the market.
Maypole MP4976 Caravan Jack Pad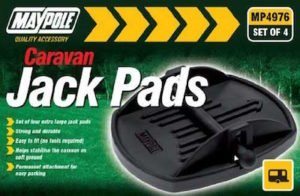 Maypole is an established company in the caravan and outdoor industries, and this pack of 4 jack pads provides you with a universal fit for all types of caravan legs. They are extra-large in size while also being specifically designed for caravans to fit onto the corner steadies.
These jack pads improve stability, especially on softer ground where this is needed the most. The jack pads are supplied with fixings that make them easier to fit in less time.
Deluxe Caravan Jack Pads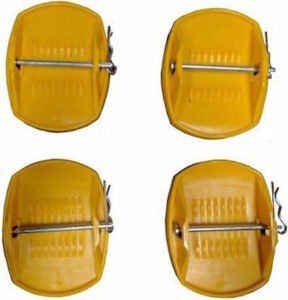 Coming in a set of 4, these deluxe jack pads are made using steel pins instead of plastic pins which give them added reliability when connected to corner steady legs. The pads easily fit onto the corner steady legs to provide greater stability and reduce the amount of sloping and unwanted movement even on soft ground and mud.
The pads require no additional tools to operate, and they have a wide base while also being supplied with a 30-day no-hassle return period.
Fastcar Set of 4 Caravan Jack Pads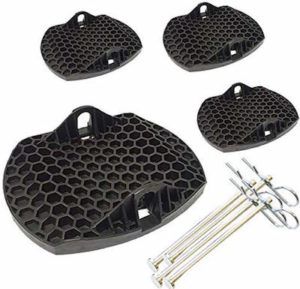 Although a relatively unknown brand, this product delivers reliable operation to stabilise your caravan even on soft or loose ground. The kit includes four pads and pins made from extremely durable material while also being easy to install so you'll be up and running in no time.
Their level of durability means that they can be used in even the most aggressive weather without failing.
Top Benefits of Using Caravan Feet Pads
Low Cost 
Caravan jack pads are relatively cheap, especially considering they can deliver year after year of consistent and reliable performance. 
Safe
When compared to DIY solutions, caravan jack pads are extremely safe and allow you to fully focus on your repair task instead of worrying about any potential danger or accidents happening. 
Easy to Use
High-quality caravan jack pads will be easy to use and install them so you can be up and running within just a few seconds.
Durable
The best caravan jack pads will have a high maximum weight capacity and also be made of durable materials that won't crack or snap under pressure.
Weatherproof
The weather in the UK is always unpredictable, and caravan jack pads can withstand the harshest of weather conditions while still delivering high-quality performance.
Versatility
The best caravan jack pads can integrate with other caravan repair tools such as levelling blocks, so you get more use out of your products, offering added value for money.
What To Look For In Caravan Jack Pads
Durability Is Key
No matter what caravan jack pad you decide to buy it needs to be extremely durable because the last thing you want is for it to bend or snap when you have your caravan on the jacks.
You need to ensure your jacks can withstand any sudden changes in weather conditions such as heavy wind or rain. UV protection also means that the material won't be damaged by sun rays.
It's essential that they can also handle the weight of your caravan so you should stick to industrial-strength jack pads. This will give you confidence that they will function correctly. 
Added durability can also be provided with material such as resin which gives the jack pads added strength. 
Don't Skimp on Price
You should aim to avoid choosing a jack pad-based solely on price because they're all generally fairly priced and the aim should be to purchase a high-quality product. Manufacturers know that consumers love to find a bargain, but this can lead to them cutting corners in the manufacturing process so they can list them at a low price. 
Do a bit of price research and then decide on the maximum you're willing to spend on the jack pads. By having a budget, you can then narrow down the number of options available to you, which then makes the purchasing decision much easier. 
The higher quality product and features, the more expensive the product are likely to be.
Weight Capacity 
Not all jack pads are built the same, and they will vary in their load capacity rating, which refers to the amount of weight that they can handle. The best caravan jack pads will have a higher and more reliable load capacity weight.
This quality is what separates the average models from the high-quality models, so if you have a larger sized caravan. It's recommended to buy jack pads that have a capacity that's more than your caravan weight.
If you don't do this, then this can cause serious accidents if the jack pads fail under the pressure of your caravan. 
Quantity of Pads Included
Caravan jack pads will come in various quantities to give you a range of options when you make a purchase. It's uncommon for a jack pad to be sold in single units and will normally be supplied in multiples.
You need to understand how many jack pads you need depending on your requirements, such as how high you need to elevate your vehicle. You will also need to consider the weight of your caravan compared to the weight capacity of your desired jack pad as this will affect the amount you need to secure your caravan into position safely. 
Having a higher quantity will also mean that you can have spares stored away so when it's time to change, you won't need to spend more money and wait for them to be delivered because you'll already have them on hand.
Caravan Feet Dimensions
You need to consider the size and shape dimensions of your desired jack pads as this will play a large role in how well it functions when you're using it.
Generally speaking, high-quality jack pads will be wider because this means that it has a larger surface area which provides greater stability to lower the risk of the jack moving.
This larger surface area distributes the weight of your caravan more effectively, so cracking is less likely. A wider shaped jack pad will cost you more money, but it will be noticeably more effective, allowing you to carry out your caravan work more successfully. 
Warranty
Higher quality products tend to come supplied with a warranty that gives you extra protection against any defects that occur with the product.
This gives you added peace of mind that if anything goes wrong with the product that the manufacturer will be there to assist you. 
Not all products will come with a warranty and the length of the warranty will be down to the brand and can last anywhere from 30 days to life-time, so this needs to be taken into account when you consider the price of the jack pads.