Caravan manufacturers aren't well known for having the best interior design – they usually opt for function over fashion.
The good news is that things such as caravan taps can be easily replaced.
Caravan taps aren't always universal, and they won't be the same as the kind you'll find in your residential home. Taps for caravans and motorhomes are often designed slightly different to ensure that you can get your freshwater delivered to your sink as quickly as possible.
In this guide, we'll show you not only the best caravan taps but also the things you need to consider before making this key kitchen purchase.
Let's get started!
5 Best Taps For a Caravan Kitchen
Once you buy your caravan, you may want to add your personal touch to make it more unique to your taste and styles.
A new set of caravan mixer taps can add a nice flourish to your kitchen – as well as a more reliable water supply!
Here are some of the best caravan taps to consider:
Whale Elegance Long Spout Mixer Tap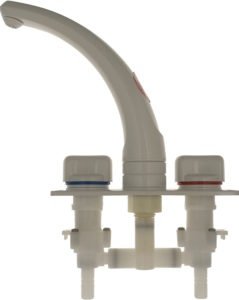 The Whale Elegance Long Spout Mixer Tap is suitable for both pressure or microswitch systems and comes supplied with the microswitch. It has base dimensions of 165 x 63mm with 86mm below surface.
The tap is for use in a freshwater system where the pump needs to be switched on and off via the switch in the tap. This makes it suitable and great for use not only on caravans, but also motorhomes and boats.
Whale has been around since the 1940s and specialises in electronic pump systems for recreational vehicles. They have a number of useful solutions for caravan users, and this mixer tap is just one of many bestsellers.
Comet London Cold Water Tap Single Lever 12V Microswitch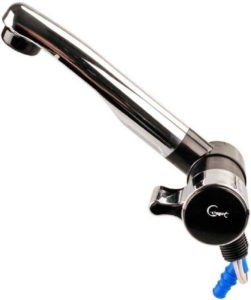 This single level Comet Cold water tap has a with folding spout and is compatible with micro-switched water systems. It has an in-built microswitch as well as a 150mm length spout.
This tap is straightforward to install and is nicely finished, so it will look great in your caravan kitchen. The folding spout means that you can adjust its position according to your needs.
A good 12v tap for camping, caravans and any other motorhome.
Hot & Cold Mixer Tap Comet Florenz SMEV AC 539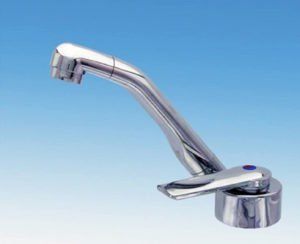 The Comet Florenz mixer tap is a single folding lever which provides you with both hot & cold water. The mixer tap has a chrome effect finish and comes supplied with a microswitch.
The tap is 40mm high and has a minimum installation hole of 33mm. The spout length is 150mm, and the tap is supplied with 12mm 1/2″ barb water connections, so you have more than enough to get started.
It's a simple and popular replacement tap that you'll find in many caravans across the UK.
Caravan Motorhome Comet London Mixer Tap Chrome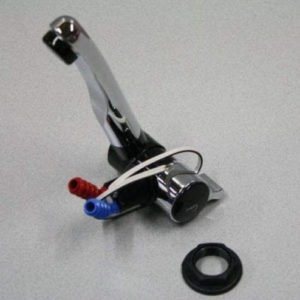 This Comet Mixer is fitted with a microswitch and has a 300mm cable length while being designed to fit 25mm installation holes. The installation is a bit fiddly, and it's not quite 'one size fits all', but experienced caravaners shouldn't have a problem.
The tap folds to a 40mm profile while also having a 150mm spout length. Considering the price, this is a nice and effective solution. If you're on a budget; then it would be a worthy replacement for your current taps.
Caravan Motorhome Micro Switched Single Water Tap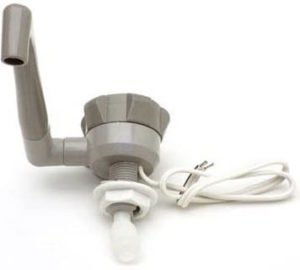 This Comet Cold Water Tap is finished in a nice shade of grey while also having a 16mm hole fitting and 12mm water pipe fitting. This tap is ideal for both conversions and replacements alike.
For added convenience, the spout can be lowered and twisted. It also comes micro switched for added handiness so you can have a much more stress-free installation.
That said, the tube can be somewhat tight to fit. If you have any issues, warm it up beforehand in boiling hot water and it should be easier to fit.
Are Regular Home Taps Compatible With Caravan Sinks?
Not always.
If you put a caravan tap and a standard home tap side by side then you may think that they are the same. But you need to understand that a caravan sink functions and is designed differently to a home sink.
The plumbing system is often different and more compact which a caravan tap is more suited for.
For example, the tap for caravans can often be connected to flexible hoses that are the standard plumbing systems in caravans.
In comparison, a home tap will normally have metal, threaded connectors that allow it to be attached to threaded metal pipes and hoses with adapters.
If you decide to use home taps in your caravan, then you'll need to make some adjustments to make it fit. Ultimately it will just take more work to fit them (if they can be fitted at all).
Why Change Caravan Taps?
Well, there are a few good reasons:
You Don't Like The Feel
The majority of caravan manufacturers place most of their focus in making their kitchens useable, but also as light as possible. This means that plastic fixtures are often prominent. Although this is perfectly fine – to begin with – after several months, they can become annoying to use. Especially if you're used to the type of taps that are in a traditional residential home.
The texture of a plastic tap is not the same solid feel that you get with a metal or higher quality plastic fixture. This can be even noticeable when you have wet hands because they can be harder to grip and turn.
Don't Like The Look
No one chooses to have plastic taps if they have the choice of stainless steel taps instead.
This is because plastic taps don't look as nice – and they aren't as sturdy – so if the opportunity presents itself to change them, you should consider taking it.
Steel Taps Last Longer
Plastic taps may work fine at first, but after several months you'll probably notice that leaks have started to develop. It might be tempting to choose plastic taps because of the low price, but this low price will later cause compromises in quality and durability.
Plastic taps will leak more sooner if you use them more frequently so you might find yourself having to replace them every year whereas metal taps have a much longer life. So we'd always recommend spending a little more on a quality metal tap because, in the long run, you'll save money.
What is a Microswitch Caravan Tap?
There are two main types of caravan freshwater systems to choose from.
Pressurised Water System
The first type is a pressurised system works as follows:
You turn the tap on
The pressure in the water system drops
This triggers a switch in a sensor that turns the water pump on
This then builds up the pressure up again.
Microswitch Water System
A microswitch is a small device that's located inside the tap unit, and this turns the water pump on to regulate pressure.
What To Consider When Buying Caravan Taps
Tap Type
Single Cold Tap
A Single Cold Tap can be fitted into existing sinks that have one tap hole. This then connects to a cold water source, and you'll only be limited to cold water.
Mixer Tap
Similar to a Single Cold Tap, a mixer tap is installed through a single tap hole. Water is supplied straight through the single fixed spout; however, these taps provide both hot and cold water, and you can toggle between the two.
Ease of Installation
No matter how good you are at installing fixtures, you'll still want a solution that takes as little time as possible. You need to install your taps correctly to ensure that there are no leaks or gaps so you can make the most out of it.
The best caravan taps don't require extra tools or a plumber, making them easy to install. You should check that your chosen caravan tap comes with users guides or any phone/web support.
You can also check out user reviews to see the experiences of users so you can gauge how difficult the product is to install.
If you realise once you receive the tap that you can't install it, then you can either return it for a different model or hire the services of a professional plumber.
Compatibility
This may seem like common sense, but it's important to remind you that whether you're buying your first tap or this is a replacement you need to ensure that you tap is compatible with your sink space.
You can do this by checking the number of holes in your sink with most having between one and three holes which are adequate space to fit taps with either one or two handles.
Buying a faucet that is compatible with your available space makes installation a lot easier. It will prevent you from needing to make any DIY adjustments and changes to your caravan worktops, sink or plumbing. A caravan water heater will also help to provide you with warm water.
Arc
You may be wondering why the tap arc is important, but we recommend that you choose a tap that has a high arc. This is because it gives you more space to clean your dishes, whereas a lower arc will reduce the amount of space you have to rinse your crockery.
In simple terms, a higher arch provides more space to work with, making cleaning much easier.
Warranty
When you purchase your caravan tap, it's important that you feel happy with your product. A product warranty will cover you for any defects or malfunctions that occur in the future. Most products will come will some form of warranty, and during this warranty period, this means that the manufacturer must replace any parts that break or stop working.
As you'd expect the higher quality models will come with longer length warranties so it's often worth the extra money to spend on a more expensive unit because you will save on repair and replacement fees in the future.
Price
No matter how much money you have, it makes sense to set out a max budget. Generally, the higher quality taps will be more expensive, but this isn't a definitive rule, so you need to pay attention to the product description and features.
Setting a budget will also make the buying process easier as it will instantly cut down your potential choices so you can make a quicker decision. After all, you don't want to spend weeks deciding which taps to buy.
Water-Saving
If you're using a caravan then naturally you'll be limiting the amount of water you're using, especially if you're off-grid. The water usage of your chosen taps is a vital consideration to make before spending your money.
If you're going to be in an area which often has water shortages, then you're better off with a tap that has water-saving features. You can do this by choosing water-efficient taps which can easily be checked as they'll have certifications such as an EPA certification.
The quality of the valves will also affect water-saving capabilities because low-quality valves can increase the likelihood of leaks, which is one of the main causes of lost water.
Ideally, you should choose taps that have ceramic valves because they are usually more durable, so they are less likely to leak.