If you have a motorhome or touring caravan, you know there are many reasons why you need a good ladder. We're going to take a look at the top seven options to help you find the best ladders for motorhomes, depending on what you need it for.
Types of Caravan Ladders
When you travel in a motorhome or caravan, there are a lot of reasons why you might need a ladder. But not every ladder is a good fit for every job. Here are five of the most popular types of RV ladders.
Multipurpose Ladder
As their name suggests, you can use a multipurpose ladder for many things, and they come in handy on long trips or if you're travelling off the grid. These ladders give you the extra height you need to clean high spaces and make repairs. You can use them for just about anything. Depending on how tall they are, multipurpose ladders are easily portable. Some of them even have telescoping legs.
Bunk Ladder
Bunk ladders have a very specific purpose: connecting bunk beds to one another. These ladders aren't portable. They attach to the wall or the bunks themselves so that whoever is stuck on the top bunk can easily access it.
Step Ladder or Stool
Step ladders or step stools are smaller versions of a multipurpose ladder. You can use them for many different things, and they're extremely portable. They aren't as high as a multipurpose ladder, but they're tall enough to help you reach in a high cupboard or get to anything stowed away in a high storage area.
Exterior Ladder
This type of ladder is the one you're probably most familiar with because it's right on the outside of the motorhome. Exterior ladders are primarily used to make repairs or do maintenance on the roof. Because they are attached to the outside of the motorhome, they withstand various weather conditions, including extreme temperatures, strong wind, and rain.
Best Ladders for Motorhomes This Year
Now that you know a little more about the types of ladders you might need in a motorhome, let's consider some of the best options out there.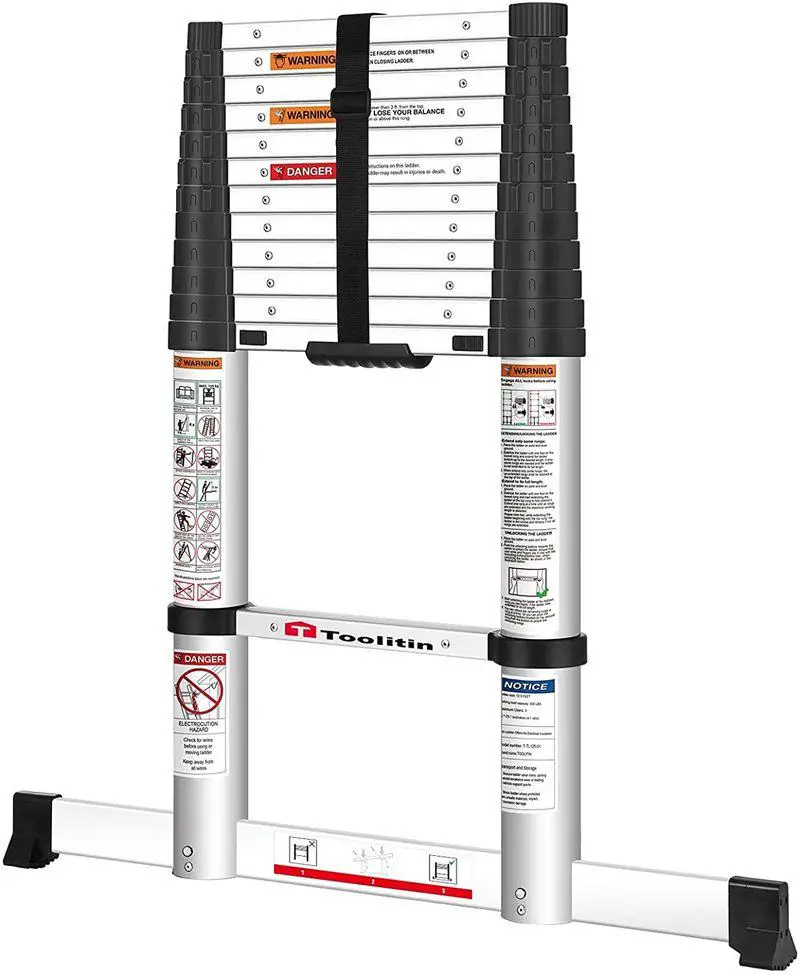 Here is a great option for people who are looking for a telescoping ladder. It's super easy to use, too. Toolitin recently upgraded the locking mechanism, making it extremely safe because it locks under each rung. Use the red button to adjust the height as you like, then retract the ladder safely and slowly when you're done.
The stabilizer bar and anti-skid features make it safe to use, even when extended to its full height of 3.8 meters. We also love that the premium aluminium alloy is both lightweight and extremely durable.
To make sure this ladder lasts, the metal is oxidized and the plastic pieces are reinforced with nylon fibres.
Features:
Impressive stability
Resists ageing
High load capacity of 150kg
Easy to extend and collapse
Audible clicks so you know when rungs are engaged
12 steps total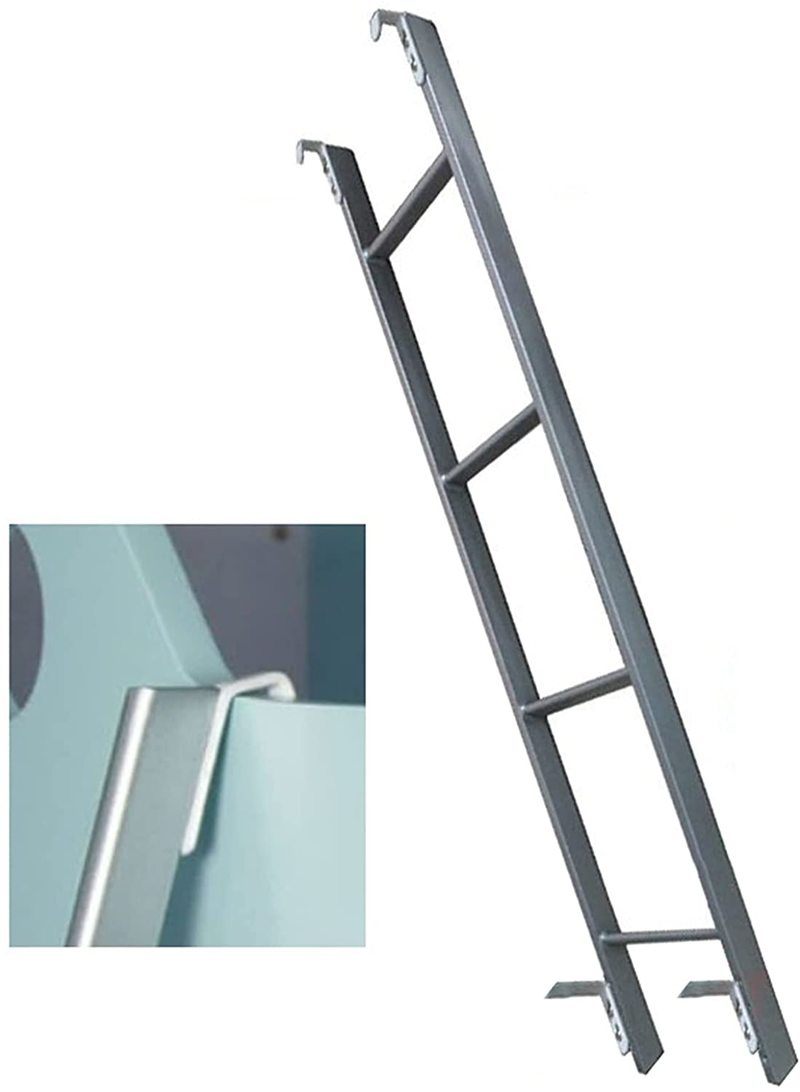 If you're looking for a safe and durable bunk bed ladder, we recommend this one from HWLL. It's made of strong, environmentally-friendly powder-coated steel and features wide, deep steps that make it easy for anyone to get up onto the top bunk.
Another great thing about it is that the edges are rounded and smooth, so you don't have to worry about anyone snagging their pyjamas or cutting themselves as they climb into bed. The rubber foot pads keep the RV bunk ladder stable and steady while protecting the floor from scratches.
Features:
Safe and adjustable
All hardware and parts are included
Simple installation
Adjustable height
Holds 100 kg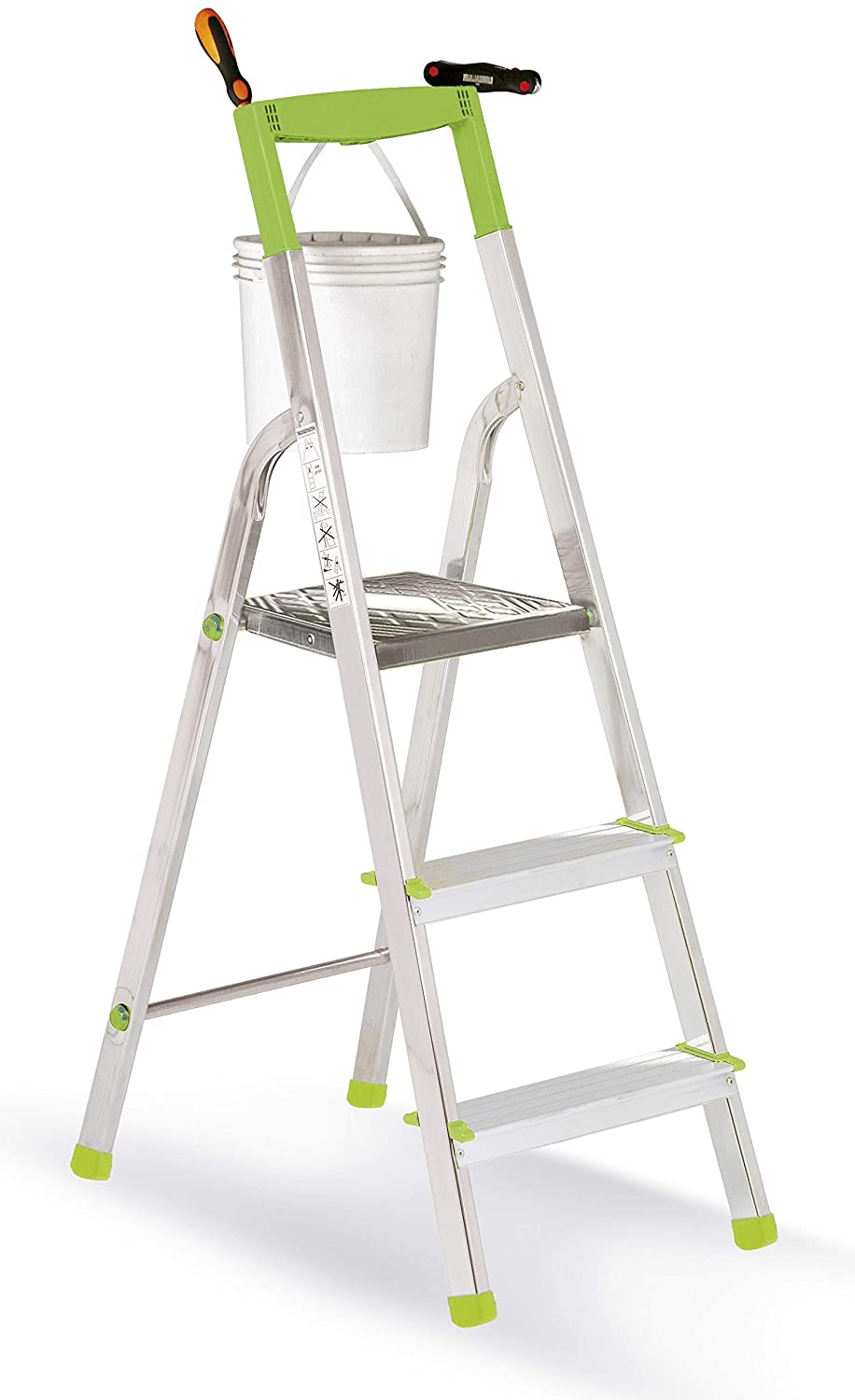 You never know when you're going to need a good step ladder, especially when travelling in a motorhome. Sometimes, you just need a little bit of height to do some cleaning or maintenance, and you don't want to have to drag out around a giant all-purpose ladder.
This ladder from Casabriko is a great choice. The sleek design is made of aluminium, so it's lightweight and won't rust. There's also a heavy-duty resin bar with a hook so you can keep your tools close by while you work.
Features:
Robust lightweight aluminium frame
Anti-rust
Non-slip, anti-scratching rubber feet
Total height off the ground is 62 cm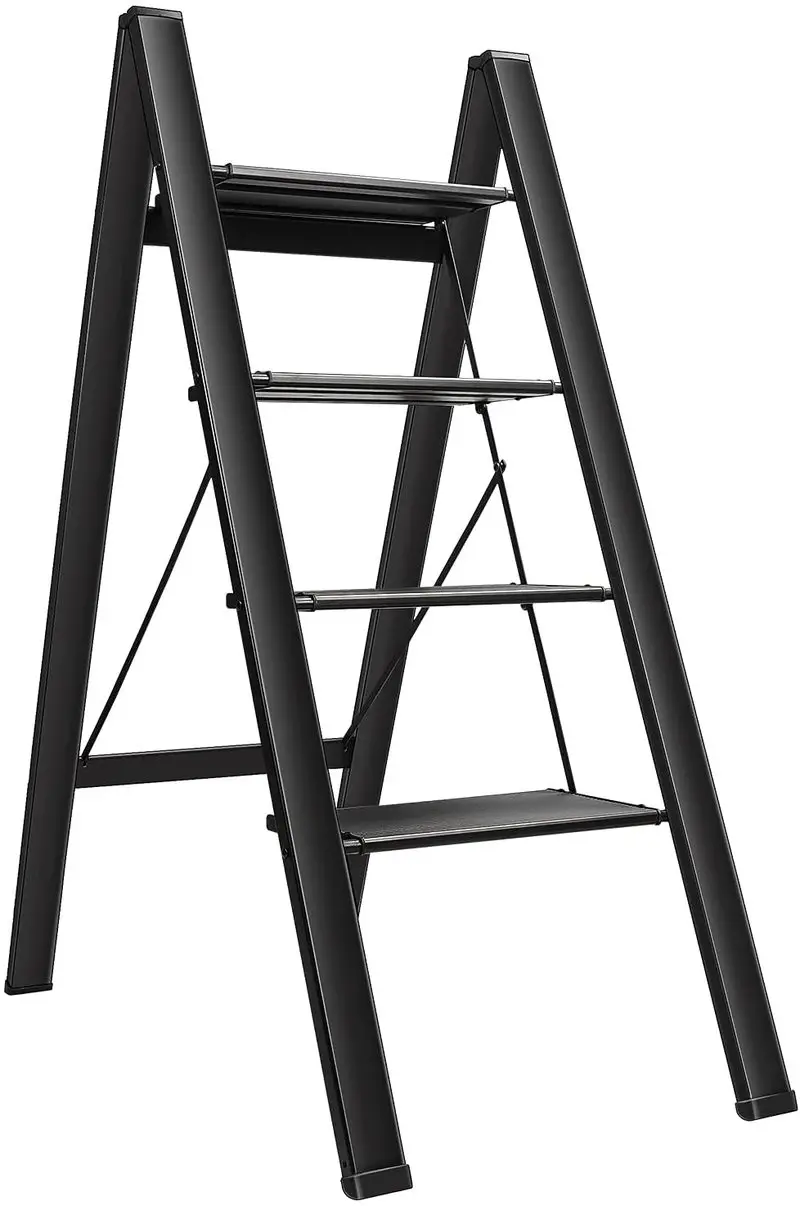 Another good option if you're looking for a good step ladder is this simple design from Exqui. It's made of lightweight aluminium alloy that won't corrode or rot like some other materials. It's durable, stable, and even though it weighs only 3.6 kg, it holds up to 150.
The thing that makes this ladder particularly suitable for a motorhome is that it folds up for easy storage, which is so important when you have limited space.
Features:
Convenient for transport and storage
Durable and safe to use
Large rubber feet won't slip and protect your floor
No assembly required
2 and 3-step options are available

If you need a new exterior ladder, we recommend this one from Surco. The exterior ladder is what probably comes to mind when you hear the words "ladder" and "motorhome" together, which makes sense. This ladder is one of the most important when maintaining a motorhome.
Roof maintenance is an essential part of keeping your RV looking and feeling new. You have to make sure you're taking care of the RV roof, keeping it clear of debris and scrubbing the surface to prevent any damage or breakdown. You also need to get up onto the RV roof to check other important motorhome components, like the air vents, air conditioner, and skylights.
This ladder uses heavy-gauge one-inch aluminium and features unique hinges that you can adjust to the contour of any vehicle. The dipped polish finish looks great and easily wipes clean, and the wide non-slip steps make it safe and easy to climb.
Features:
Durable aluminium frame
Adjusts to fit any RV
Easy to clean
Easy to install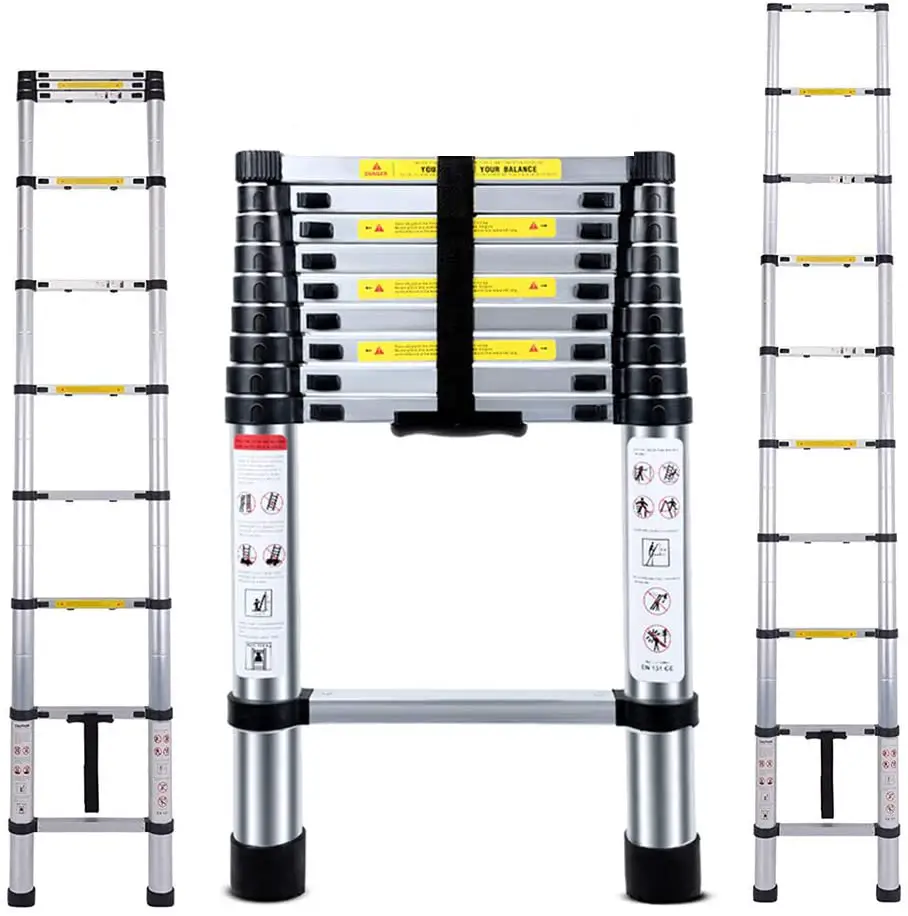 Multipurpose ladders are always a great choice for a motorhome because you can use them in so many ways. We really like this one Nineaccy. The model we're talking about is the 2.9-meter option, but there are 3.2 and 3.8-meter options available, too.
This telescoping RV ladder holds up to 150 kg, though it weighs only 7.4 kg. It folds down to a small size that's easy to store, and opening it and expanding it to its full height is really simple. There are audible clicks so you know that everything is properly engaged when extending it. Then, when it's time to put it away, you can manage this collapsible ladder with one hand.
These ladders are made from an extremely durable aluminium alloy that won't rust or corrode, and
Features:
10 steps
Easy to operate
Folds down for compact storage
Adjusts in one-foot increments
Wide steps with non-slip grips

Here's another great option if you're looking for a bunk bed RV ladder. One of the things we like the most about it is that it's made of pine. There are two colour options available, too, brown and natural, so you can choose the one that goes best with your interior.
This ladder holds up to 150 kg and weighs only 5.5 kg. The steps are wide and deep, making it safe for your little ones trying to climb up to the top bunk for the night. Mounting bincluded, but you can attach it using only the hooks if you prefer to move it out of the way during the day.
The rubber footpads help keep the ladder in place, preventing it from moving around both for safety and so it doesn't damage the floor. There are two size options available, one with four steps and one with five, so you can get exactly what you need for your RV.
Features:
Wood frame with eco-friendly varnish, two finishes available
Steps have rounded edges for safety
All mounting brackets included
Two sizes available
While this isn't a ladder, we wanted to include it in this list because it is a great way to make the most of an exterior ladder you already have.
This RV ladder mount attaches to your exterior rear ladder to help you transport things like waste totes, bikes, and chairs. It's made of lightweight aluminium and is durable enough to hold up to 22.5 kg.
Use the included metal brackets and screws to install and the 215 cm nylon strap to tie down anything you're carrying along with you on the road. This rack is a great way to make the most of the space you have, and it's really easy to set up.
Features:
Mounts to any RV or motorhome ladder
Sanitary way to transport waste
Mounting hardware and nylon strap included
Final Thoughts
As you can see, there are many options to consider when choosing the best ladders for motorhomes. Before you choose, take some time to think about what you need a camper ladder for. Obviously, RV bunk ladders and exterior ladders have a specific use, but sometimes a smaller step stool or small ladder will do. Other times, you'll need a multipurpose ladder to make sure you can do everything you need to do.